Click / Tap image to enlarge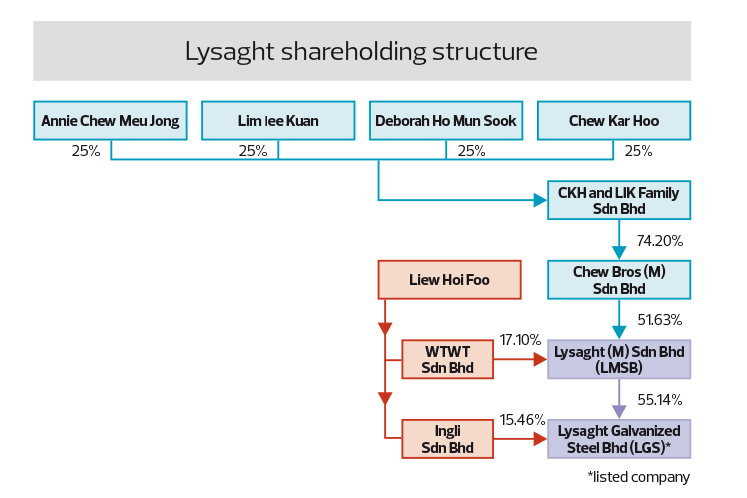 This article first appeared as "Newsbreak: Breaking the deadlock at Lysaght" in The Edge Malaysia Weekly, on January 6, 2020 - January 12, 2020.
LYSAGHT Galvanized Steel Bhd's dismal share price performance in recent years is the result of a long-drawn-out family tussle following the death of patriarch Chew Kar Heing in Feb­ruary 2014, at the age of 81.
But shareholders — minorities in particular — of the manufacturer of traffic light poles and lampposts may soon see the light at the end of the tunnel. The group's former managing director, Liew Hoi Foo, is attempting to untangle himself from the shareholders' dispute, in a move that could also give other shareholders an exit opportunity.
On Dec 12, WTWT Sdn Bhd, Liew's private vehicle, filed a petition in the Kuala Lumpur High Court to wind up Lysaght (M) Sdn Bhd (LMSB), the single largest shareholder of Lysaght with a 55.14% stake.
According to the advertisement of petition, which was published in The Star and Sin Chew Daily on Dec 27 and 28, the petition is directed to be heard before the Court at 9am on March 3.
"... Any creditor or contributory of the said company [LMSB] desiring to support or oppose the making of an order on the said petition may appear at the time of hearing by himself or his counsel for that purpose," it reads.
LMSB and Chew Bros (M) Sdn Bhd are named as the respondents in the petition by WTWT, which has hired Messrs Azri, Lee Swee Seng & Co as its solicitors.
Bursa Malaysia-listed Lysaght is 55.14% controlled by LMSB, which is 51.63% owned by Chew Bros. CKH and LIK Family Sdn Bhd holds 74.2% of Chew Bros (see shareholding chart).
In other words, LMSB is Lysaght's immediate holding company, Chew Bros is its intermediate holding company and CKH and LIK Family its ultimate holding company.
A filing with the Companies Commission of Malaysia shows that CKH and LIK Family is equally owned by Annie Chew Meu Jong — the eldest daughter of Kar Heing — her mother Lim Iee Kuan, her daughter Deborah Ho Mun Sook and her uncle Chew Kar Hoo.
In another faction, Liew, who is Annie's brother-in-law, has a 17.1% stake in LMSB through WTWT. He also holds a 15.46% direct stake in Lysaght through Ingli Sdn Bhd. The 64-year-old, who is married to Annie's sister Mary Chew Mee Lee, was Lysaght's managing director from 2004 to 2016.
It is believed that Liew and Annie have been tussling for control of Lysaght for the past six years. The family feud ostensibly began with Annie's puzzling objection to Lysaght's May 2014 proposal for a share split, bonus issue and free warrants, resulting in the eventual scrapping of the proposal.
Some of Lysaght's shareholders became casualties of the flip-flopping over the corporate exercise — believed to be mooted by Liew — as immediately after news of the proposal, Lysaght's share price shot up from RM3.24 on May 15, 2014, to a historical high of RM6.09 on June 25. However, the share price tumbled to around RM3.10 by Oct 20, 2014, after the plan fell through. At RM6.09, Lysaght's market capitalisation was RM253.2 million.
Today, the counter is hovering at RM2.41, which translates into a market capitalisation of RM100.2 million.
Potential MGO?
The petition to wind up LMSB can be seen as Liew's attempt to force his way out of the immediate holding company.
The Edge has learnt that certain minority shareholders of LMSB, who had filed separate cases to exit the company, are also supportive of WTWT's petition.
"There is a good chance the court will allow the winding up of LMSB, given that the company is merely a holding company with no actual business operations. It has little economic impact and, more importantly, even if the company is liquidated, no employees will be affected," says a corporate observer.
Theoretically, if LMSB is wound up, its controlling block of 55.14% in Lysaght will be disposed of in a tender exercise.
If Chew Bros, which is ultimately controlled by Annie, wishes to retain control over Lysaght, it would have to put in the highest bid among the shortlisted bidders to buy back the controlling stake.
And that, according to some corporate observers, could potentially trigger a mandatory general offer for Lysaght, thus presenting minority shareholders with a cash exit opportunity.