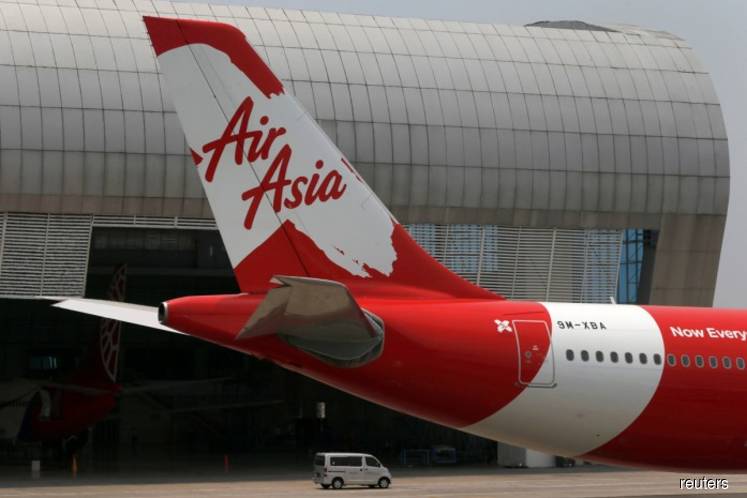 KUALA LUMPUR (Nov 13): Low-cost long-haul carrier AirAsia X Bhd (AAX) saw its third-quarter net loss increase 16.4% year-on-year (y-o-y) as it recognised depreciation on the assets leased under the Malaysian Financial Reporting Standard 16 (MFRS 16).
Net loss widened to RM229.89 million for the three months ended Sept 30, 2019 (3QFY19) from RM197.47 million a year ago. This resulted in a bigger loss per share of 5.5 sen per share for 3QFY19 compared with 4.8 sen per share for 3QFY18.
Revenue for the quarter fell 6.4% to RM1.01 billion, from RM1.08 billion a year ago.
According to a filing with Bursa Malaysia today, AAX reported a depreciation of RM234.52 million in 3QFY19 compared with RM48.63 million a year ago.
This is the third consecutive quarter that AAX recognises heavy depreciation, since the adoption of MFRS 16 this year. Prior to this, depreciation was mostly below RM30 million.
AAX's operating cash flow stood at RM352.91 million as at Sept 30, 2019, up from RM141.88 million a year ago.
Quarterly revenue per available seat kilometres (ASK) fell 3% y-o-y, while cost per ASK was down 17%, indicating stronger cost efficiency management.
Average fuel price fell 20% to US$73 per barrel, from US$91 per barrel, while load factor improved 1% y-o-y in 3QFY19.
For the cumulative nine months ended Sept 30, 2019, its net loss also widened to RM393.67 million from RM213.43 million a year ago, while revenue was down 6.4% to RM3.2 billion from RM3.42 billion.
On prospects for 4QFY19, the airline expects overall core results to remain reasonably healthier operationally y-o-y as the management remains committed to ensure sustainable growth amid challenges in the global aviation industry.
"The management continues to work on reducing costs, including investment in digitalisation as part of AirAsia Group wide initiatives, which we believe will help reduce costs in the long run," said AAX.
On the fleet planning front, while AirAsia X Thailand is expecting two additional A330ceo aircraft through operating leases in December, AirAsia X Malaysia is expected to remain with 24 aircraft as it focuses on maximising aircraft utilisation and realigning its business model to ensure continued sustainability and commercial viability in the coming quarters, said AAX.
Shares of AAX closed unchanged at 17.5 sen today, valuing it at RM705.19 million. Since hitting this year's peak of 31.5 sen on Jan 29, the counter has fallen some 44%.