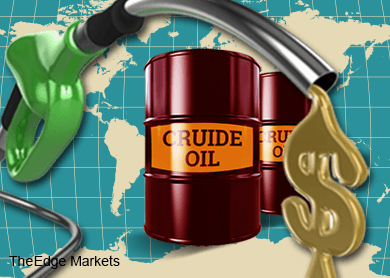 KUALA LUMPUR (May 19): Methane hydrates could possibly be the next game changer that will open up a new chapter of global unconventional energy revolution, said Petroliam Nasional Bhd's (Petronas) Vice President of infrastructure and utilities Pramod Kumar Karunakaran.
"Just like shale gas which was initially met with scepticism but later took the world by storm, methane hydrates have the potential to be huge," Pramod told the audience during a session at the 18th Asia Oil & Gas Conference 2015 titled Gas Current and Future Play.
He added that it is estimated that the volume of methane hydrates ranges from 100,000 trillion cubic feet (tcf) to more than a million tcf, which is significantly larger than the non-recoverable shale gas reserves of 6,600 tcf.
"In the longer term, advancements in methane hydrates will have subsequent impact on the global gas market in terms of supply, pricing and possibly triggering a new move of supply revolution," he said.
Pramod noted that Japan, which imports 98% of its energy, is looking at the commercial production of methane hydrates by 2023 while the US Department of Energy has commenced the evaluation of methane hydrate reserves onshore and offshore.
Meanwhile, Pramod also said that in the next 10 years, North America liquefied natural gas (LNG) exports will be featured prominently in the global LNG supply chain.
"This is happening in the midst of a wave of LNG supply coming from Australia, Papua New Guinea and Indonesia. Even Europe will demonstrate a slight increase in LNG production due to increased production in Norway.
"Demand on the other hand has not been keeping up with supply, mainly due to China's slowdown and declining imports from the US," he said.
Separately during a different session titled LNG and Oil Trading: New Opportunities, Petronas' Vice President of LNG trading and marketing Ahmad Adly Alias said that LNG will be growing at a compound annual growth rate of 5.2%.
Adly said that this will be led by Southeast Asia and India which is expected to see rapid growth from a growing demand of clean energy in the country.