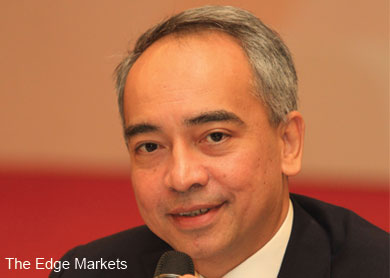 KUALA LUMPUR: CIMB Group Holdings Bhd chairman Datuk Seri Nazir Razak is confident that the three-way mega merger of CIMB, RHB Capital Bhd (RHBCap) and Malaysia Building Society Bhd (MBSB) will go through with or without the Employees Provident Fund's (EPF) vote.
"We are very confident that once we put the business case to the shareholders meeting, we will get the endorsement of shareholders. We think we will get it through with or without EPF," Nazir told pressmen today at the launch of the second set of Lifting-The-Barriers (LTB) reports by the Asean Business Club Delegation and CIMB Asean Research Institute (CARI).
He was asked if the decision by Bursa Malaysia to bar EPF from voting on the merger would jeopardise the deal, and if there had been objections from major stakeholders like Abu Dhabi-based Aabar Investments.
Nazir also expressed optimism that when the merger happens, it "will stand on its own merits, so whoever can vote will be able to consider it".
To recap, Bursa's 10-man Listing Committee had, on Oct 21, ruled that the EPF cannot vote in the mega merger as the pension fund is a common major shareholder in all three financial institutions, giving rise to a potential conflict of interest. RHB and MBSB had each, at EPF's behest, submitted an appeal to Bursa to reconsider the decision on Oct 31.
Bursa's Appeals Committee was to have met last Friday to deliberate on the appeal, but The Edge weekly (Dec 1-Dec 7) reported, quoting sources, that the meeting had been postponed.
With EPF not allowed to vote, the fate of the merger may now hinge on key shareholder Aabar Investments, which owns 21% of RHB and wants a higher price for its stake.