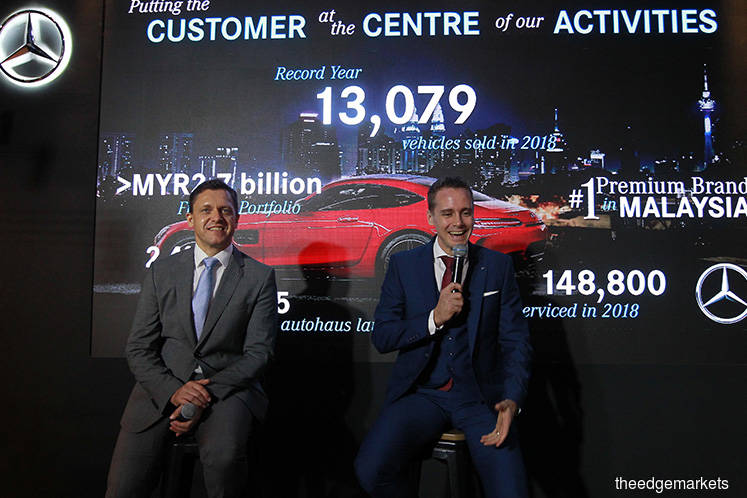 Mercedes-Benz Malaysia president and chief executive officer Dr Claus Weidner (left) and Mercedes-Benz Malaysia vice president of sales and marketing Mark Raine at the company's 2018 performance media briefing today. Photo by Shahrin Yahya
Weidner: Our product portfolio is expanding, covering all segments available from Mercedes-Benz, and making it the largest portfolio on the premium automotive segment in Malaysia. Photo by Shahrin Yahya
(From left): Weidner and Raine. Photo by Shahrin Yahya
KUALA LUMPUR (Jan 9): Mercedes-Benz Malaysia Sdn Bhd (MBM) achieved record sales of 13,079 vehicles in 2018 on an expanding product portfolio.
At the company's 2018 performance media briefing today, MBM president and chief executive officer Dr Claus Weidner described the year as another "year of milestones".
MBM has a 2.4% market share in the Malaysian market, he said, and had serviced 148,800 vehicles last year.
"We are here to build a comprehensive and sustainable automotive business, focusing on customer experience. This is the foundation of our successful performance in 2018. Our product portfolio is expanding, covering all segments available from Mercedes-Benz, and making it the largest portfolio on the premium automotive segment in Malaysia," he said.