This article first appeared in The Edge Malaysia Weekly, on June 3, 2019 - June 09, 2019.
Photo by Shahrin Yahya/The Edge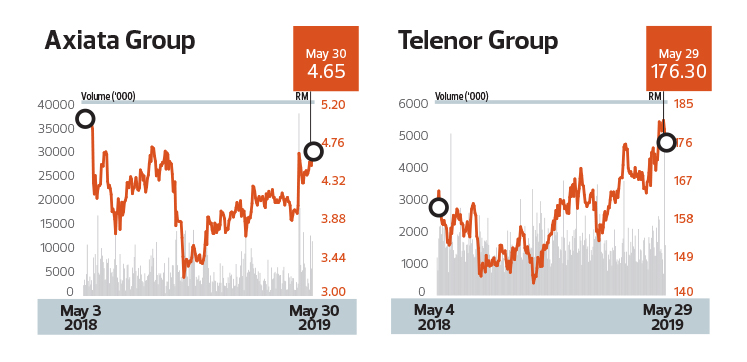 IN 2002, Sigve Brekke, then a senior Telenor executive,  tried to buy Celcom from Danaharta Nasional, which had taken over the  telecommunications company (telco) after Tan Sri Tajudin Ramli defaulted on his bank loans.  Brekke saw an opportunity to merge Celcom with Digi Telecommunications Bhd.
But his attempt failed because the then Finance Minister 2 Tan Sri Nor Mohamed Yakcop had other plans. Celcom was instead folded into Telekom Malaysia Bhd.
Brekke is back, but this time he is eyeing not just Celcom. He is trying to pull off  a mega merger of Telenor's Asian businesses with that of Celcom's parent Axiata Group Bhd.
Notwithstanding the transnational scale of the proposed mega merger, the deal ultimately hinges on one nation: Malaysia.
Should it be thwarted by Malaysian regulators, the deal may well unravel.
In an interview,  Brekke, now Telenor Group president and CEO, acknowledges the potential fallout in such a circumstance given that the Malaysian aspect of the merger is the "cornerstone" of the proposal.
"That's a very important part of the deal, I would say. The whole deal has Malaysia as the cornerstone and to not do Malaysia or not do the rest of Asia, then the deal would look very different," he says.
Indeed, it would be a deal breaker should Malaysian regulators not assent to the merger between the telcos.
"[Without the Malaysian merger], it would be a very different deal so I would say yes, the deal in its current scope would be off," Brekke tells The Edge.
He confirms that Telenor has met with some local authorities, who have so far been in a "listening mood", although he declines to be specific. "We have had dialogue with the relevant authorities," he offers.
The proposed merger of Telenor's Asian operations with Axiata Group's will give birth to the region's largest telco by revenue. Called MergedCo for now, it would operate across nine countries, serving a customer base of 300 million out of a combined one billion population.
However, of the nine countries, Malaysia is the only major geographical overlap between both parties, as Axiata's subsidiaries are in Sri Lanka, Nepal, Cambodia and Indonesia while Telenor's are in Bangladesh, Myanmar, Pakistan and Thailand.
The proposed merger was announced on May 6 and should negotiations bear fruit, both parties expect to put ink to paper in about three months.
Getting the green light in Malaysia will make a big difference to the dynamics of the deal. From the RM15 billion to RM20 billion in synergies expected to be unlocked over five years from the merger, half will come from the Malaysian integration.
The key concern for Malaysian regulators — particularly the Malaysian Communications and Multimedia Commission (MCMC) — is that the merger would involve two of the so-called Big Three of the domestic telecommunications industry.
Telenor is the largest shareholder of Bursa Malaysia-listed Digi.com Bhd, in which it owns a 49% stake, while Axiata wholly owns Celcom Axiata Bhd.
Merging both would create Malaysia's largest telecoms player called MalaysiaCo, which would command about half the cellular subscription market.
Similar concerns have also roused Malaysians on social media in a rare instance of a corporate deal grabbing the attention of people from all walks of life. But when posed the question, Brekke downplays the potential impact.
"I don't think the competition in Malaysia will change a lot (post-merger). But it will allow us to invest more to give our customers more," he says.
"Now, I think Malaysia is already a very competitive market and even after this merger, there will [still] be three [major] operators in Malaysia [including U Mobile Sdn Bhd]. UMobile is starting to be sizeable. And from what we have seen, even big markets like China, India and US are down to three [major] players."
'Not a takeover'
Another contentious point in the proposal is the fact that Telenor will end up owning 56.5% of MergedCo compared with Axiata's 43.5%. The expected headcount reduction from joining Digi and Celcom has also raised concern and criticism, with Prime Minister Tun Dr Mahathir Mohamad last week questioning if it would result in job cuts.
To be fair, both Telenor and Axiata have repeatedly stressed that there will be no forced retrenchment of Digi's 1,700 employees and Celcom's 2,700. Instead, they will be offered voluntary separation packages eventually.
Previously, Axiata president and group CEO Tan Sri Jamaludin Ibrahim had asserted to The Edge that the synergies from the deal were not dependent on reducing headcount in Malaysia.
A huge plus point for the deal is the innovation centre resulting from the merger, which will create new skilled jobs.
To Brekke, the shareholding proportion could not be helped as he believes what Telenor is bringing to the table is "a little bit more" than Axiata's. In any case, the focus is on making it a "merger of equals" that combines two strong companies into an even stronger entity.
"It's not a takeover. It's not a sale. It's not an acquisition. It's a combination of two strong forces in a spirit of a merger of equals so that we together can pick the right people, the best people, letting this company really grow and be developed," Brekke stresses.
Jamaludin had previously said that at  MergedCo level, Telenor's nominee board members would outnumber Axiata's by one but that Axiata would name the chairman.
On May 29, Jamaludin told media that in the case of the MalaysiaCo board, there is a written agreement that the majority of directors, including the chairman, will be Malaysians, as will the CEO.
That said, the simple fact that Telenor holds the majority stake and the majority of the board will put it in the driving seat in voting matters. If Malaysian regulators require a 50:50 shareholding split as a condition to approve the deal, would Telenor be game?
"I don't want to speculate on that. There are going to be a lot of ifs and buts and question marks and, of course, we need to address those question marks when they come," Brekke responds.
Even then, there is a sense that Telenor has made some concessions to offset its majority shareholding in MergedCo and to demonstrate the value of the merger for Malaysia.
Apart from the concessions to Axiata in terms of the board structure, the merger will see a regional innovation centre set up in Kuala Lumpur to support the nation's digitalisation agenda, with an expected investment of RM100 million per annum.
Other fruits from the merger include the consolidation of Telenor's and Axiata's tower assets into TowerCo, a Malaysia-based entity that is expected to be among the top five largest tower companies globally, and one that is also slated for listing.
Both the innovation centre and TowerCo could probably mean greater career prospects and talent mobility in the long run for Malaysians. Meantime, MalaysiaCo is tipped to be among the top five largest companies on Bursa Malaysia when created.
But if need be, is there room for Telenor to do more in order to convince the local authorities that the merger is good for Malaysia?
"Could we do more? Probably. But we'll continue to talk about it. This is also going to be part of the application that we will have to submit to MCMC for allowing this merger to happen."
Even if Malaysian regulators green-light the proposed merger, the road ahead is far from smooth. While the Malaysian integration, in particular, would yield significant synergies if successful, what has not been highlighted is that an unsuccessful merger may set MergedCo back and hinder its competitiveness.
When posed the question, Brekke agrees that "no merger will be successful without a mutually shared vision and plan for how to integrate the businesses". He acknowledges that integration risk and differences in organisational culture are a concern for Telenor.
"I would not say it is the biggest, but [these two risks] will be a big challenge. And that is why mergers often do not succeed, exactly for these reasons.
"This is also something that we will be discussing in the coming three months before we sign the deal because we need to make sure that this [merger] does not fail because of us not being able to build that stronger, combined culture," he says.
That said, Brekke is confident that both parties are "fairly well prepared to overcome" these hurdles. He points to his longstanding and "trusted" relationship with Axiata's Jamaludin and several other key Axiata executives as a foundation to work from, in addition to the exercise being pursued as a "merger of equals".
"Telenor and Axiata complement each other in many ways. We also have a shared ambition to empower society, develop people and nurture innovation, and I would say that we are in a good position to bring the organisations together and start creating value for all stakeholders from day one."
Merging to survive a 'global digital arms race'
For Telenor Group, the proposed mega merger with Axiata Group Bhd is all about mutual survival. Talks have been going on for years but there has been added urgency in recent months.
That urgency culminated in the May 6 announcement that both parties plan to collaborate in Asia. The timing is right, says Telenor Group president and CEO Sigve Brekke. "We both realise that no single company or nation is big enough to stand a chance in the global digital arms race, where global digital giants continue to outspend everyone else."
The telecommunications sector is seeing flat growth but requires continuous investment nonetheless, he adds. Hence, scaling up to a stronger balance sheet is necessary.
That has fed into a trend of consolidation across many major markets as the nature of competition is evolving.
Instead of local telcos, the competitors are now the likes of Alibaba, Google, Amazon and other content providers, Brekke says. "So, scale matters. With the scale we will have, we will become a must talk-to in Asia. Everyone — be it Google, Facebook, Alibaba or Netflix — needs to talk to us.
"And with the balance sheet that this company has (post-merger), we can be more aggressive in terms of capital investments (in Southeast Asia)."
Having that scale of leverage will ensure that customers do not lose out on new and innovative services and products. Additionally, this strengthens the company's bargaining position with vendors and potential business partners, he adds.
The market appears to welcome the proposal — Axiata's share price surged 14.85% the day after it announced the merger. Telenor's share price rose 4.69% on May 6, its biggest single-day gain in about 23 months.
It is worth noting that the proposed union is the latest in Telenor's strategy to focus on two broad markets — its home Nordic regions, which accounted for 44% of its external revenue of NDK 110.36 million (RM52.76 million) last year, and the Asian markets, where growth prospects are brighter.
In April, Telenor announced that it was buying a 54% stake in Finland's third largest mobile operator, DNA Oyj, for €1.7 billion (RM7.93 billion), marking its entry into Finland. Post-acquisition, Telenor will have a foothold in all Nordic markets.
Last year, it sold assets in Hungary, Bulgaria, Montenegro and Serbia for €2.8 billion. In 2017, it exited India.
"When this deal came along, it fit very much into that strategy and was a perfect opportunity," Brekke says, adding that Telenor had looked into a separate opportunity in the Philippines last year but eventually walked away.
So, what does Axiata bring to the table from Telenor's perspective?
"They bring size. Some of the digital assets they have are interesting, and they also have their way of operating, which is not very different from ours," says Brekke.
"They have good people. And that is why I am saying that [the idea is] to combine the best of the two organisations. That is the equal part of the merger of equals. It is one plus one becomes more than two."
On the surface, it appears that Telenor is looking to free up its resources via the merger as it grapples with intense competition in the Nordic region. But Brekke says that is not true.
"The Nordic portfolio is managing very well today, with strong cash flows more than catering for the investments needed, and will continue to do so independent of this merger. A potential deal in Asia is expected to be more or less neutral on Telenor's leverage ratio," he adds.
Looking ahead, growth drivers remain a key concern for shareholders regardless of the merger as traditional telcoms businesses continue to be pressured.
The answer is to look at new types of businesses for opportunities, suggests Brekke, pointing out "the subscriber growth [game] is over".
"We are big in the B2B business segment, not just the small and medium enterprises but also the bigger enterprises — that is one example. The IOT (Internet of Things) is another example. 5G is going to also [offer] a new business model for the private and public sectors.
"So, all this will create business opportunities. But it comes after investments and that's why it is back to [having a] strong balance sheet."