This article first appeared in The Edge Malaysia Weekly, on September 14, 2020 - September 20, 2020.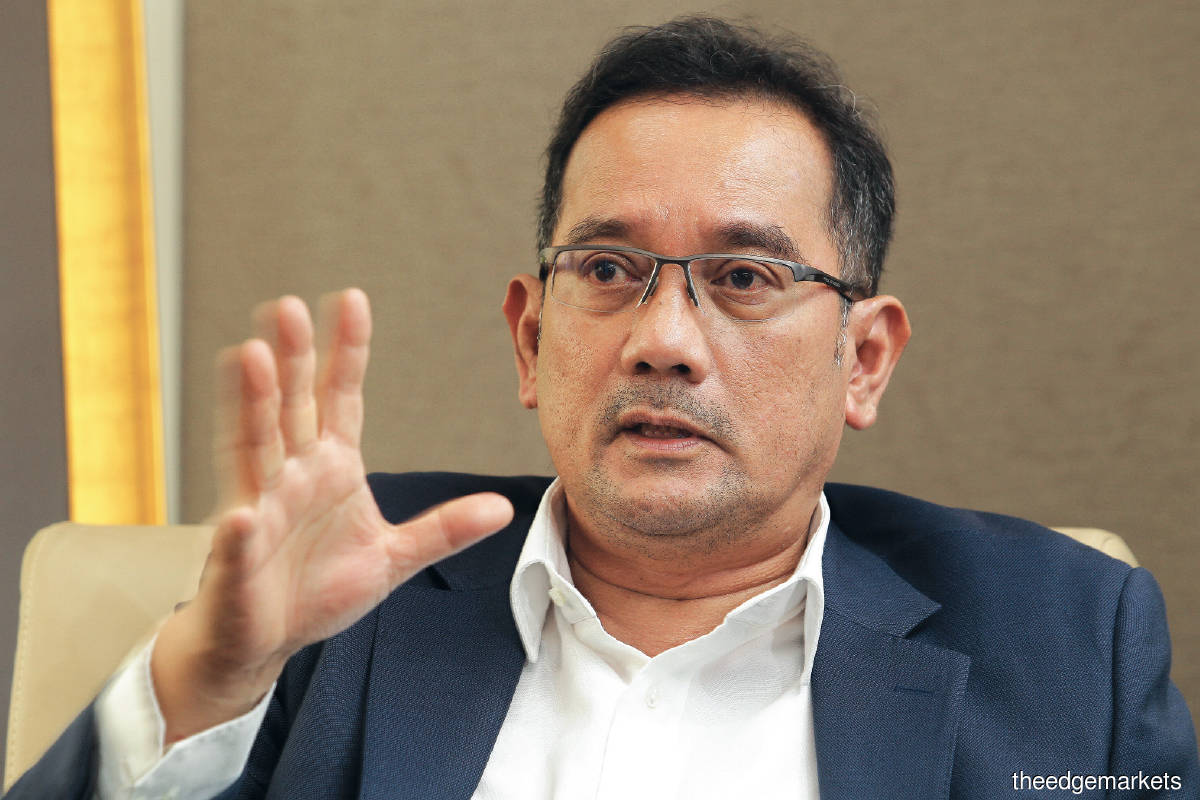 POS Malaysia Bhd, which is in the second year of its five-year transformation plan, is confident of returning to the black in the financial year ending Dec 31, 2021 (FY2021), fuelled by increased postal revenue from its SendParcels business as well as measures to increase the efficiency of its operations.
Speaking to The Edge in an exclusive interview last week, Pos Malaysia group CEO Syed Md Najib Syed Md Noor says the group's original plan to break even by the end of FY2021 has been expedited by a year owing to Covid-19.
"A lot of our forecasts and plan had been expedited because of the Movement Control Order (MCO). It would be fair for me to say that our plan has been fast-forwarded by about a year owing to the increase in demand for SendParcel's services during the MCO period.
"Originally, we forecast to break even by the end of FY2021. But now, [we think] we can hit break-even point by the third quarter and be profitable by the fourth quarter. If the trend of increased demand for e-commerce continues, we are hopeful of reaching this target," says Najib.
Pos Malaysia saw its net loss in the second quarter ended June 30, 2020 (2QFY2020) narrowing to RM19.02 million from RM49.22 million in the preceding quarter, while revenue increased 8.5% to RM606.08 million over the same period.
There is no year-on-year comparison as the group had changed its financial year-end to Dec 31 from March 31 in August last year. The RM19.02 million loss was the smallest recorded since the quarter ended June 30, 2019, when it registered a net loss of RM15.1 million.
In 2QFY2020, the group's postal services actually turned a small profit of around RM4 million, reducing the segment's overall loss in the first half ended June 30 to RM45.7 million, from RM49.9 million at the end of March 2020.
According to Pos Malaysia, the turnaround of its postal services in 2QFY2020 was also boosted by the implementation of higher postal tariffs starting Feb 1, besides the higher volume of parcels processed and delivered.
"The MCO actually boosted demand for SendParcel's services. Right now, we are nearing two million parcels a month. Since it was launched in September last year, we have processed around 3.3 million parcels," says Pos Malaysia's postal services CEO Rozaidi Md Sharif.
Plans for more fulfilment centres
To improve the efficiency of its parcel delivery services, Pos Malaysia is developing more fully automated integrated fulfilment centres across the country, says Rozaidi. For a start, a facility located in Senai Airport in Johor will be completed next year.
A fulfilment centre is where goods are sorted, stored, packed before delivery to customers.
Pos Malaysia's facility in Senai Airport costs RM40 million to build, and will be able to process 120,000 parcels a day, Rozaidi says. It will also allow Pos Malaysia to provide next-day delivery for parcels in the southern region, he adds.
Over the next two years, Pos Malaysia will be spending RM300 million to develop more of these fulfilment centres in the northern region, east coast, Sabah and Sarawak, to complement its central integrated processing facilities in Shah Alam and Kuala Lumpur International Airport, says Rozaidi.
Once all these facilities are up and running, Pos Malaysia will be able to guarantee delivery within 24 hours to all locations across Peninsular Malaysia, even if the parcels are sent from Arau in Perlis to Pengerang in Johor, he says.
During the MCO, when it had to cope with the increase in number of parcels received, Pos Malaysia had provided 1,400 jobs for delivery partners to deliver the parcels under a programme called "Pos Riders". This way, not only was it able to create job opportunities for Malaysians who had lost their income because of the MCO, but it was also able to manage its fixed costs from rising, Najib explains.
"The critical part for us is last-mile delivery. During the MCO, we were able to deliver a lot more parcels with the help of the delivery partners. In actual fact, the number of delivery partners is still not enough, but we were able to cope during the period," says Najib.
Over the last 18 months, Pos Malaysia processed an average of 487,000 parcels a day, peaking at 800,000 parcels a day. If it had increased its manpower in tandem with the rise in the number of parcels, fixed costs would also have increased, he says.
But by partnering with individuals to provide the last-mile delivery, Pos Malaysia could better manage its fixed costs. The increase will be in variable costs from commissions paid to the delivery partners, which are more manageable.
To pay for the fulfilment centres, Pos Malaysia plans to raise funds internally, via a combination of disposal of its non-core assets and businesses as well as borrowings. The group has embarked on the divestment of its non-core businesses.
On Aug 19, Pos Malaysia announced that its subsidiary, Pos Aviation Sdn Bhd, had proposed to dispose of a 51% stake in World Cargo Airline Sdn Bhd (WCA) to Asia Cargo Network Sdn Bhd (ACN) for a cash consideration of RM40 million.
WCA provides services primarily to Pos Malaysia by moving postal and courier products to Sabah and Sarawak. The operation was loss-making for Pos Malaysia, with a loss after tax of about RM32 million in the nine-month period ended Dec 31, 2019.
The divestment of the majority stake in WCA comes with a service level agreement, which will allow it to continue serving Pos Malaysia's needs for air freight cargo services between Peninsular Malaysia and Sabah and Sarawak, says Najib.
Besides the disposal of the 51% stake in WCA, Pos Malaysia also divested a 49% stake in Pos Aviation Engineering Services Sdn Bhd to SIA Engineering Co Ltd for a cash consideration of RM10.09 million in February 2020.
Najib confirms that there will be at least one more divestment next year.
In 1HFY2020 ended June 30, Pos Malaysia's aviation business contributed 9% of the group's consolidated revenue of RM1.164 billion. The segment incurred a loss after amortisation of intangible assets and zakat of RM20.1 million.
Besides WCA, Pos Malaysia's aviation business also involves ground handling, aircraft handling, maintenance, repair and overhaul of aircraft, as well as inflight catering services. These businesses are non-core and likely to be sold.
Pos Malaysia's net debt-to-equity ratio stood at 19.4% as at the end of 2019. This is forecast by RHB Research to decline to 17.8% by the end of this year, and further to 11.7% by the end of the financial year ending Dec 31, 2021.
As at June 30, 2020, the group had cash and bank balances amounting to RM232.4 million, while its short-term loans and borrowings stood at RM298.15 million, of which RM215.3 million are revolving credit facilities.
RHB Research's analyst Lester Siew has a "buy" call on Pos Malaysia with a target price of RM1.10, which implies a FY2021F price-to-book value of 0.6 times, which he deemed undemanding, as it is one standard deviation below its five-year mean of 1.4 times.
"We continue to favour Pos Malaysia for its turnaround momentum, supported by its postal businesses' positive traction as well as ongoing efforts to trim its elevated cost base," says Siew in an Aug 26 report.
Improving workers' livelihood
While Pos Malaysia's postal business is seeing a resurgence, the livelihood of its workers — especially frontline workers such as postmen, clerks at the post offices and sorting workers — is still top of the mind for its management.
To improve the earnings of its workers, Rozaidi says Pos Malaysia has embarked on an entrepreneurship programme, whereby its workers become its business partners in the sorting and delivery of parcels and mails.
"A total of 18,500 of Pos Malaysia's workers are earning below RM2,500, meaning they are in the Bottom 40% group. So we looked at how we can increase their income. Starting last year, we introduced an entrepreneurship programme," says Rozaidi.
The participants become Pos Malaysia's last-mile delivery partner for a designated area, sorting and delivering parcels for that area. Similar to the Pos Riders initiative, the entrepreneurship programme also pays a commission for each parcel delivered.
According to Najib, this initiative has resulted in the participants getting an income of RM8,000 to RM17,000 a month. Pos Malaysia spends RM4 million a month in commission payments to its Pos Riders and entrepreneurs.
"The way we want to handle this issue is to give them the opportunity to be an entrepreneur to earn more. If we were to give them a higher salary, our profitability will be impacted as it will be a fixed cost to us," says Najib.
Pos Malaysia will also be launching an app that will allow its postmen to become agents for bill payments, mobile credit reloads and other payment services that can be done online, so that they can earn more in addition to their salaries, says Rozaidi.
"Apart from just being a postman, they can also be a moving outlet for these services," he says.
Year to date, the share price of Pos Malaysia has declined by 45% to 82 sen per share last Friday, valuing the group at RM645.8 million.