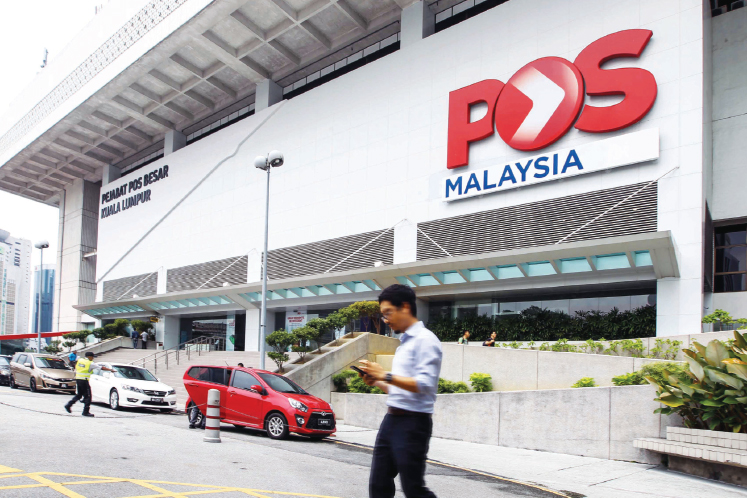 KUALA LUMPUR (May 19): Pos Malaysia Bhd said while there is an increase in parcel volume during the country's movement control order (MCO) period, the company's other businesses including mail and international parcels, besides operations under Pos Aviation and Pos Logistics have been affected. 
Pos Malaysia said in a statement today that despite the current situation, the group continues to protect its 15,000 front liners and operational support employees' livelihood and ensure that their needs are prioritised.
The group was responding to recent commentaries that surfaced on social media and the news recently. It, however, did not specify which media commentaries it was referring to.
"The Covid-19 pandemic is a global issue that is affecting supply-chains worldwide, causing the weakening or closing of businesses and the loss of livelihoods for many. Malaysia is also not excluded from this global crisis.
"While many severely impacted sectors in the country resorted to salary reductions, job cuts or other drastic measures, Pos Malaysia continues to strive hard in ensuring that these employees' future are protected. Pos Malaysia is currently undergoing a transformation process to turn the business around. As our transformation plan progresses and situation has improved, we will ensure better rewards for our people.
"At the same time, while the business is adjusting to the new normal, we continue to carry out our responsibility and serve the country as an essential service provider during this challenging time. This spirit is embedded in our DNA and is our obligation under the Universal Service Obligation," Pos Malaysia said.
The group said it is also grateful for the collective effort by its employees, who worked tirelessly to ensure deliveries and services are carried out with minimal disruptions, especially towards the Hari Raya Aidilfitri festive season.
"Pos Malaysia hopes for the continuous support from the public and we also hope that they understand the difficult challenges that we must endure during this difficult time," the company said.
At the midday break today, Pos Malaysia's share price settled down one sen or 0.93% at RM1.06 for a market capitalisation of RM829.74 million. The stock saw some four million shares traded.
Malaysia's MCO, which was initially scheduled between March 18 and 31, requires non-essential businesses to stop operations, while the public has been ordered to stay at home to curb the Covid-19 outbreak.
On March 25, Prime Minister Tan Sri Muhyiddin Yassin said the government decided to extend the MCO until April 14, because updates from the National Security Council and Health Ministry indicated an increase in Covid-19 cases. On April 10, Muhyiddin said the government was extending the MCO until April 28.
On April 23, he said the MCO will be extended for another two weeks until May 12. 
On May 10, the premier said the MCO, currently with loosened restrictions under the conditional MCO, will be extended to June 9.