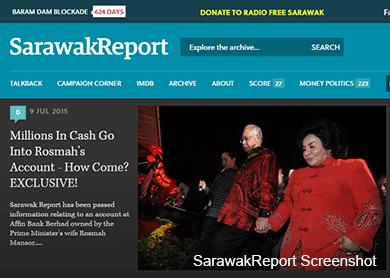 CYBERJAYA: The Malaysian Communications and Multimedia Commission (MCMC) has admitted to instructing local internet service providers to block access to whistleblower site Sarawak Report, claiming that the site was disrupting "national stability".
In a statement posted on its Facebook page, the commission said the decision was taken due to "complaints from the public".
The site was blocked under Section 211 and Section 233 of the MCMC Act, it said.
"The site has displayed information that is yet to be verified, and information that is still under investigation," it said.
The site has not been accessible from Malaysia since this evening, though it could still be accessed through proxy servers.
Sarawak Report's editor and founder Clare Rewcastle-Brown would be issuing a statement on the matter shortly.
The website, which played a key role in the 1Malaysia Development Berhad (1MDB) controversy with its exposes, has been accused by pro-government quarters recently of forging and tampering with the 1MDB-related documents.
Since late last year, it had published a series of articles detailing the role of tycoon Low Taek Jho in 1MDB's business dealings, 1MDB's money trail, and also articles on how large sums of money were allegedly deposited into personal bank accounts of both Prime Minister Datuk Seri Najib Razak and his wife Datin Seri Rosmah Mansor.
The site is based in London and was initially founded to write about the practices of the Sarawak state government and its former chief minister, Tun Abdul Taib Mahmud.