This article first appeared in The Edge Financial Daily, on May 30, 2017.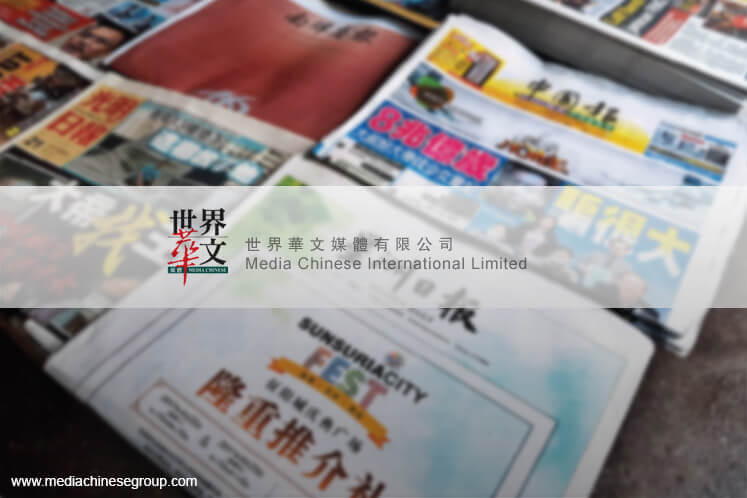 KUALA LUMPUR: Media Chinese International Ltd (MCIL), which publishes Sin Chew Daily, China Press, Nanyang Siang Pau and Guang Ming Daily, saw a net profit drop of 69.9% to RM3.66 million or 0.22 sen a share in the fourth financial quarter ended March 31, 2017 (4QFY17), from RM12.18 million or 0.71 sen a share a year ago, on lower revenue, negative currency impact and provisions for impairment of goodwill.
Quarterly revenue also fell 12% to RM275.97 million in 4QFY17, from RM313.59 million in 4QFY16, on lower revenue from the publishing and printing segment which fell by 14.9% year-on-year (y-o-y).
Nevertheless, the Chinese-language media group declared a second interim dividend of 0.36 US cent (equivalent to 1.604 sen) per share for the financial year ended March 31, 2017 (FY17), payable on July 10.
The weak fourth-quarter earnings dragged net profit for the full FY17 down 43.1% to RM67.04 million from RM117.87 million in FY16, on the back of a 13.3% decline in revenue to RM1.34 billion from RM1.54 billion.
In a filing with Bursa Malaysia yesterday, MCIL said its performance during the financial year was adversely affected by weak advertising expenditure (adex) sentiments in all its major markets and the continuing migration of readers from print to digital formats.
"Furthermore, the persistent weakness in the ringgit continued to weigh on market sentiment and led to more cautious spending by advertisers," it added. Revenue from the group's publishing and printing segment dropped by 12.5% y-o-y to US$233.18 million (RM995.68 million) in FY17, while segment pre-tax profit fell 36.3% y-o-y to US$23.45 million.
"The group's results for FY17 were also adversely affected by the provision for impairment of goodwill which amounted to US$3.6 million.
"Revenue from the travel segment for FY17 was US$69.41 million, a 16.1% y-o-y decline, while segment pre-tax profit was down by 60.6% y-o-y to US$2.46 million," said MCIL.
For the coming financial year, MCIL group chief executive officer Francis Tiong said the group remains cautious about the business conditions for the year ahead. "China is tightening its capital outflow policies which may have adverse influence on advertising and promotion budgets of advertisers, especially for the property and luxury industries in the Greater China region.
"The US administration's new policies may also trigger some negative influence on the trade and business conditions that affect the group's North America operations. Furthermore, the potential for further substantial cost savings is likely to be limited," he added.
Tiong, however, noted that the probable 14th general election in Malaysia is expected to present favourable opportunities for advertising spending in 2017.
The media market in Hong Kong is also expected to show some improvement and in addition, the recent growth in the number of mainland visitors to Hong Kong and the uptake in retail sales in March 2017 may also provide some boost to the advertising market.
On its part, MCIL will continue to explore opportunities to broaden its revenue stream and to expand its presence in the digital market, said Tiong.
MCIL shares closed down one sen or 1.69% at 58 sen yesterday, bringing a market capitalisation of RM978.6 million.