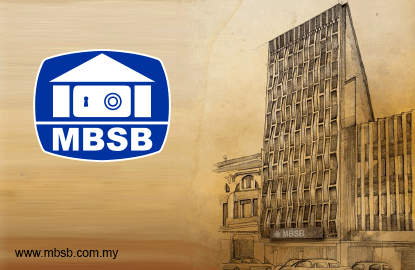 KUALA LUMPUR (Feb 24): Malaysia Building Society Bhd (MBSB) slipped into the red with a net loss of RM15.81 million or 0.56 sen per share in its fourth quarter ended Dec 31, 2015 (4QFY15), mainly due to higher allowances for impairment losses on loans, advances and financing, with the continuation of its impairment programme that was initiated in the fourth quarter of 2014.
In comparison, the group recorded a net profit of RM393.07 million or 14.56 sen per share in 4QFY14.
Its latest quarterly revenue come in 38.9% higher at RM825.69 million, from RM594.33 million a year earlier, due to higher income from investments of liquid assets and higher financing income from corporate segment.
It also proposed a final dividend of 3 sen for the financial year ended Dec 31, 2015, amounting to RM85.16 million, to be approved at its upcoming annual general meeting.
For the full year (FY15), its net profit plunged 74.6% to RM257.59 million or 9.24 sen per share, from RM1.02 billlion or 39.15 sen per share, again due to higher allowances for impairment losses.  
Annual revenue was 16.7% higher at RM3.05 billion, as compared to RM2.61 billion a year ago.  
According to MBSB, its net impaired financing ratio stood at 2.81% as at Dec 31, 2015, down 4.05% from the preceding year's, and a progress of 0.41% from 3.22% as at Sept 30, 2015.
"We are definitely pleased that the company's non performing loan (NPL) continued to show a positive trend, which are the results of effective NPL preventive measures, as well as strengthened credit underwriting processes," MBSB president and chief executive officer Datuk Ahmad Zaini Othman said in a statement.  
"It is visible from our financial results of 2015 that while we have persisted with our efforts to ensure a sustainable asset and revenue growth, the company's bottom line were affected by the impairment programme emplaced at the end of 2014.
"Nonetheless, this should be taken positively, as it does mark our serious commitment to meet the industry's impairment standards and close the gap," he added.  
MBSB's total assets stood at RM41.09 billion as at Dec 31, 2015, a growth of 9.09% or RM3.42 billion, from RM37.67 billion seen in the previous financial year.
Gross loans and financing growth also showed an improved trend of 4.38% to RM34.11 billion in 4QFY15, as compared to RM33.81 billion in the preceding third quarter (3QFY15).
MBSB also continued to achieve a low cost to income ratio of 22.66% for FY15, which is a further improvement of 0.19%, from 22.85% in the preceding quarter.
Moving forward, Ahmad Zaini remained optimistic on the group's prospects, despite prevailing unfavourable economic conditions.
"The uncertainties have, to a certain extent, hampered both retail and corporate sentiments.
"But for MBSB, we are operating quite efficiently, as reflected by a low cost to income ratio and we intend to further reduce that this year; the retail segment largely comprises of government servants, indicating stable employment; meanwhile, growth in corporate segment continue to be sustained via selected government contracts and viable private projects," he added.  
MBSB shares closed unchanged at RM1.69 today, bringing its market capitalisation to RM4.8 billion.