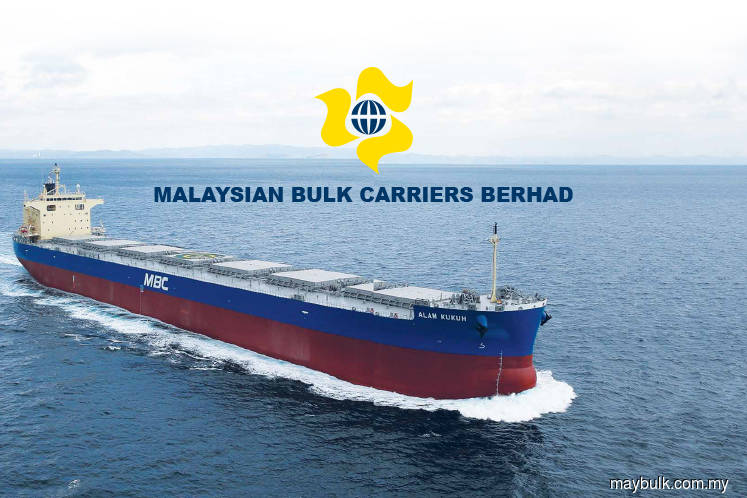 KUALA LUMPUR (May 19): Malaysian Bulk Carriers Bhd (Maybulk) reported today a net profit of RM47.65 million for the first quarter ended March 31, 2020 (1QFY20) from a net loss of RM10.76 million a year earlier, after the group recorded a gain on liquidation of a subsidiary amounting to RM51.26 million.
In a Bursa Malaysia filing today, drybulk shipowner Maybulk said total revenue was down at RM52.27 million from RM64.09 million. Net revenue, derived from subtracting voyage expenses from total revenue, stood at RM38.24 million, according to the company.
"The group recorded lower net revenue of RM38.240 million (Q1 FY2019: RM49.555 million) and operating profit of RM3.169 million (Q1 FY2019: RM6.649 million) in Q1 FY2020, mainly due to reduced hire days (Q1 FY2020: 1,050 days vs Q1 FY2019: 1,277 days ) because of a smaller fleet size and a 7% drop in charter rates (Q1 FY2020: USD9,108/day, Q1 FY2019: USD9,842/day)," Maybulk said.
Maybulk said the outlook for dry bulk trade deteriorated rapidly in early part of this year and the Covid-19 pandemic effect has adversely affected world economies and industrial activities. 
"While it is uncertain how long the situation will last, global commodity consumption has reduced and will continue to have negative impact on seaborne dry bulk trade in the near term. Both major and minor bulk demands dropped significantly in Q1 and this is expected to continue into Q2. Consequently, freight rates are under pressure across all segments of the dry bulk markets.
"However, there are some encouraging signs particularly from China, which is showing some resumption of industrial production activities. Newbuilding activity could also see order cancellations or deferments, which may further reduce pressure on the supply side. There is still a potential for an improved 2H 2020 globally, and stimulus measures in China and elsewhere can possibly support freight rates," the company said.
At 5pm today, Maybulk's share price closed 0.5 sen or 1.49% higher at 34 sen, valuing the company at RM340 million. The stock saw 897,500 shares traded.