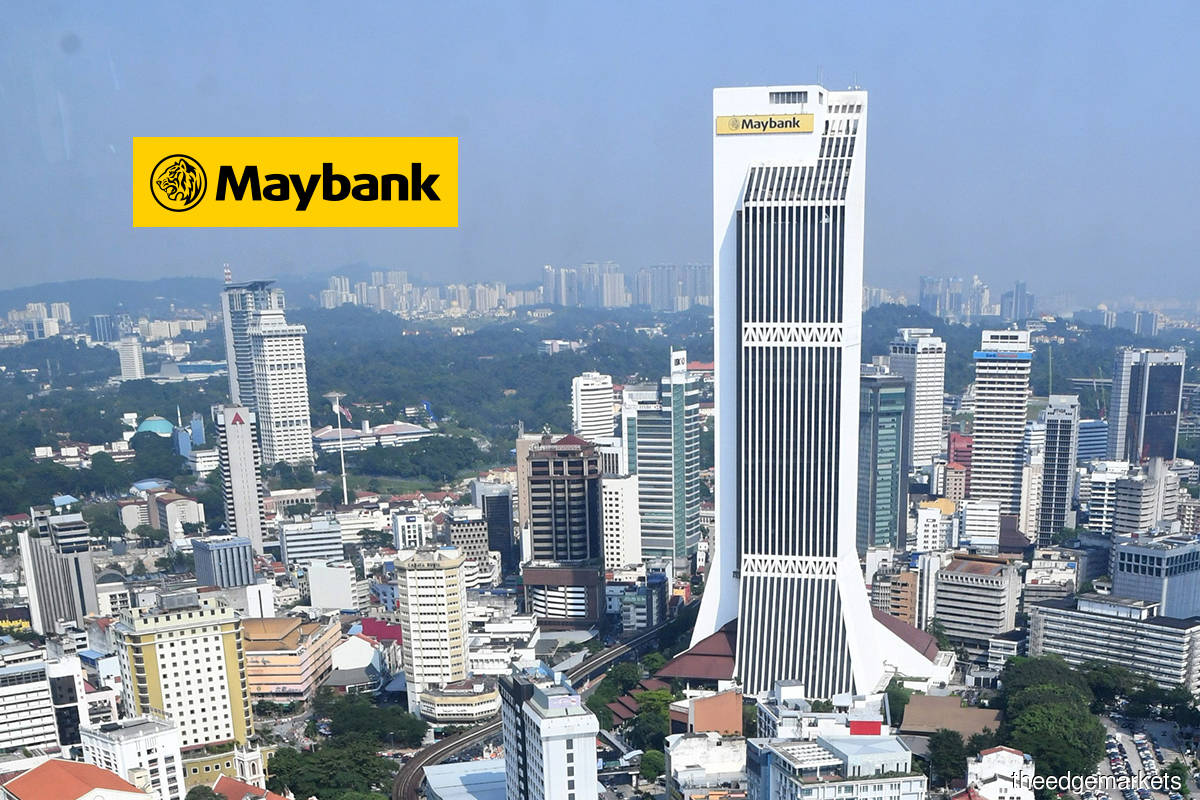 KUALA LUMPUR (Feb 25): Higher net impairment losses pulled Malayan Banking Bhd (Maybank)'s net profit down by 37% to RM1.54 billion in the fourth quarter ended Dec 31, 2020 (4QFY20) versus RM2.45 billion in the same quarter a year ago.
This caused earnings per share to fall to 13.68 sen, compared to 21.79 sen per share a year ago. Revenue for 4QFY20 fell by 6% to RM12.24 billion from RM13 billion in the previous year.
This impacted the group's FY20 performance, as net profit fell 21% year-on-year to RM6.48 billion from RM8.2 billion previously, while revenue fell slightly by 3% to RM51.03 billion compared to RM52.87 billion.
In a statement today, Maybank said the group had to book in significantly higher net impairment losses of RM5.07 billion in FY20 compared with RM2.32 billion in the prior year, owing to the continued impact from the Covid-19 pandemic, although this was partly offset by higher net operating income and reduced overhead expenses.
Nevertheless, its board has proposed a final single-tier dividend of 38.5 sen per share, comprising an electable portion of 21 sen per share under its dividend reinvestment plan. Last year, Maybank declared a 39 sen dividend.
Together with the interim dividend of 13.5 sen per share, the full-year dividend amounts to 52 sen per share, and translates into a full-year dividend payout ratio of 91.2%.
It said despite the challenging year, the group recorded a stable net operating income, which came in 0.1% higher at RM24.76 billion from a year earlier.
This was attributable to a 12.3% y-o-y increase in total net fee based income to RM8.11 billion, which came mainly on the back of higher net insurance and investment income as the group also took the opportunity to realise selected one-off gains from the better returns available.
The rise in net fee based income was, however, partially offset by a 4.9% decline in total net fund based income to RM16.65 billion mainly as a result of a 17 basis points (bps) y-o-y net interest margin compression due to lower loans and security yields, as well as the net impact from the four cuts in overnight policy rate totalling 125bps and the fixed-rate financing modification loss from the six-month blanket moratorium granted to customers.
It said given the higher operating income and lower overhead costs, pre-provisioning operating profit came in 2.6% higher than a year earlier to reach a record RM13.52 billion.
Meanwhile, the group's Malaysian operations registered a 4% expansion in gross loans for FY20, outpacing the industry growth of 3.4%.
This was underpinned by a healthy 6.8% rise in the community financial services segment on strong consumer as well as business banking and SME demand.
The home markets of Singapore and Indonesia, however, registered declines of 1.9% and 14.8% respectively, mainly as a result of write-offs and repayments as the group continued to manage its exposure in these markets as part of its strategy to continuously rebalance its portfolios to mitigate risks.
Consequently, it said, group gross loans for 2020 came in relatively flat compared with a year ago.
At the time of writing, shares of Maybank were trading 10 sen or 1.27% higher at RM7.99, for a market capitalisation of RM91.2 billion.