This article first appeared in The Edge Financial Daily, on July 20, 2018.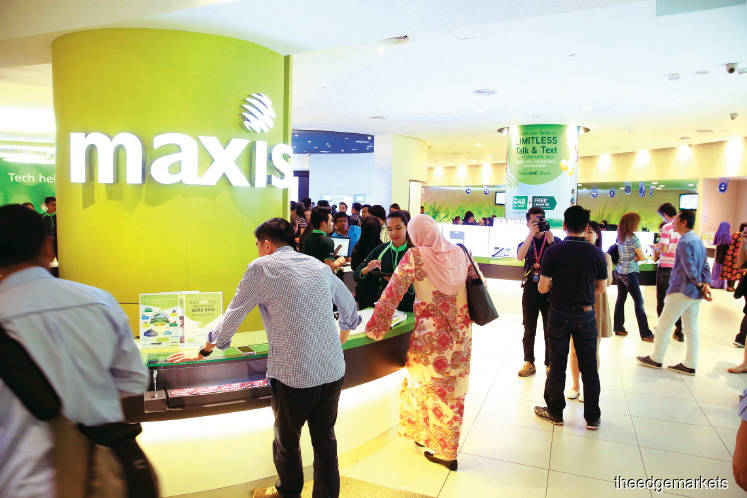 Maxis Bhd
(July 19, RM5.59)
Maintain neutral with a lower target price (TP) of RM6:  Maxis Bhd posted a 16% year-on-year (y-o-y) decline in the second quarter ended June 30, 2018 (2QFY18) net profit but after adjusting for the impact of Malaysia Financial Reporting Standard (MFRS) 15 and unrealised forex gains in the corresponding quarter, core earnings were flat.
Year to date, Maxis' normalised net profit stood at RM990 million, accounting for 50% of full-year estimates. Hence, the results were within our and market expectations.
Although total revenue was lower due to a drop in prepaid revenue, overall expenses have also declined, resulting in a flattish normalised 2QFY18 net profit.
Maxis declared a second interim dividend of 5 sen per share, bringing a total dividend declared for the first half of 2018 (1HFY18) to 10 sen per share.
We roll forward our discounted cash flow (DCF) valuation to FY19 forecast, leading to a slight decline in our TP to RM6.00 from RM6.10 previously. We maintain our "neutral" rating.
The 2QFY18 revenue fell by 3.8% y-o-y as the decline in prepaid revenue was not sufficiently offset by the increase in post-paid revenue. Prepaid revenue dropped 13% y-o-y as subscriber base was 10.8% lower on a steady average revenue per user (Arpu).
Post-paid revenue was 6.7% higher due to a 5.6% increase in subscriber base. However, post-paid Arpu was lower at RM94.
Meanwhile, Home Fibre's contribution was higher, thus providing some offseting effect to a lower mobile revenue. Home Fibre only accounted for less than 4% of total revenue but its subscriber base has been growing steadily to 194,000 connections.
Maxis is expected to announce new product propositions soon to support the new government's broadband initiative in lowering the price and increasing the speed of broadband services.
Total expenses have improved by 6.7% y-o-y, mainly due to lower operation and maintenance and traffic, commission & other direct costs. Hence, despite delivering lower revenue, Maxis was able to maintain its profit due to cost optimisation. Earnings, interest, taxes, depreciation and amortisation (Ebitda) margin remained solid at 50%.
On the outlook, any re-pricing in Home Fibre products is not likely to have any significant impact on bottomline as it only accounts for a small proportion of group's revenue.
In the medium term, we do not rule out the possibility of merger with Astro. We have always believed that Maxis and Astro make a good pairing as it would allow Maxis to offer pay TV services and digital content that complements its existing mobile services.
Given strong competition from over the top (OTT) players, Astro would be able to compete more effectively if it has greater access to wireless and broadband networks.
A merger would enable the achievement of technological convergence by combining Maxis' wireless and broadband networks with Astro's content offering capabilities.
However, pricing will be the key issue as Maxis would have to entice Astro shareholders with a decent premium. — PublicInvest Research, July 19