This article first appeared in City & Country, The Edge Malaysia Weekly, on May 20, 2019 - May 26, 2019.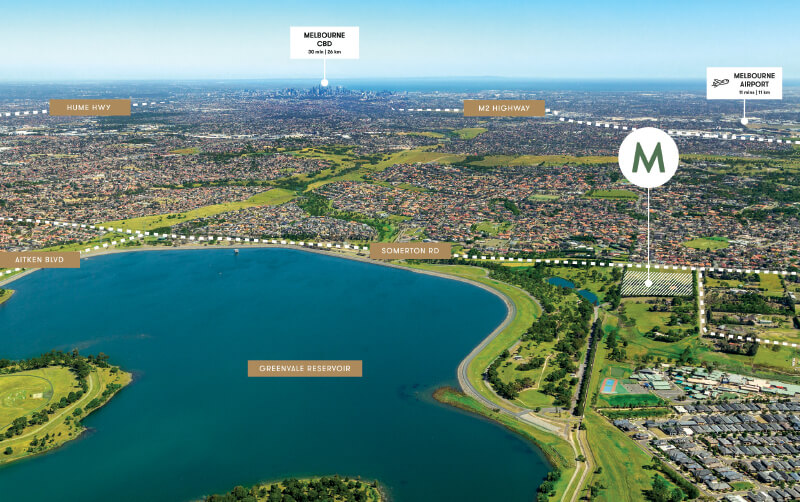 M.Greenvale is located next to the Greenvale Reservoir Park. Picture by Matrix Concepts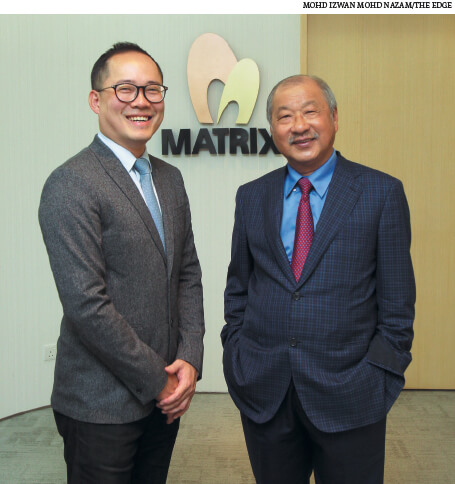 Jon (left) and Tian Hock
Matrix Concepts Holdings Bhd is expanding its development footprint in Melbourne with a new offering in the suburb of Greenvale. About a 30-minute commute from the central business district, the project is the developer's second venture in the capital city of Victoria. Its first development is the A$32 million (about RM93 million) M.Carnegie in the suburb of Carnegie that was launched in March 2016 and completed in August 2018, and has been fully taken up.
According to group executive deputy chairman Datuk Lee Tian Hock, Matrix Concepts initially did not know how to go about entering the Melbourne market. Serendipitously, he was introduced to Jon Lee (not related to Tian Hock), who is now managing director of Matrix Concepts (Australia) Pty Ltd.
Back then, Jon was involved in a 17-unit boutique development called Wyn on Burke in 1086 Burke Road, Balwyn North. Tian Hock decided to make a personal investment in the project to get the feel of the property development industry in Melbourne. The private venture gave him the confidence to proceed with Matrix Concepts' first project in the city.
"After the completion of Wyn on Burke, I asked Jon to show me a few parcels of land. On setting foot on the land that is now the site of M.Carnegie, I made the decision to buy it in 10 minutes," Tian Hock laughs.
With its maiden development done and dusted, the developer decided to grow its business in Melbourne. Tian Hock was very clear where he did not want the next project to be.
"I didn't want a project in the city centre because I was not prepared to build a high-end product," he says. "So, I said, 'Why don't we do something like affordable housing by Australian standards?' Then I said, 'Let's buy land and subdivide it into bungalow lots and sell the lots. And for the housing construction, we get a builder to collaborate with us.'"
M.Greenvale
With a gross development value of A$24 million, M.Greenvale is sited on a 10-acre tract that has been subdivided into 70 residential lots. Matrix Concepts introduced the project in the region through a sales tour — Singapore on March 30 and 31; Macau on April 20 and 21; and Hong Kong on May 18 and 19. The tour will be in Malaysia on May 25 and Melbourne on June 29.
The development is located next to the Greenvale Reservoir Park in Somerton Road. The mature suburb, considered one of the more upmarket areas in the city, is a 30-minute drive from Melbourne International Airport. It is serviced by Roxburgh Park Station a short distance away. The Greenvale Shopping Centre is 1km away and there are schools and medical centres as well as open recreational spaces in the area.
Apart from the amenities, the demographic of the suburb is also a key selling point. "The average household income in Greenvale is about A$140,000 per annum, which is above average. And the median age of people living in the area is 30 plus," explains Jon. "They can afford to allocate A$2,000 per month to pay down their home loan, which means their income is between A$6,000 and A$8,000 per month. Also, the household size is quite small — three to four people."
The concept of selling residential lots may seem strange to some, but Tian Hock and Jon say it will save purchasers some money.
"Australia has implemented a stamp duty of 12.5%. This means that if you buy a A$600,000 apartment, you have to pay A$75,000 on top of the house price," says Jon. "But if you buy a piece of land and a house, and because they are separate contracts, you only have to pay 12.5% on the land. You don't have to pay a single cent of stamp duty on the house as it has not been built yet. Even when you build the house later, you don't have to pay stamp duty."
According to Jon, the target sales ratio is 70% locals and 30% international buyers. In fact, 11 units were sold at the Singapore sales event.
"Our target market comprises empty nesters, those in their thirties and those who are starting a family," says Tian Hock.
The selling price of the 70 residential lots starts at A$200,000, while the houses are priced from A$250,000 for a 1-storey home to A$400,000 for a 2-storey unit. The lot sizes range from 174 to 452 sq m (1,872.92 to 4,865.29 sq ft) with the land priced from A$1,150 to A$1,200 per sq m. For corner lots, purchasers have to pay an additional premium of A$15,000.
While the developer has partnered home builders Orbit Homes and Burbank, investors and homebuyers can use any builder they choose. For investors, Jon reveals that the capital growth averages 5.7% a year. The last 12 months have seen values grow 11.15%, so capital gains are healthy in the area.
At present, the plan is to develop the infrastructure of the 10 acres, which will commence in October after the authorities have completed upgrading works at Somerton Road. Matrix Concepts plans to build a new intersection and side road adjacent to M.Greenvale, among others. Jon explains that the cost of the intersection and access road will be shared among a few developers that will benefit from the new road.
Future projects
After M.Greenvale, Matrix Concepts will embark on a project in St Kilda, which is still in the planning stage. The 2,500 sq m tract was purchased for A$16 million and the project's estimated GDV is between A$80 million and A$100 million, according to Tian Hock and Jon.
"The project will be launched next year. We have appointed a tier-one architectural firm, Rothelowman, and it works closely with a planner called Contour," says Jon.
The mixed-use development will feature commercial and residential units.
"We are thinking of having three levels for commercial use, where the ground, first and second floors will house office suites," says Jon. Interestingly, foreign investors that want to buy a commercial property only have to pay a 5.5% stamp duty.
"I am proposing that Matrix Concepts manages the commercial area first," he adds. "Once we get all the quality tenants and activate the place, then we can move on and pass it to people who are good at managing this kind of business."
Levels four to nine will be the residential units. Jon explains that at present, the local council only allows buildings to have up to seven levels but the developer is trying to negotiate an additional two levels for the project.
Matrix Concepts is on the lookout for more land to strengthen its presence in Melbourne. But for now, M.Greenvale and the project in St Kilda will keep it busy while it slowly expands its overseas activities.