This article first appeared in City & Country, The Edge Malaysia Weekly, on June 29, 2020 - July 05, 2020.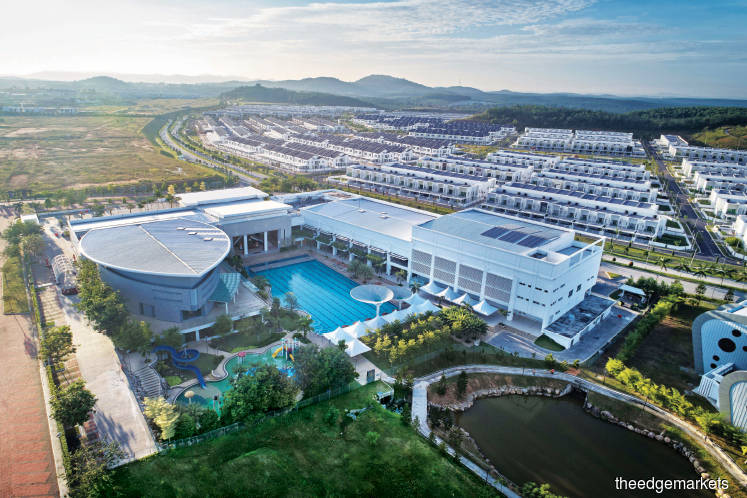 Early this year, Matrix Concepts Holdings Bhd launched two projects in Negeri Sembilan — Crisantha @ Resort Homes and Ervina @ Ara Sendayan — which have achieved take-up rates of 58% and 54% respectively.
According to CEO (property development) Leong Jee Van, Crisantha @ Resort Homes was launched in early January while Ervina was launched in mid-January. Both developments are scheduled for completion by the end of 2021.
Crisantha @ Resort Homes
Offering 175 two-storey superlink homes, Crisantha is the fourth phase of Bandar Sri Sendayan's 86-acre Resort Homes, which offers an urban living lifestyle in a resort environment. The 6,150-acre Bandar Sri Sendayan, developed on former Felda land, has bagged several awards, including The Edge Malaysia Property Development Excellence Award 2019, which recognises large-scale developments that have had a significant impact on an area and are catalysts of growth.
Crisantha homes are available in lot sizes of 24ft by 70ft to 24ft by 93ft, with built-ups ranging from 2,863 to 3,220 sq ft. The development comes with boom gate access, perimeter fencing, a CCTV surveillance system, a voice intercom system to the guardhouse as well as in-built house alarm system and fire alarm. These units are priced from RM560,000.
"Crisantha @ Resort Homes are superlink houses that have large built-ups … Its target market is mainly professionals, managers, executives and business people. The units are meant for young couples and families, especially those who are looking to have a secure and guarded residential area with a well-landscaped environment. The project comes with generous landscapes and facilities, allowing families to have bonding sessions and promoting a healthy lifestyle," he tells City & Country.
He adds that about 75% of buyers are from other states, mainly Kuala Lumpur, Selangor and Putrajaya. He sees this as an indicator that Bandar Sri Sendayan is a growing and developing area and is located strategically for ease of daily commuting.
About two-thirds of the buyers are aged from 31 to 50 while the remaining are below 30 and have school-going children.
"They see the value of living in Bandar Sri Sendayan as it has four public schools and an international school, Matrix International School. Those aged below 30 are young couples with small children and they look at the surroundings and the available amenities, on top of security," he explains.
Ervina @ Ara Sendayan
Situated on a hill slope, Ervina @ Ara Sendayan offers 46 two-storey semi-detached houses with built-ups of 3,960 to 5,120 sq ft and lot sizes of 45ft by 85ft to 70ft by 85ft. These homes feature a north-south orientation, a solar water-heater system as well as a rainwater harvest tank. Leong says the units are priced from RM1.1 million.
"Ervina @ Ara Sendayan is an exclusive development. It is for families who wish to upgrade and are appreciative of natural surroundings and serene living. It is mainly for established professionals, managers, executives and business people … those who are mature and at the peak of their careers. Therefore, their choice of home would reflect their achievement in life. The owners will enjoy eight terms of complimentary d'Tempat Country Club membership and one year of broadband service," he says.
Leong adds that more than 87% of the buyers are aged 31 and above, many of whom have teenagers and young adults in the family, which indicates that they are upgraders looking for more space. "This segment of people would already have made it in life and they want more balanced lives. Some quiet time away from all the noise … coming back to a home on top of a hill with scenic views would be a just reward. About 62% of the buyers are Negeri Sembilan natives and this shows that they are planning for retirement too."
"Ervina @ Ara Sendayan is the only development on high ground and its uniqueness would be the scenic views and the natural surroundings — fresh air, serenity and quietness. Its tranquillity brings much comfort to a hectic lifestyle."
Adjacent to Bandar Sri Sendayan, Ara Sendayan is a freehold 194-acre hilltop project that will consist of 1,272 homes upon completion.
The houses are also near lifestyle hubs such as Sendayan Merchant Square, d'Tempat Country Club and X-Park. The 6.33-acre d'Tempat Country Club is the largest family-oriented country club in Seremban with a full range of facilities and amenities.
Future launches
During its financial year ending March 31, 2021 (FY2021), Matrix Concepts will launch eight projects in the Laman Sendayan, Tiara Sendayan and Nusari Bayu 2 precincts in Bandar Sri Sendayan. Leong notes that the new launches will be "deals of a lifetime" for the masses.
"These launches were in our earlier plans and we have made some changes owing to the Covid-19 pandemic. The affordable price range caters for the masses. We plan to roll out early registration in these two months and those who register with us will get a special rebate," he says.
"Matrix Concepts currently has about 500 acres that are yet to be developed in Bandar Sri Sendayan but plans are already underway within the master plan for their completion within the coming few years. What is imperative is optimising the usage of the land and ensuring liveability and sustainability for its residents and the nearby community."