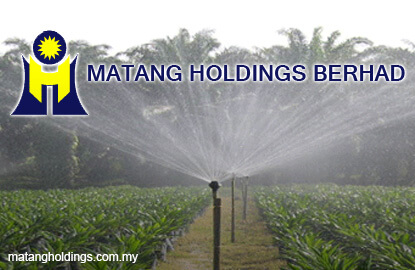 KUALA LUMPUR (Sept 1): Special purpose vehicle (SPV) company Matang Bhd has obtained Bursa Malaysia Securities Bhd's approval to be listed on the ACE Market of Bursa Securities.
Matang was incorporated as an SPV to facilitate the listing of Matang Holdings Bhd on the ACE Market.
The group is principally involved in the management of plantation estate, sale of fresh fruit bunches and property investment holding.
Its plantation operation, the Matang Estate, comprises 45 contiguous pieces of agricultural lands located within the District of Ledang and District of Segamat, Johor, covering a total land area of 1,096.3 hectares.
In a statement today, Matang said the initial public offering (IPO) will involve the issuance of 130 million new shares of 10 sen each in Matang representing approximately 7.18% of the enlarged issued and paid-up share capital.
Matang chairman Datuk Teh Kean Ming said the IPO will enable it to tap into the equity capital market to raise funds and to provide the financial flexibility to pursue future growth opportunities.
"We look forward to completing the exercise by first quarter 2017," he said.
Matang said proceeds from the IPO will be used primarily for general working capital requirements, which will be used to finance Matang's and its subsidiaries' day-to-day operations.
It said part of the proceeds will also be used for replanting exercise to improve the age profile of the Matang Estate, capital expenditure to enhance its effectiveness in the operation of Matang Estate and to defray estimated listing expenses.