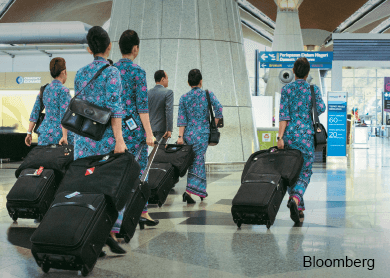 KUALA LUMPUR: Malaysian Airline System Bhd (MAS) will honour its collective agreement (CA) and pay the base rate of one month's salary for every year of service for those who served under 10 years and 1.5 months per year of service for those who served more than 10 years.
"There might have been a misunderstanding on the total payment. The total payment comprises two parts, made up of a base payment and an ex-gratia payment," said the national carrier, which has decided to lay off 6,000 staff as part of its restructuring plan.
"Base payment is not to be confused with 'base pay' or 'base salary'.
What's important is to note that the total payment is based on the formula similar to the CAs," said MAS in a statement yesterday.
Citing an example, MAS explained that if an employee's salary is RM5,000 and he has worked for 12 years, then the total payment he will receive is RM5,000 multiplied by 1.5 multiplied by 12, which equals RM90,000.
"Exiting employees covered by the CAs can be fully assured that they will receive a total payment based exactly on this formula, and not one sen less," said the national carrier.
Confusion arose when severance letters stated that MAS staff would be getting a combination of base pay plus ex-gratia to make up the CA terms.
This article first appeared in The Edge Financial Daily, on June 11, 2015.