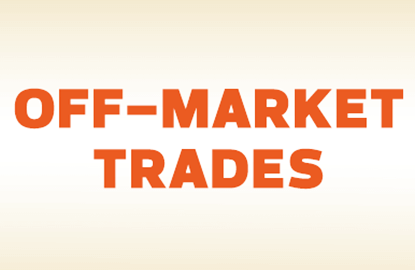 This article first appeared in
Capital, The Edge Malaysia Weekly
, on December 26, 2016 - January 1, 2017.
BETWEEN Dec 14 and 20, 944.31 million shares worth RM3 billion changed hands off market in blocks of at least 450,000 shares.
A sizeable portion of the shares traded off market came from Royal Dutch Shell Plc's disposal of its 51% stake in Shell Refining Co for US$66.3 million to Malaysia Hengyuan International Ltd. The 153 million shares crossed on Dec 19 at RM1.92 apiece, valuing the transaction at RM293.76 million.
Another notable transaction saw seven million Rex Industry Bhd shares, or an 11.35% stake, traded off market in three separate blocks at RM1.65 apiece. At press time, no filings had been made to Bursa Malaysia on shareholder changes related to the trades.
Meanwhile, Eka Noodles Bhd (formerly known as KBB Resources Bhd) saw 32.78 million shares, or a 10.51% stake, traded off market in three separate blocks. One block of 28 million shares crossed at one sen apiece in a direct trade on Dec 14. On the same day, another block of 1.78 million shares changed hands at four sen apiece. Subsequently, on Dec 19, three million shares changed hands at two sen apiece.
The large block of 28 million shares was disposed of by one Ang Eng Hooi, who ceased to be a substantial shareholder. The block was acquired by Vibrant Class Sdn Bhd, which emerged as a substantial shareholder with an 8.97% stake. Note that loss-making Eka Noodles has been granted protection from creditors as it undertakes meetings with creditors and members.
BIMB Holdings Bhd continues to see active trading off market. During the week, 98.38 million shares, accounting for 6.19% of its share capital, changed hands for a total of RM416.9 million.
This time, the shares were transacted in 12 blocks, at prices ranging from RM4.20 to RM4.27 a share. The largest block of 64.8 million shares was transacted on Dec 20. Based on Bursa filings, the bulk of the trades came from Lembaga Tabung Haji, BIMB's largest shareholder with a 50.83% stake.
At ECM Libra Financial Group Bhd, a block of 17.5 million shares, or a 6.11% stake, crossed off market in a single direct trade on Dec 20. The shares changed hands at 37 sen apiece, or RM6.48 million in total. The counter closed at 34 sen on the same day.
The shares were acquired by chairman Datuk Seri Kalimullah Masheerul Hassan, giving him a 13.73% stake. The block was disposed of by managing director Lim Kian Onn via Plato Capital Ltd. Lim retains a 45.5% stake in ECM Libra.
Hap Seng Consolidated Bhd also saw sizeable blocks of shares move off market. On Dec 15, a block of 49.35 million shares was crossed in a single off-market direct trade at RM8.10 apiece or RM399.79 million in total. Subsequently, another block of 43.53 million shares changed hands on Dec 20 at the same price, or RM352.6 million in total. The two blocks made up a 3.73% stake in the company.
Both blocks were acquired by Gek Poh (Holdings ) Sdn Bhd, and disposed of by Lei Shing Hong Investment Holding Ltd. However, it is ultimately a left hand to right hand transaction by Tan Sri Lau Cho Kun, who controls both companies. He retains a 73.51% stake in Hap Seng Consolidated.
At AppAsia Bhd, 11 million shares, or a 3.88% stake, changed hands off market. Transacted at 25 sen to 27 sen apiece, the total value of the transaction comes up to RM2.9 million. The share price has since risen to 35.5 sen as at Dec 21.