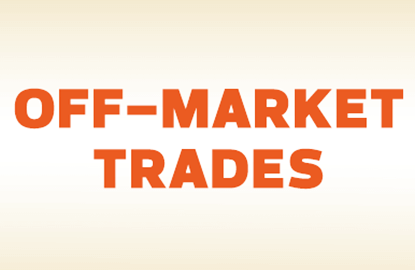 This article first appeared in The Edge Malaysia Weekly, on July 4 - 10, 2016.
BETWEEN June 23 and 28, some 364.09 million shares worth RM542.146 million changed hands off market in blocks of at least 450,000 shares each. Bursa Malaysia was closed on June 22 in conjunction with the Nuzul Al-Quran holiday.
One of the notable transactions was at Oriental Interest Bhd, which saw 19.37 million shares transacted in three separate blocks on June 23. The shares were sold at RM2.20 apiece, valuing the transactions at RM42.62 million. In total, the shares made up a 13.37% stake in the company.
Interestingly, Oriental Interest's share price closed at RM2.53 apiece on the same day.
Jupiter Sunrise Sdn Bhd is the largest shareholder of the company with a 70.2% stake. Jupiter Sunrise is indirectly controlled by managing director Low Kok Aun and executive directors Low Kok Kean and Low Ping Kun.
According to Bursa Malaysia announcements, Ripro Sdn Bhd, which controls 50% of Jupiter Sunrise, sold off all its shares in the latter on June 23.
At the same time, Tan Chung Yi is deemed to have acquired 11.78 million shares off market, via his vehicle Tan Swee Huat Sdn Bhd. This gives him an 8.13% stake in the company, along with Tan Ean See, Tan Eian Hoe, Tan Yean Sim, Tan Ean Hoon, Tan Ean Pin and Tan Yen Tong.
Tan Poh Sim is deemed to have disposed of 19.85 million shares due to Ripro's sale of the stock. Poh Sim retains a 58.69% stake in the company. Goh Say Seah acquired 7.12 million shares via his vehicle, Goh Say Seah Realty Sdn Bhd, giving him a 5.58% stake in Oriental Interest.
Over at Hektar Real Estate Investment Trust (REIT), 22.45 million shares or a 5.6% stake changed hands off market in a single block trade on June 27. The transaction took place at RM1.51 apiece, valuing it at RM33.9 million. This is in line with the company's closing price of RM1.50 on the same day.
Recall that on June 10, Hektar REIT announced that it was in the process of raising RM75 million via a rights issue to fund the acquisition of a RM104 million piece of land from EcoFirst Consolidated Bhd.
At press time, no announcement had been made to Bursa regarding the block of shares.
Netx Holdings Bhd saw 22.72 million shares worth RM679,272 cross off market in 50 separate transactions. Most of the shares changed hands at three sen apiece.
Note that Netx's share price has been on the decline from about five sen since the beginning of the month.
On June 24, Asia Poly Holdings Bhd saw 9.88 million shares worth RM3.16 million traded off market. It involved five separate transactions at 32 sen apiece. Non-executive director Thoo Soon Huat disposed of 1.29 million shares, leaving him with 5.37 million shares or a 2% stake in the company.
Earlier this month, there was some reshuffling of Asia Poly's board with the resignation of its independent non-executive director Yap Sing Khon.
Elsewhere, Seacera Group Bhd saw 7.4 million shares worth RM5.95 million, or a 3.15% stake, trade off market in two separate blocks on June 27 and 28. The shares were traded at 86 sen a piece on June 27 and 71 sen a piece on June 28.
Note that on June 27, Mokhtar Othman and Muhamad Azmi Othman emerged as substantial shareholders of Seacera after subscribing for a private placement of 15 million shares, or a 6.48% stake, via Nuro Dagangan Sdn Bhd.