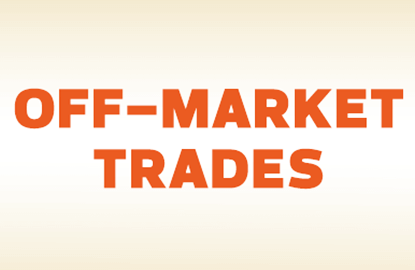 This article first appeared in
Capital, The Edge Malaysia Weekly
, on January 9 - 15, 2017.
BETWEEN Dec 28 and Jan 3, some 879.9 million shares worth RM1.132 billion changed hands off market in blocks of at least 300,000 shares. It was a quiet four days of trading due to the long new year weekend.
During the period, the single largest transaction by volume was a direct deal of about 85.73 million AirAsia X Bhd shares, representing a 2.07% stake in the budget long-haul carrier.
The block of shares was done at 38 sen apiece on Dec 28, valuing the stake at RM32.58 million. The transaction price was two sen or a 5.56% premium over the day's close of 36 sen each. At press time, it is  not known who acquired the block of AirAsia X shares.
Another notable transaction was the sale of 23 million shares in Boustead Holdings Bhd on Dec 28 at RM2.603 apiece or a total of RM59.87 million. The stake was likely bought by Boustead's parent, Lembaga Tabung Angkatan Tentera (LTAT), which has been increasing its shareholding in Boustead over the last few months.
In the last few trading days of 2016, LTAT picked up another 27.42 million Boustead shares, including the 23.71 million shares it acquired on Dec 28, according to filings. LTAT now holds a 59.86% stake in Boustead.
Market data show the 23 million shares were traded at RM2.603 each, or a total of RM59.87 million. This represents a slight discount to the day's closing stock price of RM2.62. Boustead's stock price had slumped to a low of RM1.783 but has since recovered to a high of RM2.672 on Dec 30.
By value, the single largest transaction was 7.5 million Tenaga Nasional Bhd shares that changed hands on Dec 28 for RM102 million or RM13.60 each. The RM13.60 price tag for the block was in line with Tenaga's closing price that day, which was at a six-month low.
Many oil and gas-related counters saw a flurry of off-market activity. These included transactions at Borneo Oil Bhd, Bumi Armada Bhd, Carimin Petroleum Bhd, Hibiscus Petroleum Bhd, Perisai Petroleum Teknologi Bhd, SapuraKencana Petroleum Bhd, Sumatec Resources Bhd, TH Heavy Engineering Bhd and Yinson Holdings Bhd.
This is likely driven by hope that crude oil prices will fare better this year, with major oil-producing countries attempting to address the global oversupply.
AmInvestment Research maintained its oil price projection at US$45 to US$50 per barrel compared with US$43 per barrel last year, while cautioning that macro-economic and policy uncertainties still linger.
Hibiscus Petroleum saw a good amount of off-market activity, with a total of 45.31 million shares worth about RM18.34 million traded in dozens of transactions, priced at 38 sen to 43.5 sen apiece. Its shares staged a strong rally in the last quarter of 2016, more than doubling from under 20 sen last October to 45 sen per share on Jan 5.
Sumatec Resources too saw dozens of trades between Dec 28 and Jan 3, with a total of 119.25 million shares worth RM9.09 million changing hands at 5.5 sen to 9 sen apiece.
Petronas-related counters were also actively traded off market. On Dec 28, two million Petronas Gas Bhd shares traded at RM21.30 each or RM42.6 million.
There were also multiple share transactions in Petronas Chemicals Group, with over 9.06 million shares worth RM63.144 million changing hands at between RM6.87 and RM6.99 each. Petronas Chemicals has since extended its gains to close at RM7.20 on Jan 5.