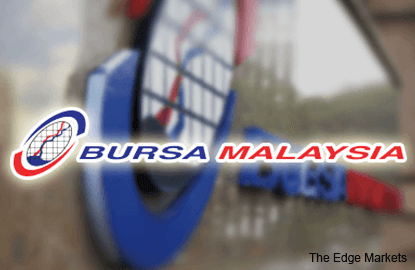 This article first appeared in The Edge Financial Daily, on November 18, 2015.
The market rebounded yesterday after falling to a one-month low on Monday. However, the FBM KLCI closed lower from last week. Rebound in crude oil prices and global market performances provided the support on Monday. The technical recession Japan is going through now is an indication of how fragile the global economy is and this may prompt central banks to continue to support the market with low-cost finance.
The KLCI fell 1.5% in a week to 1,661.53 points. The ringgit was firm against the US dollar at RM4.38. Trading volume eased last week as investors stayed away from an uncertain market. The average daily trading volume in the past week declined from 2.3 billion shares two weeks ago to 2.2 billion shares. The average trading value declined from RM2.1 billion to RM2 billion.
The weak ringgit continued to spur foreign selling. Net selling (from Monday to Friday last week) from foreign institutions was RM714 million while net buying from local institutions and retail were RM608 million and RM106 million respectively.
For the KLCI, decliners outnumbered gainers four to one. Top gainers for the week were IOI Properties Group Bhd (+1% in a week), IHH Healthcare Bhd (+0.9%) and Petronas Dagangan Bhd (+0.9%). Top decliners were Genting Bhd (-5.9%), Sapurakencana Petroleum Bhd (-4.6%) and IOI Corp Bhd (-4.4%).  
Markets in Asia ended mostly lower in the past week. China's Shanghai Stock Exchange Composite declined 1% in a week to 3,605.5 points yesterday. Hong Kong's Hang Seng Index declined 0.6% to 22,264.25 points. Singapore's Straits Times fell 2.7% to 2,916.78 points. However, Japan's Nikkei 225 index declined only 0.2% in a week to 19,630.63 points despite its economy falling into a recession.
After weeks of increases, the US and European markets started to pull back. On Monday, the US Dow Jones Industrial Average fell 1.4% in a week to 17,483.01 points. Germany's DAX Index declined 0.9% to 10,713.23 points and London's FTSE100 fell 2.5% in a week to 6,137.61 points.
The US Dollar Index continued to increase to a fresh seven-month high while gold retreated to a near five-year low. The US Dollar index futures increased from 99.1 points from last week to 99.5 points on Monday. COMEX gold price fell to a five-year low after declining 0.9% in a week to US$1,081.60 (RM4,737.40) an ounce. WTI crude fell 4.7% in a week to US$42.04 per barrel. Crude palm oil on Bursa Malaysia declined 3.8% in a week to RM2,294 per tonne.
After climbing above the short-term 30-day moving average two weeks ago, the KLCI failed to rally and declined below this average once again. The second break below the moving average indicates a bearish sentiment. However, the index is still above the Ichimoku Cloud indicator and this indicates that the trend is still bullish. The thickening cloud indicates that strong support but a breakout below the support level of the cloud at 1,614 points could indicate a bearish trend.
The momentum indicators indicate a bearish market sentiment. The RSI and Momentum Oscillator indicators declined below their mid-levels and the MACD indicator continued to fall below its trigger line. Furthermore, the index fell below the bottom band of the Bollinger Bands indicator and this indicates that the bearish momentum is picking up pace.
Technical indicators showed that the market is set to trend lower. The bearish global market performance and weak commodity prices are bearish catalysts for the local equity market. However, the rebound yesterday indicates that there is still support. Henceforth, we expect the KLCI to be sluggish and decline this week and trade sideways within the support level at 1,640 points and resistance level at 1,690 points.
---
Benny Lee is chief market strategist for Jupiter Securities Sdn Bhd. Jupiter Securities is a participating broker in Bursa Malaysia. He can be contacted at [email protected]. The views expressed in the article are the opinions of the writer and should not be construed as investment advice. Please exercise your own judgement or seek professional advice for your investment decisions.