Click / Tap image to enlarge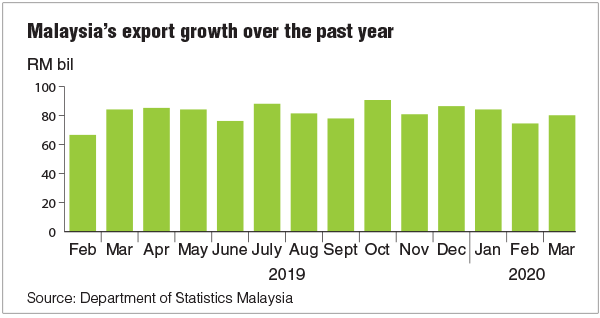 KUALA LUMPUR (May 4): Exports fell 4.7% year-on-year (y-o-y) in March to RM80.1 billion, mainly driven by a decline in exports of electrical and electronics products, according to the Department of Statistics Malaysia.
Imports also fell 2.7% y-o-y to RM67.8 billion in March, the department said in a statement today.
Total trade in March stood at RM147.9 billion, a decrease of 3.8% y-o-y, whereas trade surplus shrank by 14.2% to RM12.3 billion from a year ago.
"The main products which contributed to the decline in exports were electrical and electronics products (-RM4.4 billion), liquefied natural gas (-RM518 million), timber and timber-based products (-RM293 million), crude petroleum (-RM101.6 million), palm oil and palm oil-based products (-RM48.8 million) and natural rubber (-RM29.6 million)," it said.
However, it said higher exports were recorded for refined petroleum products — up by RM2.2 billion.
Meanwhile, imports for end use were dominated by intermediate goods, capital goods and consumption goods.
Imports for intermediate goods and consumption goods recorded an increase of RM763 million and RM410.9 million respectively, but there was a fall of 47.5% in capital goods to RM4.4 billion.
By country, lower exports to Thailand (-RM2 billion) were registered, followed by India (-RM1.4 billion), the European Union (-RM1.1 billion) and Vietnam (-RM966.2 million).
Meanwhile, lower imports from Singapore (-RM 1.9 billion) were recorded, followed by the European Union (-RM1.5 billion), and Thailand (-RM1.2 billion).