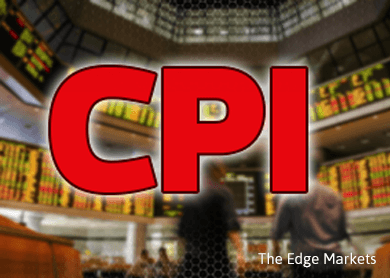 KUALA LUMPUR: Malaysia's inflation as measured by the consumer price index (CPI), which increased 0.9% year-on-year (y-o-y) in March 2015 from a year earlier, is in line with consensus forecasts and signals a rebound in price pressures after three consecutive months of easing, said analysts.
Alliance DBS Research said in a report yesterday that the rebound was largely due to pump price adjustments as, since the fourth quarter of 2014 (4Q14), inflation has largely been weighed down by cheaper petrol pump prices following the implementation of the managed float cost pass-through pricing mechanism last December.
"However, in line with the recent pick up in global crude oil prices — Brent crude oil price averaged US$58.80 (RM212.26) per barrel in February, up from US$49.80 per barrel in January — pump prices for RON95, RON97 and diesel were adjusted upwards by 25 sen per litre each in March," it said.
The research house also noted that although March was the final month before the implementation of the goods and services tax (GST) on April 1, some of the pre-GST spending surge observed did not translate to substantial demand-led price increase during the month.
"For instance, there was a surge in vehicle sales growth during March as it expanded 14.2% y-o-y, while the value of domestic credit card transactions by local cardholders increased 21.2% in February.
"Overall, the inflation rate, after stripping out the volatile food and beverages sector and the transport sector, was relatively steady at 1.8% y-o-y in March, marginally below the 1.9% rate recorded in January and February," said Alliance DBS.
The Statistics Department said yesterday that the CPI increase in March came from higher prices in restaurants and hotels as well as more expensive food and non-alcoholic beverages.
"In addition, the value of this index was influenced by the decrease in transport," the department said in its press statement, adding that despite an increase in the food and non-alcoholic beverages group, it was not able to increase the overall index due to higher contribution from the non-food group.
Moving forward, Alliance DBS expects April's CPI data to reflect higher cost-push inflationary pressures following higher prices of goods and is maintaining its full 2015 inflation forecast at 3% to 3.5%.  It also expects Bank Negara Malaysia (BNM) to hold the overnight policy rate (OPR) steady at 3.25% in its May 7 monetary policy meeting.
JF Apex Securities Bhd too has maintained its April CPI forecast growth of 3% y-o-y, due to a onetime adjustment of goods prices from the implementation of GST, which it expects will see about 70% of goods and services in the CPI market basket charged the 6% consumption tax.
"Our full-year forecast for CPI remains at 3.8% in view of [the] postponement of the electricity tariff hike and gas price hike for the industrial sector for year 2015, coupled with the price adjustment on GST implementation," it said in a note to clients.
In view of the slower projection, the research house believes that the country's present inflation level is manageable and, echoing Alliance's view, expects BNM to keep the OPR at 3.25% in 2015.
This article first appeared in The Edge Financial Daily, on April 23, 2015.