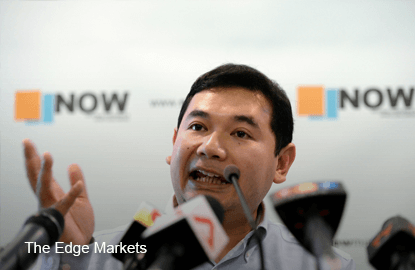 (June 29): Majlis Amanah Rakyat (Mara)'s investment arm Mara Inc used "layered companies" in three different countries to shield their purchase of two Australian properties, the National Oversight and Whistleblowers (NOW) said today.
Its director, Rafizi Ramli, who is also PKR secretary-general, told a press conference today that for the purchase of 333 Exhibition Street and 51 Queen Street, Mara used their subsidiaries in Labuan, Singapore and Australia in a long-winded transaction chain to make the purchases.
For both transactions, the names of the companies were different, but the chain remained the same, beginning in Labuan and ending in Australia.
Australian paper The Age, in exposing Mara's recent purchase of Dudley International House, said that "kickbacks" for Mara officials were made through a Singaporean company.
"The usage of different companies only raises suspicion. You have to wonder about these two other purchases, both which have holdings through Singapore," Rafizi said.
For 333 Exhibition Street, Mara Inc allegedly made purchase via Powerwell Holdings Limited, registered in Labuan, followed by Singapore company Carlton Garden Lte Ltd, and Australia's Peters Equity Pty Ltd, all fully owned by Mara.
For 51 Queen Street, the purchase was made through Vortex Holdings Limited in Labuan, Marinn Property Pte Ltd in Singapore, and Queville Pty Ltd in Australia.
In total, for four property purchases in Melbourne, including Dudley and 746 Swanston Street, Mara uses eight different companies.
For Dudley and Swanston, Mara Inc used an offshore company in British Virgin Islands called Thrushcross Land Holdings, while Mara Investment (Australia) Pty Ltd are the asset managers for all the properties.
Rafizi said the structure of the deals itself should have raised alarm for Mara chairman Tan Sri Annuar Musa when he took over the post in 2014.
"Should he not be aware that this is problematic by just looking at the structure?" Rafizi asked.
He also questioned why investigations into the property purchases were not made earlier, even though Annuar and his team were allegedly briefed about the property purchases on May 20 last year.
"Why did he wait until this late to commence investigations?"
Annuar previously said that Mara was conducting an internal probe into the Dudley purchase for the past two months.
Rafizi added that future revelations in the coming days would show that the rental yield did not bring the kind of returns expected from these properties, and that they were not "worthy investments".
Rafizi and NOW will continue their series of revelations regarding the Mara property purchases with another press conference tomorrow morning. – The Malaysian Insider