This article first appeared in The Edge Malaysia Weekly, on May 14, 2018 - May 20, 2018.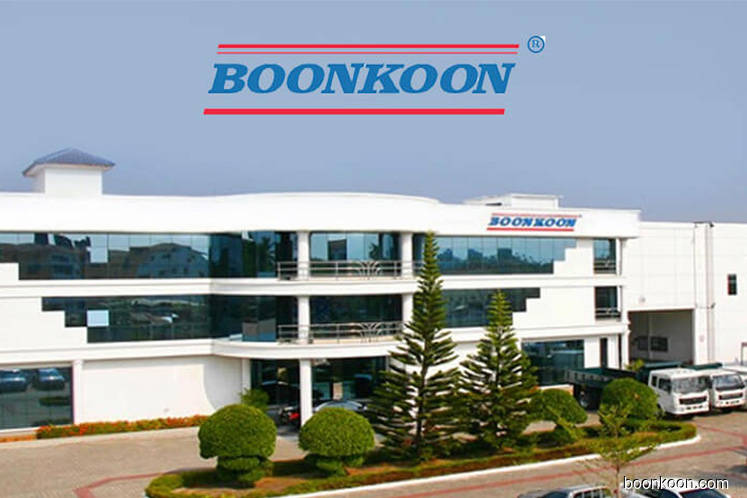 BOON Koon Group Bhd's single largest shareholder, Datuk Seri Chiau Beng Teik, has been actively accumulating shares in the Penang-based rebuilt commercial vehicle manufacturer in the past year.
His latest acquisition was on April 16 when he bought 10.275 million shares, or a 3.45% stake, off market for RM4.41 million. The block of shares at 43 sen apiece represented a 5.5% discount to the stock's closing price of 45.5 sen on that day.
It is worth noting that Chiau's equity interest in Boon Koon has now increased to 85.19 million shares or a 28.67% direct stake — a step closer to the mandatory general offer (MGO) threshold.
Under Malaysian rules, an offer to acquire the remaining interest in a company must be extended to the other shareholders once the major shareholder and parties acting in concert hold more than 33% interest.
To recap, Chiau surfaced as a substantial shareholder in Boon Koon after acquiring a 20.02% direct stake from the group's founding director, Datuk Goh Boon Koon, in April last year. He raised his holding further to 24.18% in May last year while Goh remained as a substantial shareholder with an 8.56% direct stake.
Over the past 12 months, both Chiau and Goh have been mopping up shares in the company, raising their shareholding to 28.67% and 17.89% respectively.
Chiau, 57, is also the founder and deputy executive chairman of Chin Hin Group Bhd, one of the largest building material distributors in the country.
Chin Hin's managing director is his eldest son Haw Choon, who, at 34, is believed to be the youngest head of a locally listed company.
Following a boardroom reshuffle at Boon Koon last year, Chiau and Haw Choon were appointed non-executive directors of the company while their lieutenant, Yeo Chun Sing, was appointed executive director.
Also noteworthy is that Haw Choon has a 2.83% direct stake in Boon Koon, which means father and son own at least 31.5% of the company collectively.
Now, talk has emerged of the possibility of the Chiau family triggering an MGO at Boon Koon should they continue to raise their equity interest in the company.
Boon Koon's share price closed at 46 sen last Thursday, losing 5% year to date. The stock is trading at a trailing 12-month price-earnings ratio of more than 40 times.
The company's market capitalisation of RM136 million values Chiau's stake at about RM39 million.
The question is, why is Chiau raising his interest in Boon Koon?
A good guess is that he sees a lot of potential in Boon Koon and wants to show the bankers and minority shareholders his commitment to the company.
So, what is his plan for the company?
The Chiau family controls Aera Property Group Sdn Bhd, which focuses on residential, commercial and industrial projects. Meanwhile Boon Koon is in the midst of diversifying into property development by partnering Aera Property, which has projects with a total gross development value (GDV) of about RM1 billion in the pipeline.
Last year, Boon Koon paid Aera Property an upfront participation fee of RM20 million in return for 60% of the GDV — estimated at RM93.5 million — of Aera Service Residence. Aera Property had launched the RM300 million serviced apartment project in Petaling Jaya a year ago via Chin Hin Property Development.
Moving forward, Boon Koon's earnings are expected to receive a boost from shared profits from property projects with Aera Property. A back-of-the-envelope calculation shows that it may enjoy a profit before tax of about RM56 million out of the aforementioned RM93.5 million, and is set to realise an actual profit of RM36 million in the next three years after netting off the upfront fee.
But why is the Chiau family sharing Aera Service Residence's profit by forming a joint venture with Boon Koon instead of enjoying all of it itself?
Perhaps this question is the answer to why Chiau is raising his stake in the listed firm.
Note that Aera Property is pondering a similar tie-up with Boon Koon on its mixed-use development in Sri Petaling, dubbed "8 & Stellar", which has a GDV of RM420 million.
Also in the pipeline is a serviced apartment project in Seri Kembangan with a GDV of RM300 million.
Whether it is a joint venture, diversification or injection of property projects, one thing is for sure: Boon Koon's prospects are bright. Therefore, it makes perfect sense for Chiau to increase his stake in the company.
So, will he continue to raise his stake in Boon Koon and trigger a general offer? Only time will tell.
Save by subscribing to us for your print and/or digital copy.
P/S: The Edge is also available on Apple's AppStore and Androids' Google Play.