This article first appeared in The Edge Malaysia Weekly, on November 4, 2019 - November 10, 2019.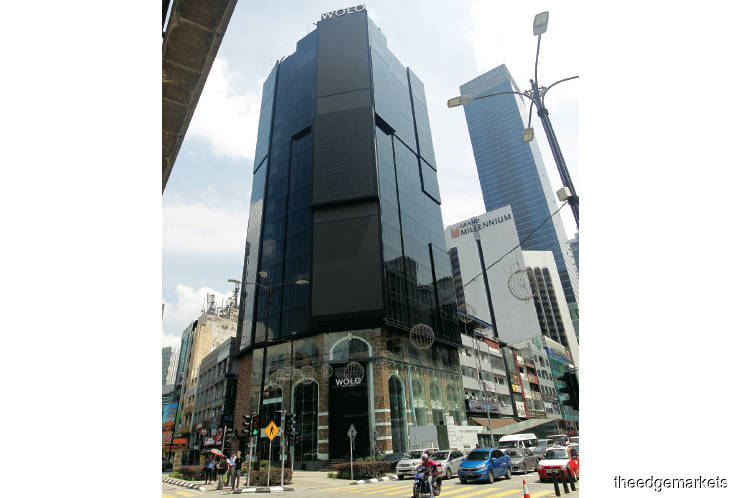 Real estate agents say the Wolo Hotel Bukit Bintang sale is a good deal for Mammoth Empire
Photo by Haris Hassan/The Edge
PROPERTY developer and manager Mammoth Empire Holding Sdn Bhd (MEH) has sold yet another of its assets — the four-star Wolo Hotel Bukit Bintang in Kuala Lumpur. The 133-room hotel, located at the intersection of Jalan Bukit Bintang and Jalan Sultan Ismail, went for RM115 million or RM864,661 per room.
MEH has been disposing of assets since the beginning of 2017 to pare down its debt and put it on a sound financial footing. In confirming the sale, MEH executive director Datuk Danny Cheah tells The Edge that the company sold the hotel together with the Wolo brand. It is understood that the deal was completed late last year.
According to Cheah, the buyer is a property investor. He declined to provide more information, although he did say that the hotel has enough space to increase the number of rooms to 150.
A source informs The Edge that the hotel has been sold to HYM Group, which describes itself as a manager of properties and hotels. Its hospitality assets include Gold 3 Boutique Hotel in Jalan Bukit Bintang and Krystal Suites in Bayan Lepas and Towne House Hotel in George Town, Penang, which are now being upgraded.
HYM, whose management team includes group chairman Datuk Seri Lee Hock Seng, group managing director Datuk Thomas Liang C F and chief development officer Datuk Adrian Tan, also undertakes interior design and architecture.
A search on the Companies Commission of Malaysia (SSM) website shows that HYM has set up HYM Wolo Sdn Bhd and HYM Signature Sdn Bhd, which are both owned by Lee (80%) and a Lee Kim Hai (20%). Up until June 28, Lee was the executive chairman of Mega Sun City Holdings Bhd but resigned "to pursue other personal interests".
Real estate agents say the Wolo Hotel Bukit Bintang sale is a good deal for the seller. The hotel was formerly an office building called Wisma KLIH, which was purchased by MEH from Equine Capital Bhd for RM58 million in 2010.
Following the Wolo sale, MEH is left with just one operational hotel. "We are keeping Empire Hotel Subang," Cheah says, adding that the completed Marriott Hotel building in Empire City Damansara 1 (ECD1) is no longer for sale. "We have settled our loan with Maybank."
Cheah and low-profile businessman Datuk Sean Ng Yee Teck are co-founders of the MEH group. Although it was incorporated in 1997, the group only became a recognised property developer in 2002 and grew in prominence in 2010 after the development and success of the Empire Shopping Gallery and the Empire Hotel in Subang.
Between 2010 and 2014, the group began to expand aggressively, opening Wolo Bukit Bintang in 2012 and venturing into Australia. It also launched Empire Remix in USJ, Selangor, as well as Empire Residence and ECD1 in Damansara Perdana. MEH also bought a 64-acre tract opposite ECD1 to build ECD2.
As the business grew, so did the company's debt. The completion of several of its projects was delayed. Some say Ng was too ambitious because at one point, the company's debt was so high that it had to sell what was considered its prized asset — Empire Shopping Gallery.
In 2017, this mall was sold to Pelaburan Hartanah Bhd for RM570 million cash. But MEH was granted a call option to buy back the mall on the fifth anniversary of the sale as well as the right of first refusal should PHB decide to dispose of the asset within five years.
Early last year, MEH also sold the yet-to-be-built Wolo Chinatown. It had bought the 16-storey Bangunan Hong Leong — later renamed Wisma Megah — at the intersection of Jalan Tun HS Lee and Jalan Tun Tan Cheng Lock for RM38 million with the intention of converting it into a hotel.
The building used to house a Hong Leong Bank branch and Hong Leong Group's corporate headquarters. MEH's plan was to add seven storeys to the building as well as retail space, a cinema and a recreational facility. It was reported that the hotel was sold for RM48 million to a Hong Kong firm last year.
Early this year, HCK Capital Group Bhd took over the development of Empire Remix 2 in USJ1, Subang Jaya. MEH has now brought in Exsim Group to help complete ECD1 and has sold a 4.5-acre plot next to ECD1 to the group. Exsim has also bought the ECD2 land from MEH for RM760 million.
The latter sale saw MEH clearing more than 90% of its bank loans, of which RM140 million was owed to AmBank, RM290 million to Maybank and RM158 million to Affin Bank. As at end-October, MEH only had a loan balance of RM40 million with AmBank for ECD1. It hopes to pay off all its debt by next year.