This article first appeared in The Edge Financial Daily, on December 3, 2019.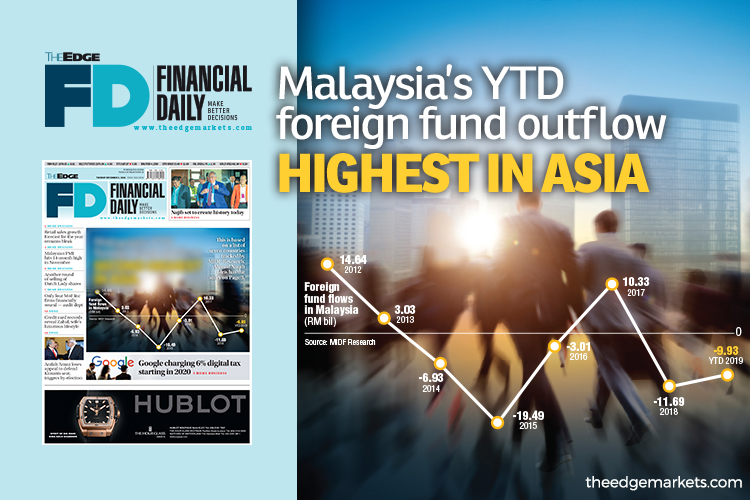 *The headline and first para of this story has been amended*
KUALA LUMPUR: Malaysia has recorded the highest year-to-date (YTD) foreign fund outflow among seven Asian countries tracked by MIDF Research, at US$2.39 billion (RM9.93 billion).
In its weekly fund flow note yesterday, the research house said Malaysia's RM9.93 billion outflow YTD makes up 85% of last year's total outflow of RM11.69 billion.
Although there is still one more month to go before the year ends, Malaysia has recorded the third-highest foreign fund outflow figure this year compared with the annual fund flows over the past seven years.
The highest foreign fund outflow recorded over the past seven years was in 2015 at RM19.49 billion, followed by RM11.69 billion in 2018.
MIDF Research analyst Adam M Rahim said the pace of foreign selling of equities listed on Bursa Malaysia intensified further last week, as foreign investors sold RM761.2 million worth of equities, four times the figure recorded in the preceding week.
"Foreign funds were net sellers on every day of the week, stretching the daily foreign selling spree to eight days," he wrote.
Adam said RM64.8 million of local equities was disposed last Monday, following Hong Kong's record election turnout and China's pledge to step up protection of intellectual property rights.
Last Tuesday, net foreign outflow increased to RM76.1 million as foreign investors repositioned themselves in alignment with the MSCI rebalancing, before increasing to RM88.3 million last Wednesday, despite US President Donald Trump declaring that the first phase of the US-China trade deal was near completion.
Foreign net selling rose to RM193 million last Thursday after Trump signed a bill supporting protesters in Hong Kong, and then peaked at RM339 million last Friday, as the possible retaliation from China towards the US' support for Hong Kong protesters could put a strain on the trade negotiations.
"November recorded a foreign net outflow of RM1.5 billion, the fifth month that selling levels exceeded RM1 billion. Nevertheless, November's foreign net outflow was not as high as Indonesia and South Korea," said Adam.
Among the listed companies, Malayan Banking Bhd saw the largest net money outflow of RM10.49 million last week, followed by CIMB Group Holdings Bhd (RM2.76 million) and Velesto Energy Bhd (RM1.98 million).
The top stocks which saw inflows during the week were Kuala Lumpur Kepong Bhd (RM3.97 million), IGB Real Estate Investment Trust (RM2.58 million) and Petronas Chemicals Group Bhd (RM1.93 million).
Adam said foreign net attrition in Asian markets quadrupled last week, with a total of US$1.82 billion disposed by foreign investors in South Korea, Thailand, Indonesia, the Philippines, India, Taiwan and Malaysia, compared with US$614.7 million a week earlier.
"Equity markets worldwide remained mixed last week due to uneven developments of trade negotiations between the US and China, especially after the US signed a bill supporting Hong Kong protesters," he said.
Meanwhile, US markets closed at record levels for the third consecutive day in a muted volume session last Wednesday, ahead of Thanksgiving Day, supported by encouraging growth in the economy, which reached 2.1% for the third quarter versus 1.9% for the preceding quarter.
In Europe, the eurozone economic sentiment indicator increased by 0.5 points month-on-month to 101.3 in November, boosted by improved confidence among manufacturers and consumers, said Adam, noting that the indicator had been on a declining trend over the past few months.
Brent crude oil ended its three-week winning streak, down 1.5% lower at US$62.43 per barrel.
"The decline comes from fears of excess output with a speculation that Russia and other large oil producers will not cut output as much as expected while resilient US supply of both crude and natural gas has kept inventories plentiful," the analyst said.