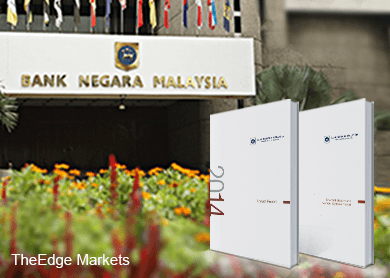 KUALA LUMPUR (Mar 11): The high level of household debt in Malaysia is expected to stay over the next few years given the relatively long average remaining maturity of 10 years for the borrowings, Bank Negara Malaysia said.
According to Bank Negara's latest financial stability and payment systems report, domestic household demand for credit was also expected to remain fairly strong among the young and more affluent population as they buy houses and motor vehicles.
"As the effects of earlier measures (to rein in the excessive accumulation of debt by households) continue to become more entrenched, the pace of growth in household debt should continue to moderate.
"The lower growth in house prices, along with the implementation of measures by the Government to assist lower-income households, should further reinforce a more measured pace of growth in household debt going forward," Bank Negara said.
According to the regulator, the ratio of household debt-to-gross domestic product rose to 87.9% in 2014 from 86.7% in 2013.
The central bank said aggregate household debt sustained its moderating trend over the past two years, growing by 9.9% to RM940.4 billion as at end-2014.
"Growth in household debt moderated over two consecutive years,underpinned by the continued decline in personal financing by non-bank lenders.
"Underlying this trend was the continued moderation in the expansion of financing for personal use," Bank Negara said.
The central bank said this was consistent with improved assessments by banks and non-bank financial institutions (NBFIs)of borrowers' ability to take on additional debt.
NBFIs remained the largest provider of personal financing with a share of close to 60% of total personal financing to households, said Bank Negara.
The regulator also noted that the healthy aggregate balance sheet of households had continued to lend support to overall debt servicing capacity amid stable employment and income conditions.
Aggregate household financial asset-to-debt ratio was also maintained at more than two times over the past three years.