This article first appeared in The Edge Financial Daily, on December 6, 2019.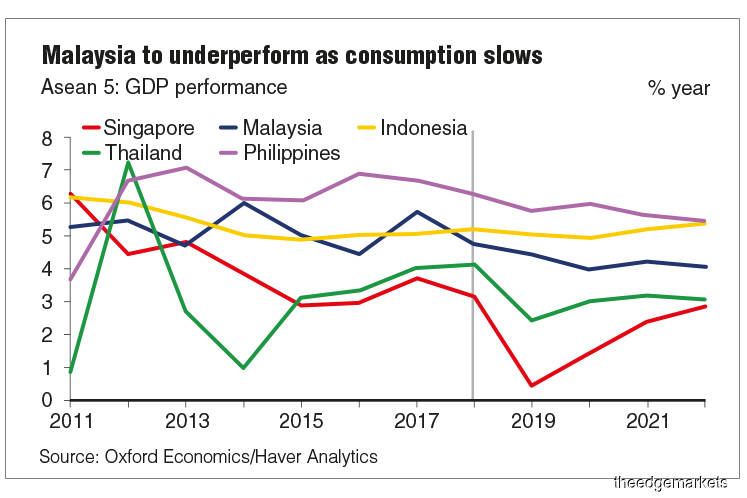 KUALA LUMPUR: The Institute of Chartered Accountants in England and Wales (ICAEW) forecasts Malaysia's gross domestic product (GDP) to slow to 4% in 2020, from a projected 4.4% for 2019, mainly due to higher inflation and lower household spending.
Household spending has been a key driver of growth in Malaysia over the past year but its momentum is not expected to last, said ICAEW economic adviser and Oxford Economics' lead Asia economist Sian Fenner.
"While there's been quite a number of favourable tailwinds that has supported household spending, we're starting to see some of those underlying fundamentals start to fade," she told reporters after the launch of the ICAEW Economic Insight: South-East Asia Q4 Report yesterday.
"There is no longer the support of the goods and services tax, which has been abolished or tax free holiday.
"We're also starting to see inflation start to nudge up a little bit, but primarily it's the softening in the labour market. So we think households will just rein in their spending growth next year," she said.
Household spending (private consumption) grew 7% in the third quarter of 2019 (3Q19), supported by a three-month tax-free holiday, low inflation, income tax returns and cash handouts boosting disposable income. Quarter-on-quarter, however, it fell from 7.8% in 2Q19.
ICAEW's GDP projection is significantly slower than the government's 2020 GDP forecast of 4.8%, from 4.7% in 2019.
Fenner said achieving the 4.8% target would be a tall order given that the government is maintaining a prudent budget and continues to have emphasis on fiscal consolidation.
"To get the 4.8%, you will need to expand the budget deficit significantly. You won't be looking at consolidating. You need to support more on consumer spending such as having cash handouts for example, tax rate cut," she said.
Fenner said although there has been some progress in the talks between the US and China, friction between the two countries remains high and the bulk of imposed tariffs are unlikely to be lifted anytime soon.
"Alongside slower Chinese domestic demand, we are cautious that the outlook for exports and private investment will remain challenging. Inflation dynamics are also expected to favour a more accommodative monetary policy stance for Malaysia. We believe that more monetary policy easing is warranted given the mildly expansionary budget for 2020," she added.
A more accommodative monetary policy stance expected
Based on that forecast and to help ease domestic spending next year, Fenner opined that in 1Q20, Bank Negara Malaysia is expected to reduce the policy rate by 25 basis points (bps) to 2.75%, following the recent 50 bps cut in the US statutory reserve requirement.
Overall, inflation in Malaysia is forecast at 0.7% for 2019 with the likelihood of rising to 2.1% in 2020, on par with average inflation in the country over the past decade.
Employment growth eased to 1.9% year-on-year in 3Q19, while real wages grew by 0.5% in the same period. Wage growth is likely to remain soft in 2019 to 2020, rising at a more moderate pace as compared to 2017 and 2018, Fenner said.
"There are some positives. We think growth will be more broad based next year. After investment had been a major drag on growth this year, we're actually looking for that to turn around, particularly on the improvement on some of those infrastructure projects. That should actually provide a couple of bright spots for the construction sector.
"For foreign direct investment (FDI), if we look at the medium-term score card of FDI attractiveness, we actually place Malaysia in second place just below Vietnam, and above Indonesia and the Philippines. That's because of the non-labour advantages it has, as well as the quality of its infrastructure, and ease of doing business. Within the region, Malaysia could actually be a country to benefit from the ongoing US-China trade war," she said.