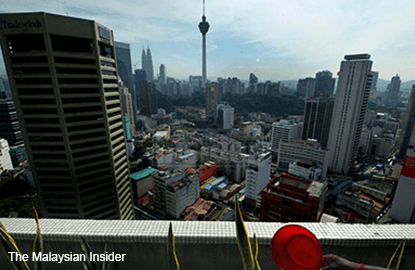 KUALA LUMPUR (Sept 8): Moody's Investor Service sees Malaysia's gross domestic product (GDP) growth weakening to 4.5% next year, while maintaining that this year's GDP will increase 4.8%.
In a note on the Asia Pacific region today, Moody's said weakening sentiment is cooling private sector consumption and investment, compounding soft external demand conditions.
"We continue to project GDP to increase 4.8% this year, but now, see growth weakening to 4.5% next year," it said.
The rating agency also adjusted downward, its forecasts for GDP growth for many Asia Pacific sovereigns, as high frequency indicators suggest the pace of economic expansion across Asia Pacific is cooling.
"We previously expected regional output to pick up from this year to next, we now expect a slower but solid rate of growth in both 2015 and 2016," It added.
It said weak demand from China has dampened the overall export outlook for the region, while softer commodity prices weigh on some sovereigns' export revenues, external positions and fiscal balances.
Internally, an anticipated investment boost from government infrastructure spending has not materialized in some cases, it added.
Moreover, it said, households are saving more of the income gains from lower energy costs than we previously expected, despite easing by central banks in the region. Market volatility and political risk are also weighing on confidence.
"We lower our Asia Pacific growth forecasts for this year and next. The move illustrates a weaker outlook in the region and in other parts of the world. We have reduced our projections for India to 7.0% in 2015 and 7.5% in 2016, from 7.5% and 7.6%.
"Our 2016 forecast for China is a shade lower at 6.3%, down from 6.5%. But the slowing is most marked elsewhere in emerging Asia. We now see Asia Pacific — excluding China, India and Japan — growing 3.0% this year and 3.2% next, down from our forecasts of 3.6% and 4.0% in May,"Moody's said.
Although lower growth is negative, Moody's said sovereign credit quality remains intact. On average, it is still stronger than in most other regions and the risk of deflation is minimal.
"In addition, government debt-to-GDP levels are largely moderate, offering some space for fiscal stimulus. As such, we expect Asian sovereign credit profiles to remain resilient to the growth slowdown," it said.