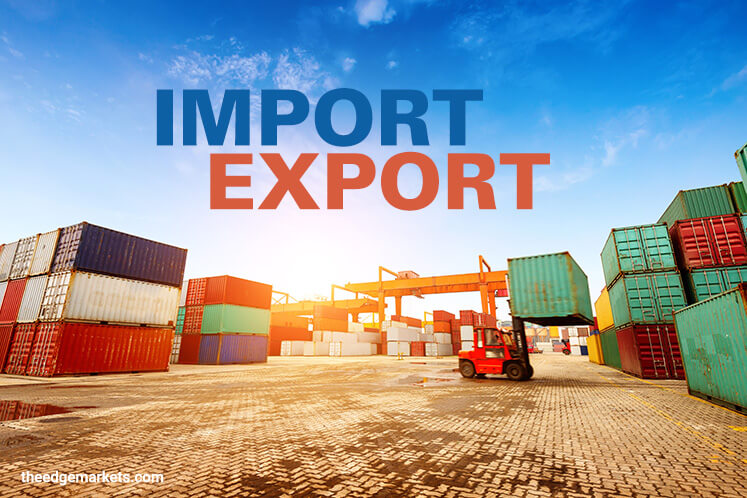 KUALA LUMPUR (July 7): The Ministry of International Trade and Industry (MITI) said Malaysia's exports saw stronger growth of 32.5% to RM79.4 billion, while imports grew by 30.4% to RM73.91 billion in May 2017, the first time export growth has outpaced imports since May 2016. 
In a statement today, the ministry said stronger export growth for the month resulted in a trade surplus of RM5.49 billion, the 235th consecutive month of trade surplus recorded since November 1997.
Trade for the month totalled RM153.3 billion, up 31.5% from RM116.6 billion a year earlier, amid increased trade among all trading partners, including ASEAN, China, US, EU, India, Taiwan and Australia.
The ministry highlighted exports to China recorded the highest year-on-year (y-o-y) growth since February 2010, up 51.5% at RM10.73 billion.
MITI said all major sectors saw double digit growth, led by exports of manufactured goods which grew 32.7% y-o-y to RM66.61 billion.
"The higher exports was on account of increased exports of electrical and electronic (E&E) products, petroleum products, chemicals and chemical products, rubber products, iron and steel products, machinery, equipment and parts, as well as manufactures of metal," MITI said.
Exports of agriculture goods increased 25.4% y-o-y to RM6.95 billion, supported by higher exports of palm oil, while exports of mining goods grew 32% to RM5.07 billion, amid higher exports of crude petroleum.
For the first five months of 2017, total trade grew 25.4% to RM722.89 billion. Exports rose 23.3% to RM377.96 billion, while imports increased 27.7% to RM344.93 billion for the period.
During the period, exports of manufactured goods grew 21.6%, while exports of agriculture goods and mining goods grew 27% and 31% respectively.
Meanwhile, imports grew 30.4% y-o-y in May, as intermediate goods imports increased by 33.8% on higher imports of parts and accessories of capital goods, except transport equipment, particularly electrical machinery and equipment.
Imports of capital goods rose 6.6% to RM9.89 billion, while consumption goods increased 8.3% to RM6.67 billion.
For the cumulative five-month period, imports expanded by 27.7% to RM344.93 billion, supported by import growth of intermediate goods (29.3%), capital goods (28.2%) and consumption goods (4.4%).