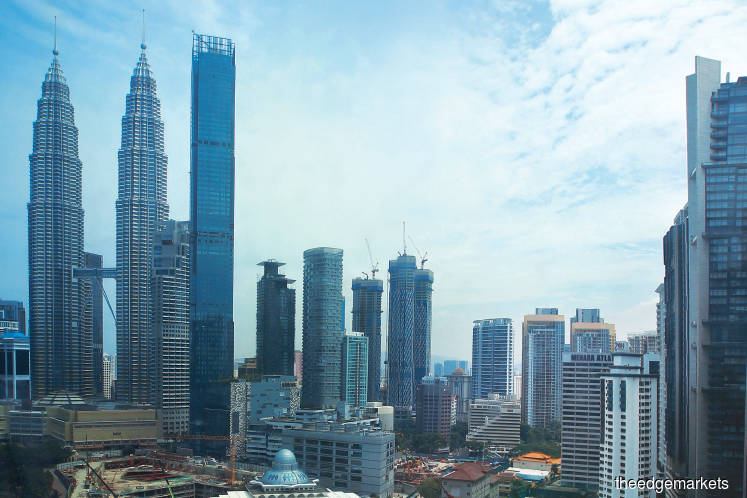 KUALA LUMPUR (July 2): Against the backdrop of increased trade protectionism and slower global economic activity, Malaysia's economic growth is expected to ease further in the second half of 2019, according to RHB Investment Bank Bhd. 
In a research note today, RHB economist Vincent Loo Yeong Hong wrote that the global economic outlook continues to be clouded by escalating trade tensions and heightened uncertainty. As a result, he expects Malaysia's real exports to moderate to a lacklustre growth of 0.5% for 2019, slowing from 2.2% in 2018. 
"Malaysia will therefore need to look to the domestic sector to sustain the economy's pace of growth in 2H19. The domestic economy remains relatively resilient, but there appears to be some headwinds on private investment, as business sentiment softened in the face of trade uncertainties," he said. 
Following this, Loo noted that RHB Research has tweaked its gross domestic product (GDP) forecast to 4.5% and 4.3% for 2019 and 2020 respectively, from 4.6% and 4.8%. 
"The increased willingness of global central banks to provide policy support may, however, provide some mitigation," Loo added.
On a sectoral basis, Loo forecasts that the growth in the manufacturing, services and agriculture sectors will slow down in the second half of the year due to weaker trade demand, base effects from last year's tax holiday, and high crude palm oil (CPO) inventory levels.
"However, construction and mining activities will likely pick up on the back of a revival of infrastructure projects and the resumption of oil & gas supply, following unplanned closures," he added. 
On inflation, Loo said that inflationary pressure remains muted, aided by the cap on fuel prices and the replacement of the goods and services tax (GST) with a narrower sales and services tax (SST). 
He expects headline inflation to average at 0.9% for 2019, from 1% in 2018.
"The OPR (overnight policy rate) will likely be kept stable for the remainder of 2019, but we do not rule out another rate cut, given the worsening global trade outlook.
"The worsening global trade outlook will likely weigh on Malaysia's external trade and economic growth, while increasing the downside risk on interest rates," he added. 
Meanwhile, the ringgit is expected to recover towards the end of 2019, as the US Fed is poised to ease its monetary policy amidst a potential slowdown in the US economic growth in the second half of 2019.