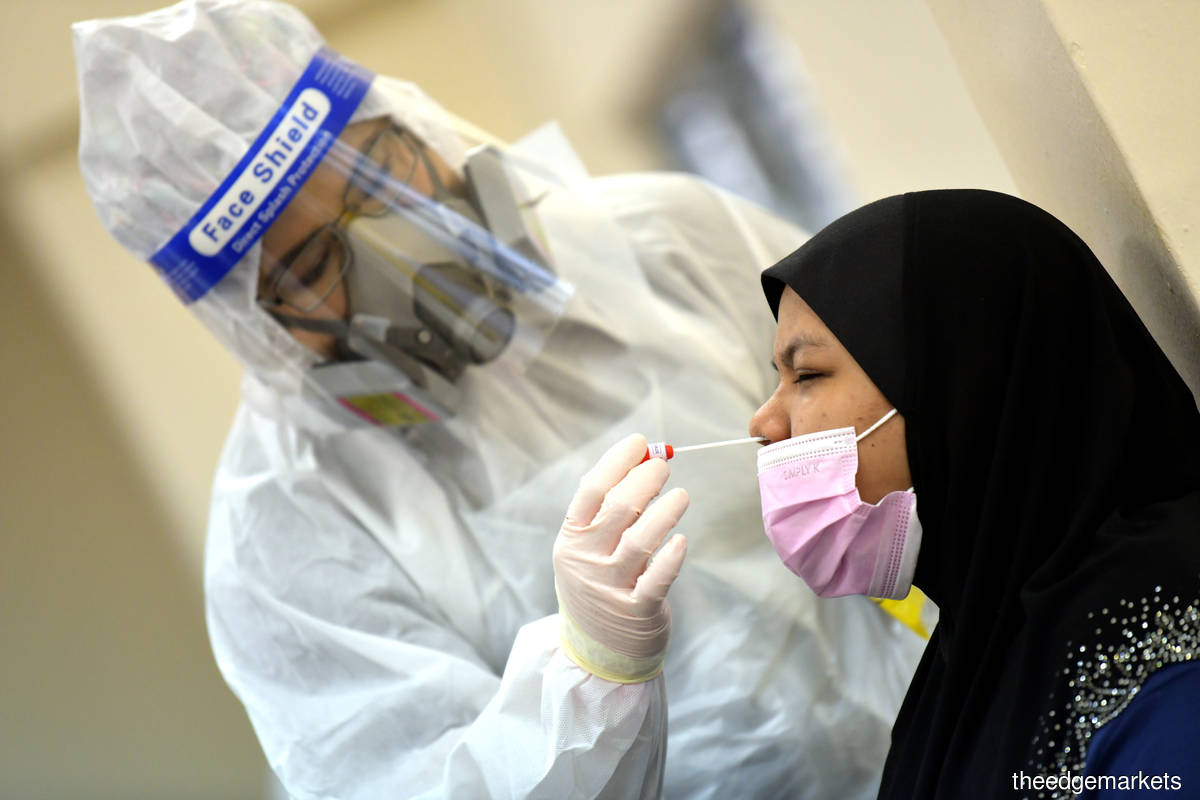 KUALA LUMPUR (July 23): Malaysia's daily Covid-19 cases surged to a new high of 15,573 today — compared with 13,034 yesterday — in line with an increase in the testing rate, the Health Ministry said.
The previous record high number of new infections was 13,215, posted on July 15.
A total of 137,326 Covid-19 tests were conducted today, compared with 128,279 yesterday, with today's positivity rate recorded at 11.34%. 
Health director-general Tan Sri Dr Noor Hisham Abdullah said 98.7% of today's infections were classified as Category 1 and 2 cases.
He said 53.1% or 8,273 of cases were classified as Category 1 (no symptoms), and 45.6% or 7,095 cases were Category 2 (mild symptoms).
Only 0.6% or 102 cases were classified as Category 3 (pneumonia), 0.5% or 74 cases were Category 4 (pneumonia requiring oxygen therapy), and 0.2% or 29 cases were Category 5 (critical and requiring assisted ventilation).
Dr Noor Hisham said the total number of Covid-19 cases reported by the country now stands at 980,491.
Selangor reported 7,672 new cases today — the first time the state breached the 7,000 level.
Kuala Lumpur, meanwhile, saw new infections surpassing the 2,000 level at 2,063, the highest daily figure reported by the nation's capital since the pandemic began. 
Other states with three-digit new cases included Kedah (937), Johor (722), Negeri Sembilan (682), Penang (530), Sabah (516), Sarawak (461), Pahang (457), Melaka (452), Perak (415), Kelantan (372) and Terengganu (229).
Total deaths rise to 7,718
Meanwhile, 144 Covid-19 related deaths were reported today, raising the country's death toll to 7,718. 
Of the latest fatalities, 66 deaths were reported in Selangor, 16 in Kuala Lumpur, 15 in Johor, 13 in Melaka, 10 in Negeri Sembilan, eight in Pahang, six in Kedah, three in Sarawak, two each in Perak and Penang and one each in Sabah, Terengganu and Labuan. 
Daily recoveries, on the other hand, came in higher at 10,094 from yesterday's 8,436. 
Active cases soared further to 147,386, in tandem with the rise in new infections today. 
Of this, 939 patients are placed in the intensive care unit, with 456 of them requiring breathing assistance. 
To date, 825,387 individuals have been declared cured of Covid-19 while 980,491 Malaysians have been detected with the virus. 
R0 declines to 1.07 on July 22 
Dr Noor Hisham said the country's basic reproduction number (R-naught or R0) for Covid-19 infections nationwide declined to 1.07 yesterday (July 22) from 1.09 the day before, with Terengganu having the highest R0 at 1.44. 
Kedah and Putrajaya came in next at 1.22, followed by Johor at 1.20, and Sabah at 1.19.
The R0 projects the average number of people that each new Covid-19 patient will infect, or what is termed the effective reproduction number. An R0 of less than 1.0 means the infection is not spreading.
119 cases involving variants of concern detected 
Dr Noor Hisham also shared that the ongoing studies by the Institute of Medical Research and the Institution of Community Health and Medicine of Universiti Malaysia Sarawak have identified a total of 119 cases involving variants of concern. 
"106 cases were of the Delta variant (B.1.617.2), 10 cases were of the Beta variant (B.1.351) and another three were of the Alpha variant (B.1.1.7)," he said.
With this, the total number of cases involving variants of concern to date is 409.
"There are 206 cases of Beta variant, 189 cases of Delta variant and 14 cases of Alpha variant," said Dr Noor Hisham. 
30 new clusters with 16 from communities 
The Health Ministry also identified 30 new clusters today, including 16 in communities. The remaining clusters were linked to workplaces, high-risk groups, religious centres and higher education.
To date, 3,391 clusters have been detected by the ministry, with 2,433 declared ended. That leaves 958 active clusters.