This article first appeared in The Edge Financial Daily, on March 11, 2019.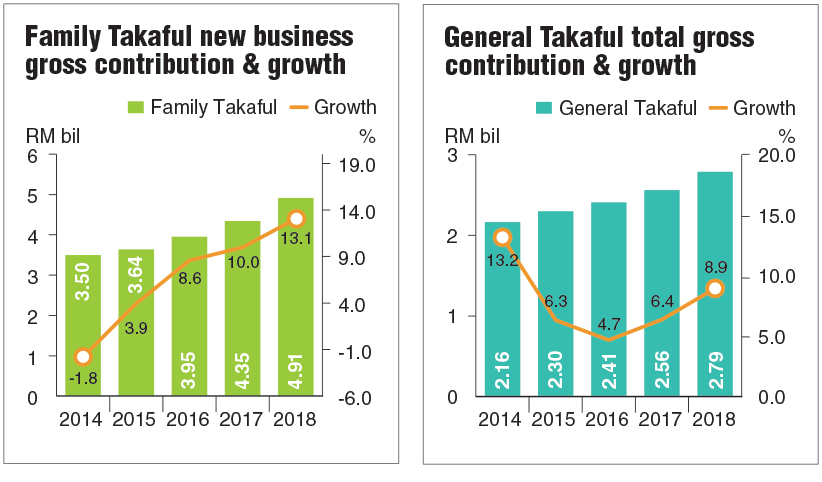 KUALA LUMPUR: The local family takaful industry expanded at a faster pace last year as Malaysians were more familiar with the takaful concept, said the Malaysian Takaful Association (MTA).
New takaful protection value rose 14.5% year-on-year (y-o-y) to RM324.2 billion in 2018, following a 2.4% y-o-y pace in the previous year.
The total family takaful new business contribution grew 13.1% to RM4.91 billion last year from RM4.35 billion in 2017.
However, annual contribution new business recorded a moderate growth of 4.1% y-o-y in 2018, while single contribution new business jumped 16.6% y-o-y.
The total family takaful business in force contribution also grew 11.8% y-o-y to RM4.86 billion in 2018, with 4.96 million certificates of business in force, up 4.6% from 4.74 million in 2017.
"This resulted in an improvement of the penetration rate, which increased to 15.2% in 2018 from 14.8% in 2017. This also meant that the industry provided a sum of RM834.2 billion takaful protections, up 11.6% from 2017," said MTA in a statement.
The association said as a whole, the takaful industry added 699,534 new certificate holders last year, up 4.6% from 668,657 new certificates issued in 2017.
The general takaful industry, meanwhile, registered decent growth of 8.9% with gross contribution totalling RM2.79 billion compared with RM2.56 billion in 2017.
Motor takaful remained the largest class of business with a portfolio mix of 62.3%, followed by fire at 20.1% and other classes at 17.2%.
Motor takaful recorded a gross contribution of RM1.74 billion in 2018, up 14.6% from RM1.52 billion in 2017, on the back of strong car sales performance and despite the Phased Liberalisation of Motor and Fire Tariffs impacting the motor takaful sector, said MTA.
Fire insurance maintained its position as the second-largest class with a gross contribution of RM560 million, a slight increase of 1.8% y-o-y. Other classes, however, declined by 0.4% y-o-y to RM490 million.
In terms of claims paid, the net claims incurred ratio (NCIR) fell to 51% from 51.1% in 2017.
For motor, the industry's NCIR increased to 66.5% from 63.5% in 2017.
"Motor takaful claims paid out by insurers amounted to RM890 million last year, and this worked out to RM2.4 million per day in claims for property damage (own vehicle, other party's vehicle), bodily injury and vehicle theft, which was higher than the RM2.3 million per day rate recorded in 2017," said MTA.
With private consumption forecast to be resilient, coupled with the still low percentage of the Malaysian population having takaful at 15.2% despite a Muslim population of 60%, MTA chairman Muhammad Fikri Mohamad Rawi projects the outlook and prospect of the takaful sector for 2019 to remain moderate but positive.
He reiterated that supporting the regulatory authorities in developing a strong financial sector is the takaful industry's aim and member companies remain focused on their objectives to promote greater public awareness, understanding and desire for takaful protection.
"We will not leave any stone unturned in our quest to uplift the professionalism of our agents and our distribution channels," Muhammad Fikri added.