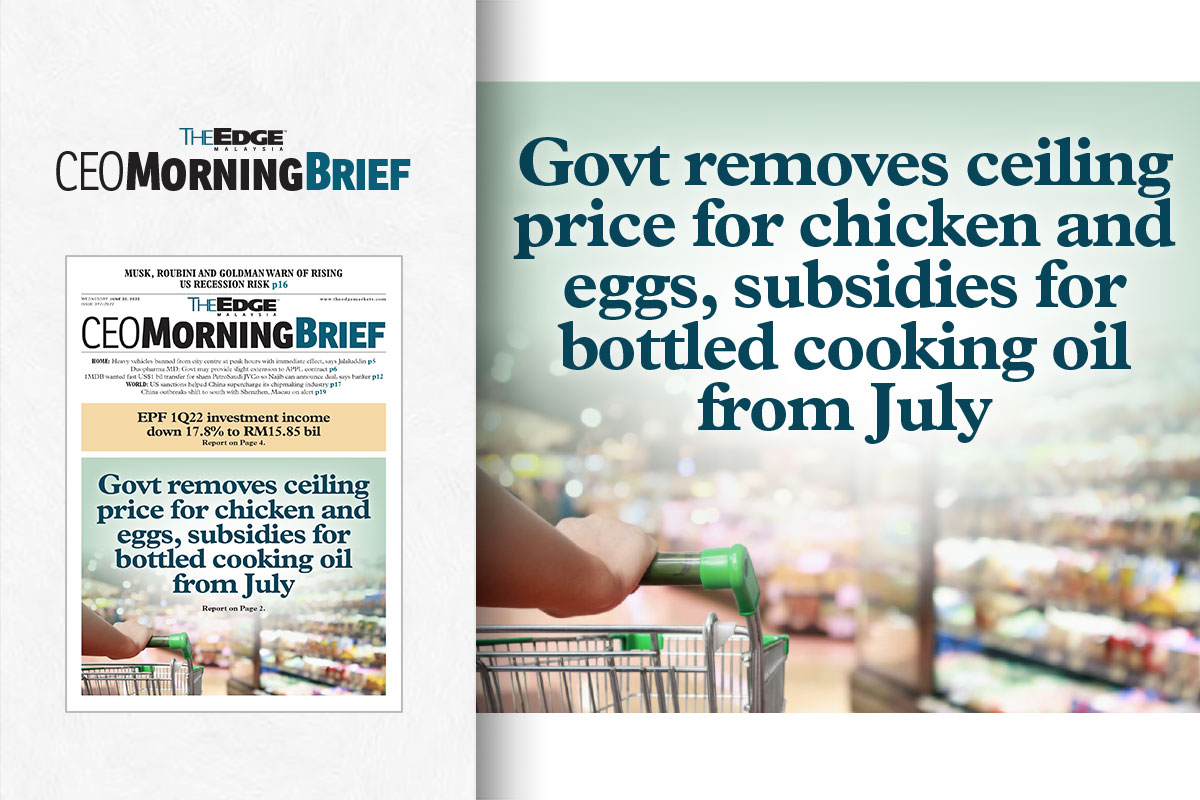 KUALA LUMPUR (June 21): The government has announced the removal of the ceiling price for chicken and chicken eggs, as well as subsidies for cooking oil in bottles of 2kg, 3kg and 5kg, from July 1.
This is to ensure adequate food supply in the market and to stabilize prices in the longer term, said the Domestic Trade and Consumers Affairs Ministry in a statement.
The subsidy for cooking oil in 1kg polybag packages, which is sold at RM2.50 per packet, would not be affected.
The statement said the government enforces a ceiling price on chicken and eggs to help alleviate the rising price of the products, but this has led to price distortion in the market, the ministry said.
 
"The government is very concerned with the current situation and is always committed to addressing price and supply issues.
 
"The ministry will continue to increase its efforts to help reduce the burden of the people and will not hesitate to enforce existing laws under the jurisdiction of the ministry, such as the Price Control and Anti Profiteering Act 2011 and the Control of Supply Act 1961, to ensure that the price and supply issues are under control," it added.
 
Presently, the ceiling price for standard chicken is set at RM8.90 per kg in the Peninsular Malaysia.
 
Meanwhile, Domestic Trade and Consumers Affairs Minister Datuk Seri Alexander Nanta Linggi said the price of chicken is expected to be between RM10 and RM12 per kg, following the removal of the ceiling price.
 
"The livestock farmer groups told me that chicken prices will indeed go up a bit after the subsidy is removed. It will be around RM10 or so per kg, but it won't be as high as RM12.50 per kg," he said.
 
The ceiling prices for chicken and chicken eggs were implemented on Feb 5, and subsequently extended to June 30.
 
Malaysia has also implemented a ban on chicken exports from June 1, as part of its food protectionist move.
 
The halt in the chicken export is affecting neighbouring countries such as Singapore, which sources a third of its supply from Malaysia.
 
As for cooking oil, the Ministry of Finance has noted that the government is currently subsidising about RM6 per kg. The current price is around RM8.50 per kg.
Nantha, meanwhile, said the subsidies for cooking oil in bottled packaging has reached RM20 million a month.
Putrajaya's move to lift the ceiling price for chicken and eggs and abolish subsidies for bottled cooking oil is in line with the government's plan to introduce more targeted subsidies and assistance to the needy in coping with rising prices.
To receive CEO Morning Brief please click here.