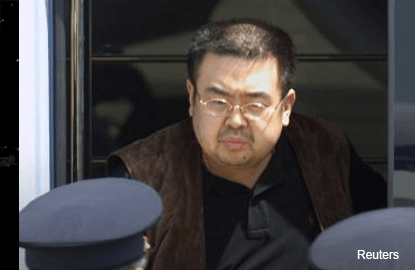 (Feb 24): A preliminary report showed that VX Nerve Agent was used in the murder of North Korea's Kim Jong Nam, Malaysian police said.
The substance, listed as a chemical weapon under the Chemical Weapons Convention Act 2005, was found on the victim's face and eyes, the police said in an e-mailed statement on Friday. The eldest son of late leader Kim Jong Il was murdered in a Kuala Lumpur airport on Feb 13.
His death has raised questions about the stability of Kim Jong Un's regime as he accelerates plans to build nuclear weapons that threaten the U.S., South Korea and Japan. South Korean government officials have speculated that Kim Jong Un was behind the killing of his half-brother, a critic of his leadership who had lived outside the country for years.
Police have arrested four people linked to the murder, including two women who allegedly carried out the attack, and are seeking four North Koreans whom they believe fled to Pyongyang on the day Kim Jong Nam was killed. Authorities also want to question a diplomat at the North Korean embassy in Kuala Lumpur, an employee at Air Koryo, and a North Korean living in Malaysia for three years.
The female suspects were trained to swipe the poison on the victim's face, and knew the substance was toxic, Inspector-General of Police Khalid Abu Bakar said on Wednesday, dismissing reports that they were involved in a television prank. They had practiced at a couple of shopping malls in Kuala Lumpur, and were instructed to wash their hands after the attack, he said.
Chemical Weapons
Malaysian police said they're looking into the airport crime scene to make sure there's no radioactive material, Bernama reported today. Police have yet to determine the identity of the deceased, whose travel document named him as Kim Chol. They expect his next-of-kin to come to Malaysia in a day or two to identify and claim the body, the news wire said.
North Korea's claims that it doesn't possess chemical weapons aren't viewed as credible among global experts.
North Korea is among the world's largest possessors of chemical weapons, ranking third after the U.S. and Russia, according to a 2011 assessment by the International Institute for Strategic Studies. A 2010 white paper by South Korea's defense ministry estimated that North Korea had between 2,500 and 5,000 metric tons of chemical weapons agents.
North Korea is estimated to be capable of producing as many as 12,000 tons of chemical weapons, with a focus on Sarin and VX gas, according to a 2015 report by the Nuclear Threat Initiative, a non-partisan policy group based in Washington.