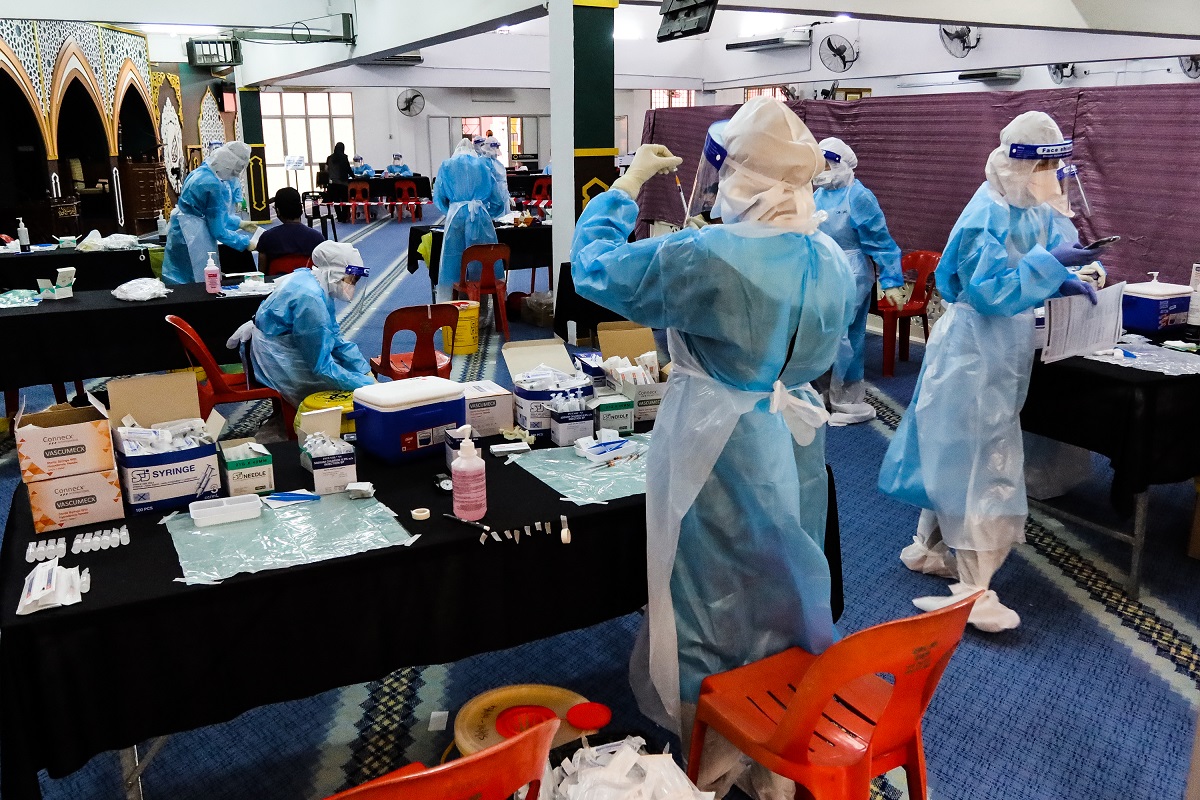 KUALA LUMPUR (July 9): Malaysia reported 9,180 Covid-19 infections on Friday, a new record high daily figure for the country — up from the previous highest number of 9,020, reported on May 29.
The jump in new cases, up from 8,868 recorded on Thursday (July 8), came as the Ministry of Health ramped up public health measures — with more rigorous close contact detection and health screening for the early detection of Covid-19 cases — in areas that have been placed under the Enhanced Movement Control Order (EMCO).
The latest cases were detected after screening 97,442 individuals across the country, representing a positivity rate of 9.42%. The number of individuals screened was up 47.5% from 66,063 people on Monday.
Selangor, where a big part of its districts is under EMCO, also posted a new record high of 4,400 daily cases, up from its previous peak of 4,152 on Thursday, according to Health director-general Tan Sri Dr Noor Hisham Abdullah in a Twitter post. These raised cumulative cases detected in the state to date to 277,393.
Kuala Lumpur, where several localities are also under EMCO, recorded 1,271 new infections, marking the fourth consecutive day the federal territory has over 1,000 new cases.
Other states that reported three-digit new infections were: Negeri Sembilan (899), Kedah (417), Sarawak (406), Sabah (323), Johor (315), Perak (241), Melaka (222), Pahang (214), Kelantan (151) and Penang (142).
Also reported today were 77 Covid-19-related deaths, which raised the nationwide tally for coronavirus-linked deaths to 5,980.
Active cases soared further to 80,665, as daily recoveries remained below new infections at 5,713. Total recoveries currently stood at 731,193, versus cumulative infections of 817,838, which translates into a recovery rate of 89.41%.
Patients in intensive care now total 959 — up from 952 yesterday — and 465 need ventilators to breathe.
30 new clusters found
The Ministry of Health has also identified 30 new infection clusters today, of which 21 are workplace clusters, raising active clusters to 865. To date, MoH has identified 3,029 clusters, with 2,164 having been declared ended.
Dr Noor Hisham, meanwhile, reiterated that the increased new Covid-19 infections in Kuala Lumpur and Selangor are expected, following more targeted screening activities conducted by the ministry.
"There are also many individuals in the Klang Valley who come to private clinics to undergo the Covid-19 test. MoH will continue to conduct close contact detection activities and isolation of Covid-19 positive cases to prevent the spread of Covid-19 infection in the community," he said.
Nationwide R0 at 1.09
He also highlighted that Malaysia's basic reproduction number (R-naught or R0) for Covid-19 infections nationwide now stands at 1.09, with Putrajaya having the highest R0 of 1.28.
This R0 or Rt projects the average number of people that each new Covid-19 patient will infect, or what is termed the effective reproduction number. An R0 of less than 1.0 means the infection is not spreading.