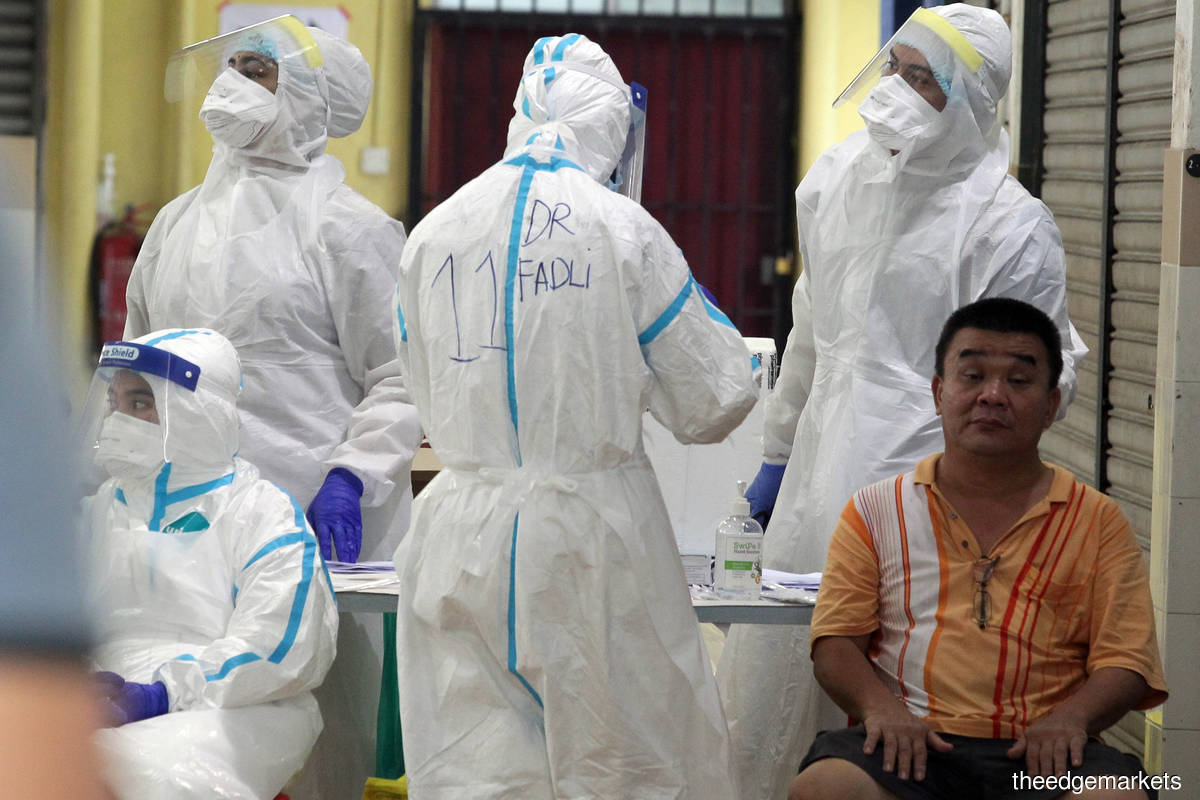 KUALA LUMPUR (Oct 23): Daily new Covid-19 cases in Malaysia dropped to 710 — from 847 reported yesterday — taking total infections in the country to 24,514.
The Covid-19 virus has killed 214 people in the country to date, with 10 new death cases reported by the Ministry of Health (MOH) today.
This is the highest daily figure of fatalities recorded in a single day since the pandemic struck the country in January.
Eight fatalities were from Sabah, one was from Kedah while the other was from Labuan, according to MOH director-general Tan Sri Dr Noor Hisham Abdullah.
The deceased were aged between 33 and 77. Two of them did not have any health complications, while the remaining eight suffered ailments such as diabetes, pancreatic cancer, high blood pressure, dyslipidemia, heart disease, gout, obesity, stroke, kidney failure, and asthma.
Malaysia's active cases, which carry high transmission risks, climbed to 8,416 with the patients already isolated and given treatment. This leaves 90 patients in intensive care units with 28 of them needing respiratory aid.
Sabah continued to be battered by new Covid-19 cases, with the state accounting for 528 or 74.4% of new infections reported.
"Some 203 cases are from the [existing] clusters, including two from the new Samudera cluster, 169 cases from screening of close contacts of Covid-19 positive patients, and 156 from other Covid-19 screenings," said Noor Hisham in a statement today.
Based on the latest two-week period data (from Oct 9 until Oct 22) provided by the ministry's Crisis Preparedness and Response Centre, Sabah had 6,577 active cases, where 16 of its health districts were categorised as red zones, meaning they had over 41 active cases.
In the state, Kota Kinabalu had the highest active cases, with 1,582 cases followed by Tawau (962), and Semporna (971).
Moreover, Selangor reported 62 new cases today, bringing its current tally to 3,804 — making it the second state with the highest total infections after Sabah (10,396). Kuala Lumpur has 2,920 total infections following the 11 new Covid-19 cases recorded in the state.
"Some 180 cases (25.4%) came from the Kepayan Prison cluster (140 cases), the Remand Prison cluster (39), and the Tembok cluster (one)," said Noor Hisham.
Noor Hisham said only one new case was reported among travellers who had returned from Sabah, bringing the total cases of Sabah travellers since Sept 20 to 466, so far.
From the 710 new cases, one was an imported case involving a foreigner from Nepal.
The ministry said there were three new Covid-19 clusters, mainly in Sabah and Selangor with a total of 30 infections.
The clusters, namely the Samudera cluster in Sandakan, Sabah has eight positive cases. The Palma cluster in Gombak and Hulu Selangor, Selangor has 13 cases, while the Jaya cluster which spread around Sepang in Selangor and Seremban in Negeri Sembilan has nine cases.
Some 467 patients were discharged and the total of recovered cases stood at 15,884 (64.8% of total cases).