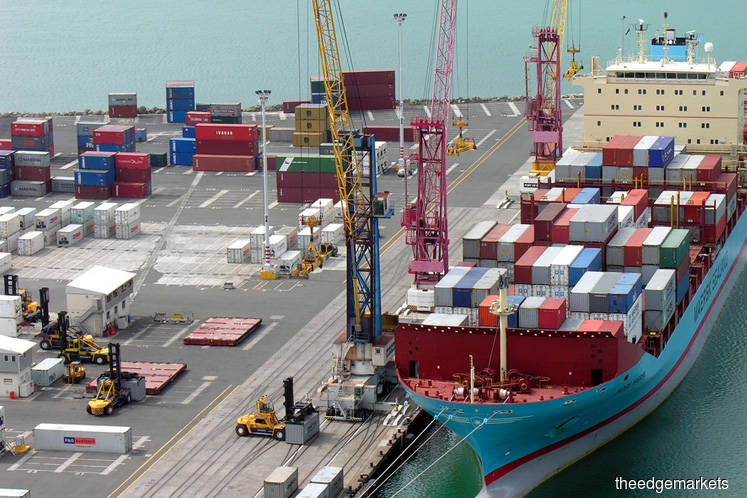 KUALA LUMPUR (Jan 3): Malaysia's exports decreased 5.5% year-on-year (y-o-y) to RM80.8 billion in November 2019 as the nation's electrical and electronic product and commodity sales to major importers fell.
In a statement today, the Statistics Department said main products which contributed to the decline in exports included electrical and electronic products besides liquefied natural gas, refined petroleum products and crude petroleum.
Palm oil products and natural rubber also contributed to the country's export drop, it said.
"The Department of Statistics, Malaysia also reported that exports fell due to the decrease in exports to Singapore (-RM1.6 billion), Hong Kong (-RM1.3 billion), Japan (-RM959.4 million), Thailand (-RM699.1 million) and Republic of Korea (-RM633.5 million)," the department said.
Malaysia imports also fell in November 2019. Today, the department said imports contracted 3.6% y-o-y to RM74.3 billion as the nation's capital goods purchases decreased RM443.2 million.
"Nevertheless, imports for consumption goods and intermediate goods registered an increase of RM125.9 million and RM727.1 million respectively. Meanwhile, lower imports were mainly from the European Union (-RM1.1 billion), Saudi Arabia (-RM1.0 billion), Singapore (-RM834.6 million), Taiwan (-RM602.3 million), Thailand (-RM587.6 million) and Indonesia (-RM586.8)," the department said.
The department's chief statistician Datuk Seri Dr Mohd Uzir Mahidin said in the statement Malaysia's total trade stood at RM155.1 billion in November 2019, down 4.6% or RM7.5 billion compared to November 2018.
"The trade surplus, which was valued at RM6.5 billion, shrank RM2.0 billion (-23.1%) from a year ago," he said.
Malaysia's November 2019 y-o-y export drop was weaker than market forecast although imports shrank less than anticipated, according to economists.
OCBC Bank economist Wellian Wiranto wrote in a note today the latest export print showed that value of shipments contracted by 5.5% y-o-y, compared to market expectation of a flat growth of 0%.
"Meanwhile, imports shrank less than expected. Instead of printing -5.0% y-o-y growth that market expected, it came in at -3.6%. Overall, given the relatively backward-looking nature of the November trade figures — reflecting a time when the question of whether there would be an escalation in US-China trade conflicts loomed large — we doubt that Bank Negara Malaysia (BNM) will be rushed into concluding that the prospect for Malaysia's exports in 2020 is an irredeemably gloomy one.
"Indeed, on our end, as much as our fingers are still crossed, we see the recent détente allowing some recovery in global trade flows, which would be enough to allow exports to grow 4%-5% this year in nominal terms, compared to -2% that we are likely to see for full-year 2019. Hence, as much as we think that BNM may cut (the OPR) up to 50bps this year, the next meeting on Jan 24 will likely still see a stay on the OPR, as it awaits 4Q GDP data due out on Feb 14," Wiranto said.
UOB Group senior economist Julia Goh and economist Loke Siew Ting wrote in a note today that Malaysia's November 2019 y-o-y export drop was weaker than UOB's forecast of a 0.1% contraction and market estimates of 0% growth.
"Malaysia's export decline follows further contractions for most regional exports in November. Markets have mostly reacted to positive news flow that US and China reached a Phase One trade deal that is expected to be signed in the very near future. This sent EM Asia FX on firmer footing against USD. Latest manufacturing activity index, or PMI indices, improved in Nov-Dec amid expectations that the Phase One deal will halve tariff rates on US$120 billion of Chinese goods to the US that was implemented at 15% in September 2019.
"Despite gathering optimism, we remain cautious and keep our forecast for Malaysia's export growth at 2.0% for 2020. We think the path to reach a Phase Two trade deal will be more challenging with some risk that (US President Donald) Trump may reinstate the tariffs if he sees China backtracking on certain terms particularly agriculture purchases and IP protection. Also the projected recovery this year is expected to be softer relative to past cycles amid lingering US-China trade tensions, potential widening of trade disputes to other countries, and a global tech down cycle that may drag until mid-2020," they said.