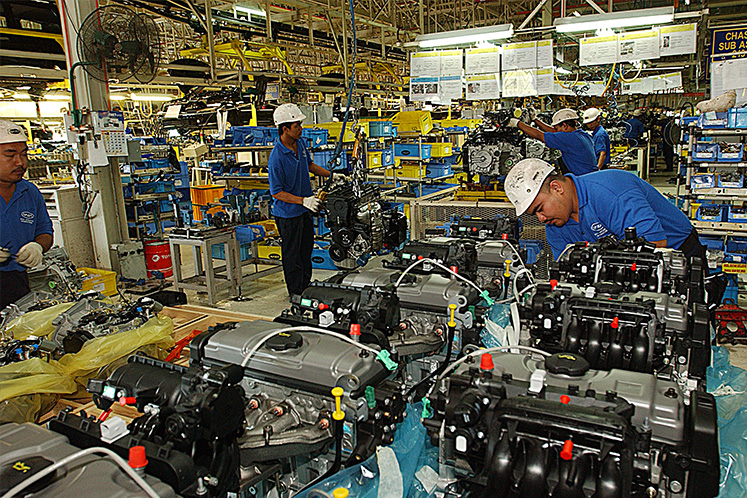 KUALA LUMPUR (April 1): Malaysia's manufacturing sector cut production volumes during March in response to Covid-19, as the global pandemic cut demand and restricted operating capacities due to severely delayed deliveries of inputs.
According to IHS Markit, new business from domestic and external clients fell as the negative economic impact from the Covid-19 outbreak intensified during March.
The headline IHS Markit Malaysia Manufacturing Purchasing Managers' Index (PMI) fell to 48.4 in March, from 48.5 in February, signalling a further drop in momentum across the Malaysian goods-producing sector.
IHS Markit said the survey's output index during March fell to its lowest level since June 2016, signalling a sharp slowdown in manufacturing production in Malaysia.
Citing firms, it said demand- and supply-side factors adversely impacted output volumes.
It said the global pandemic also had a noticeable impact on external markets, as evidenced by a sharp drop in export demand during March.
It explained that the rate of decline was broadly in line with that seen in February following the initial negative shock to demand from China.
Where a decrease was reported, firms noted a broad-based fall in foreign sales as Covid-19 hit global demand, it said.
IHS Markit said looking towards business prospects over the next 12 months, Malaysian manufacturers expect further cuts in production.
It said concerns that the global Covid-19 pandemic would have a long-lasting damage resulted in sentiment falling to its lowest level since January 2016.
The negative outlook was also linked to the prospect of sustained supply chain disruption, it said.
IHS Markit chief business economist Chris Williamson said the marginal fall in the PMI masks steeper deterioration in production and new orders trends, as the headline index includes supplier delivery times as one of its five components.
He said while supply chain delays are usually seen as a positive development, reflecting rising demand and accelerating economic growth, the current survey is seeing record degrees of supply chain disruption from the coronavirus outbreak, notably from China.
He said these supply shortages are hitting production capacities and constraining growth.
"Supply from China should start to improve in the coming weeks, helping lift some of the production constraints, but the next problem will be one of slumping global demand for many goods as both business and households around the world spend less due to closures and lockdowns.
"Worse therefore looks set to come in the second quarter, both in terms of exports and domestic demand in Malaysia, but as yet there is great uncertainty as to how long the global slump will persist.
"Until more is known about the likely length of the Covid-19 pandemic, businesses are likely to remain highly risk averse, as evidenced already by companies' future expectations for the year ahead sliding to an all-time low," he said.