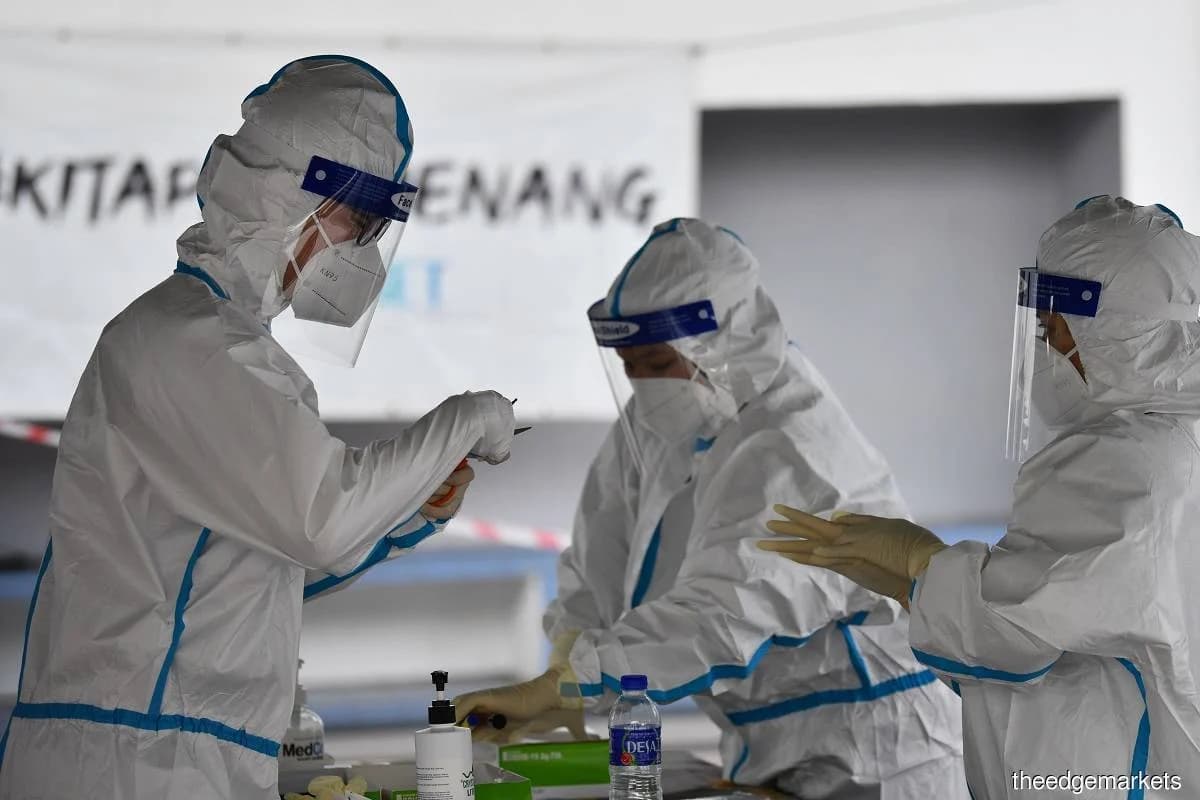 KUALA LUMPUR (June 21): Malaysia posted 4,611 new Covid-19 cases today, the lowest in 35 days.
The last time daily cases dropped below 5,000 was last Monday (June 14), when 4,949 infections were reported.
The number of active cases dropped further to 62,918, Health director-general Tan Sri Dr Noor Hisham Abdullah said in a statement.
A total of 58,384 individuals were tested for Covid-19 today. In contrast, 77,651 individuals were tested yesterday (June 20), with 5,293 of them testing positive for the virus, while 83,713 individuals were tested the day before (June 19) with 5,911 testing positive.
Malaysia's total number of  Covid-19 cases has now breached the 700,000 mark, reaching 701,019. This is the third highest in ASEAN after Indonesia (2 million) and the Philippines (1.36 million), according to World Health Organization (WHO) data.
Dr Noor Hisham said the Klang Valley – comprising Selangor, Kuala Lumpur and Putrajaya – reported 1,671 cases today, representing 36% of the day's cases. Selangor's total dropped to 1,346 from 1,680 yesterday – the lowest since June 7, where 1,374 cases were reported.
Meanwhile, Kuala Lumpur saw 310 cases, down from 379 yesterday, while Putrajaya reported 15 cases, up from four cases yesterday.
Sarawak came in second after Selangor with 682 cases, followed by Johor with 314 cases.
Dr Noor Hisham said another 69 more Covid-19 related deaths were reported in the 24 hours as of noon today, raising total fatalities in the country to 4,477. Of the latest fatalities, 24 were confirmed in Selangor, 11 in Kuala Lumpur, nine in Negeri Sembilan, seven in Johor, four each in Kelantan and Labuan, three in Kedah, two each in Terengganu, Sabah and Sarawak, and one in Melaka.
New recoveries continued to outpace new infections today at 5,439. This brought total recoveries so far to 633,624.
A total of 880 patients are being treated in intensive care units, of whom 452 were on ventilators.
22 clusters detected today
The Health Ministry reported 22 new Covid-19 clusters in the 24 hours as of noon, comprising 14 workplace clusters, seven community clusters, and one high-risk group-linked cluster.
The 14 workplace clusters are:
·         Industri Jalan Bebas Tiga in Selangor (with 24 infections)
·         Industri Jalan Enggang Ampang in Selangor (eight)
·         Industri Jati Kiri in Selangor (184)
·         Industri Batu Besar in Selangor (130)
·         Tapak Bina Gunung Satu in Johor (15)
·         Perindustrian Sri Plentong in Johor (14)
·         Jalan Pekeliling Industri in Johor (26)
·         Jalan Bioteknologi Dua in Johor (nine)
·         Industri Bukit Tengah in Penang (24)
·         Lebuh Kurau Tiga in Penang (12)
·         Jalan Jelai-Rompin in Negeri Sembilan (42)
·         Samedra in Sabah (25)
·         Jalan Merbok Ayer Keroh in Melaka (21)
·         Jalan Baru Tatau – Bintulu in Sarawak (22)
The seven community clusters are: Kampung Muara Bebas in Sarawak (with 19 infections), Kevok in Sarawak (58), Quadruplex Lapan Enam in Sarawak (20), Kampung Tiong in Kelantan (13), Jalan Jeram Pasu in Kelantan (29), Taman Rantau Mas in Kelantan (10), and Serudung Baru in Sabah (19).
The lone high risk-group cluster is Jalan Tok Janggut in Kelantan, with 16 infections.
To date, 2,645 clusters have been reported in the country, of which 844 are active.
Read also:
Covid-19: Malaysia reports 398,846 sporadic cases, including 151,725 in Selangor this year so far
S Kanagaraju & Chong Jin Hun