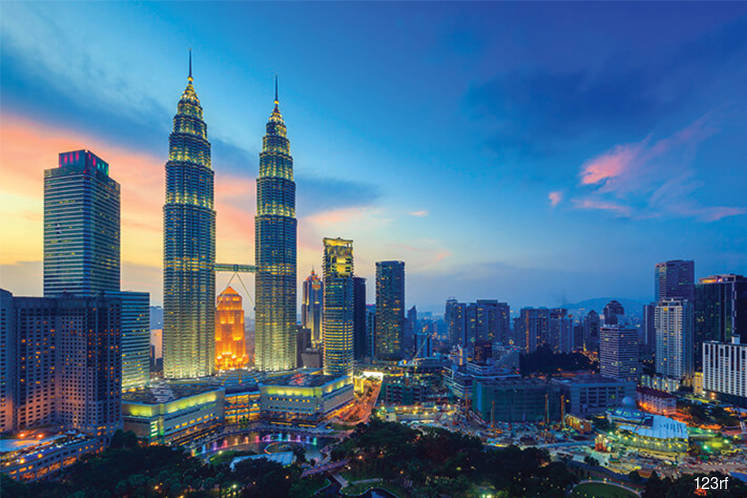 KUALA LUMPUR (April 17): Malaysia could face an outflow risk of about US$4 billion by passive funds and an additional US$2-4 billion by active funds, should FTSE Russell drop Malaysian bonds from the World Government Bond Index (WGBI), says Maybank Kim Eng.
"This means a total outflow risk of US$6-8 billion, or about RM24-33 billion by our estimates," Maybank analysts Winson Phoon and Se Tho Mun Yi wrote in a note today.
The analysts said the final decision on whether to include or exclude Malaysia from the list may come following the annual review in September 2019.
"If FTSE Russell decides to remove Malaysia from the WGBI, foreign selling will likely concentrate in MGS (Malaysian Government Securities), as currently the WGBI index excludes GII (Government Investment Issue), although the GII curve will inevitably be affected if foreign selloffs weigh on the MGS curve," they said.
The analysts also noted that the risk of Malaysian bonds being excluded from the WGBI seems "more likely than not", unless fundamental changes are made to improve Malaysia's market accessibility level.
They explained that the criteria used to assess market accessibility of a country include market, macroeconomic and regulatory environment, foreign exchange (FX) market structure, bond market structure, and global settlement and custody.
"Having said that, the index provider indicated that they will continue to engage with local regulators and market participants to assess the potential changes, hence there could still be room for manoeuvre," the analysts added.
However, the analysts said jittery sentiment on MGS could stay given the uncertainty and the material impact of being excluded from the WGBI.
They noted that since March, Maybank has lowered its MGS outlook from mildly bullish to neutral as yields have reached its targets. Maybank has also retained its mildly bearish forecast for the 10-year MGS yield forecast at 3.90% by end-June 2019, given unattractive yields.
"Malaysia's exit from the WGBI is not conclusive, but active funds may offload some positions in advance. Actual removal from the index would result in additional outflows, especially from passive funds and likely further cheapening of the MGS curve," Maybank added.
On Monday, global stock market indices provider FTSE Russell placed Malaysia's market accessibility level in its World Government Bond Index under a review considering a downgrade from the current level of 2 (highest level of accessibility) to 1, due to concerns about market liquidity, at the end of the review period in September.
The downgrade may make the Malaysian local government ineligible for the index that helps with exposure to wider global investors.