This article first appeared in The Edge Financial Daily, on April 25, 2019.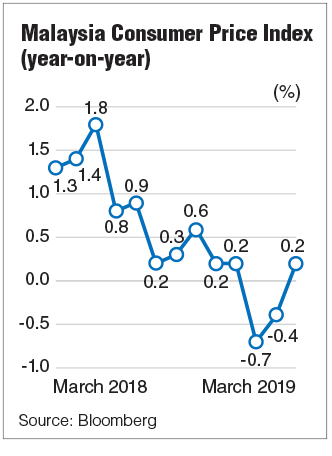 KUALA LUMPUR: Deflation worries eased yesterday after Malaysia's Consumer Price Index (CPI) staged a rebound, rising 0.2% year-on-year (y-o-y) in March from a year ago.
Despite ending a two-month streak of negative inflation, the rebound came in below the consensus median forecast of 0.3%, and analysts believe the central bank may start easing its monetary policy as early as next month.
Yesterday, the Department of Statistics Malaysia said in a statement the increase in the overall index in March was driven by housing, water, electricity, gas and other fuels (+2%), education (+1.3%), food and non-alcoholic beverages (+1.1%) and restaurant and hotels (+1%).
"On a monthly basis, the CPI increased 0.2% compared with February. It was mainly supported by the indices of transport (+2.6%), miscellaneous goods and services (+0.4%) and furnishing, household equipment and routine household maintenance (+0.3%)," said its chief statistician Datuk Seri Dr Mohd Uzir Mahidin.
This brings Malaysia's CPI in the first quarter of 2019 (1Q19) to 120.8, a 0.3% decline from 121.2 in the same quarter of the preceding year. The decline was contributed by transport (-5.9%), clothing and footwear (-3.1%), miscellaneous goods and services (-2.2%) and communication (-1.2%).
On a quarterly basis, the CPI decreased 0.1% compared with 4Q18.
Commenting on March data, UOB Research senior economist Julia Goh and economist Loke Siew Ting said given the muted headline inflation and below potential growth, the central bank can afford to lower rates marginally, reversing the 25 basis-point (bps) hike in January 2018.
The research firm is projecting full-year inflation to remain subdued at 1.5%, compared with 1% of 2018, despite expectations for headline inflation to trend higher in the second half of 2019.
"Some market players are rethinking the possibility of an overnight policy rate (OPR) cut amid ringgit pressure. However, we are still pencilling in a possible 25bps cut to 3% at the upcoming monetary policy meeting on May 7.
"The ringgit is unlikely to weaken significantly if rates are lowered by reasonable magnitudes, and is seen to support growth. It would also help to lower borrowing costs and expedite funding for fiscal spending amid the revival of projects such as East Coast Rail Link and Bandar Malaysia," said Goh.
Economists at CIMB, Michelle Chia and Lim Yee Ping, also see an OPR cut on the cards, but said its timing may be complicated by the FTSE Russell review due in 3Q19.
"While we initially viewed May as a possible window for action, Bank Negara Malaysia may be inclined to exercise caution following Malaysia's inclusion in FTSE Russell's watch list, ahead of an annual review in September, and the dampened sentiment in Malaysia's government bond market, as investors weigh the risks of significant capital outflows if the country was removed from the FTSE Russell World Government Bond Index."
For AllianceDBS Research chief economist Manokaran Mottain, the 0.3% y-o-y contraction in the CPI's three-month moving average — matching a similar level in the preceding month — signals that prices may have likely bottomed out and possibly set to normalise in the upcoming months.
"All in all, accounting for the unexpected deflationary period and fixing of pump prices (RON95 and diesel) in end-February, coupled with expectations of normalising inflationary pressures in the second half of 2019, we maintain our 2019 inflation forecast at between 1% and 1.5% y-o-y. We also reiterate our 2019 gross domestic product growth forecast of 4.5% (2018: +4.7%)," he said.
MIDF Research, meanwhile, has revised its inflation forecast to 1.1% for 2019, from the earlier forecast of 2.2% due to lower cap of domestic RON95 fuel price at RM2.08.
"Furthermore, we believe the government is unlikely to remove the cap in the nearest time as the proper subsidy mechanism limiting it to the recipients of the Bantuan Sara Hidup has yet to come into effect. We anticipate inflationary pressure mainly from fuel-related items to remain weak despite higher expectation of Brent crude oil price at US$75 (RM309.75) per barrel for 2019 (2018: US$72 per barrel)," it added.