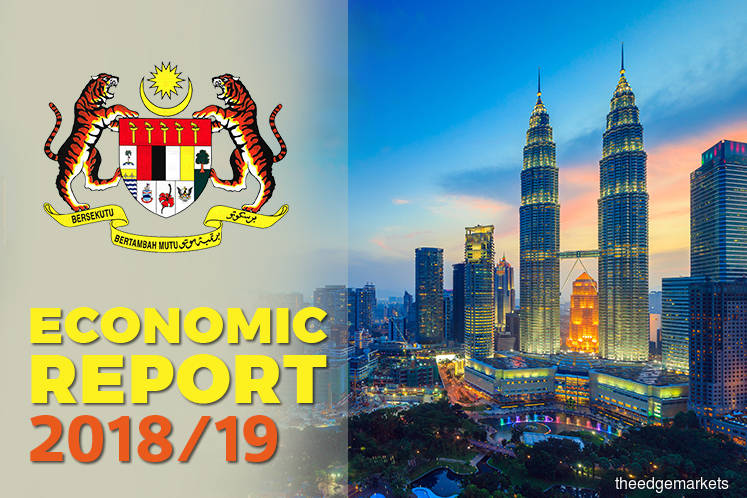 KUALA LUMPUR (Nov 2): The Ministry of Finance (MoF) has forecast a growth rate of 4.9% for Malaysia next year, supported by sound domestic demand.
According to the MoF's Economic Report 2018/19, titled Fiscal Outlook 2019 report released today, the private sector expenditure is expected to remain as the key driver of Malaysia's economic growth, cushioning the effects of lower public sector spending in 2018 and 2019.
"Private investment is anticipated to expand with capital outlays mainly channeled into the services and manufacturing sectors," the report stated.
However, public expenditure is projected to record a slower growth following initiatives taken by the government to review and reprioritise expenditure as well as lower capital spending by public corporations.
On the supply side, growth is expected to be driven by the services and manufacturing sectors. Accounting for about 55% of gross domestic product, the growth in the services sector is projected to grow 6.3% and 5.9% in 2018 and 2019 respectively.
"The services sector is projected to remain firm supported by consumption and domestic tourism activities, as well as strong demand for information and communications technology, transport and finance," MoF said.
The MoF is also projecting that the manufacturing sector will record steady growth in tandem with developments in the global semiconductor industry.
"The manufacturing sector increased 5.1% year-on-year during the first half of 2018 and for the whole year, it is expected to grow 4.9%, largely driven by export-oriented industries.
"In 2019, the manufacturing sector is forecast to expand 4.7% supported by export-oriented industries following continuous expansion in electrical and electronic (E&E), as well as chemicals and chemical product subsectors," it added.
This comes as the MoF expects firm demand for Malaysian manufactured exports, including E&E, petroleum, chemical, rubber and plastic products, as a result of continuous expansion in the electronics cycle and favourable global industrial activities.
For the other sectors, the ministry sees agriculture and mining rebounding in 2019 following an uptick in the production of crude palm oil and liquefied natural gas, after both sectors are expected to decline marginally in 2018.
The construction sector, meanwhile, is anticipated to expand, albeit at a moderate pace largely due to near completion of several mega projects as well as property overhang, particularly in the non-residential subsector.
"In 2019, the sector is expected to improve marginally following an increase in new planned supply in the affordable homes and industrial segments," said the ministry.