This article first appeared in The Edge Financial Daily, on December 10, 2018.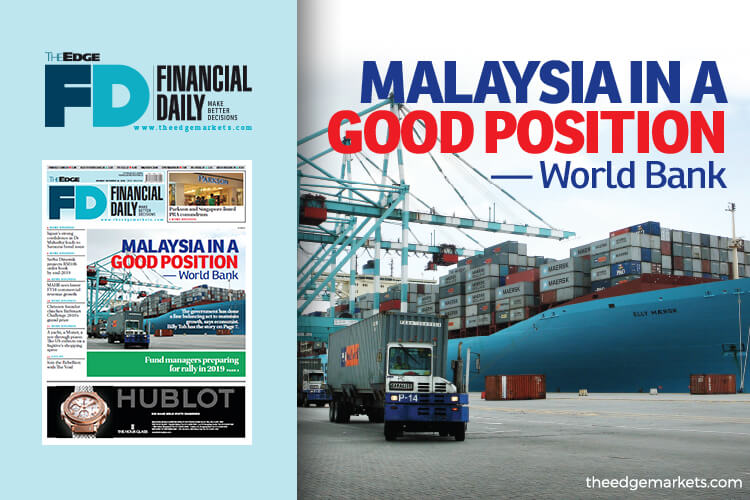 KUALA LUMPUR: Malaysia is in a relatively good position amid an increasingly challenging economic outlook with heightened trade tensions and a higher capital outflow back to the US, said the World Bank Group's lead economist for macroeconomics, trade and investment Richard Record.
"While it does benefit from export growth, Malaysia's basket is diversified across markets and products in terms of manufacturers, non-manufacturers, commodities and non-commodities. It's important to balance between export growth as well as domestic growth and domestic drivers for demand and investment. That's possibly the best policy," Record told The Edge Financial Daily.
While a trade truce has been reached between the world's two largest economies, the World Bank is concerned that the trade war might spill over to a slowdown in global investment and global demand. However, it believes Malaysia could benefit from the diversion of trade and investment from the escalating tension.
"The broader impact of the trade tension seems to have been limited, with early evidence suggesting that export-oriented economies such as Malaysia are gaining US import market share through a division of trade. However, we are concerned that other countries, including Malaysia, would be exposed if the tensions do escalate and spill over to cause a slowdown in global investment flows," said Record.
His comment was reflective of a survey done by the American Chamber of Commerce in south China on 219 companies of which more than 60% of the surveyed companies had business operations in both the US and China. The survey, which was conducted between Sept 21 and Oct 10 after the implementation of tariffs on US$200 billion (RM834 billion) of Chinese goods, showed that Southeast Asia is the first choice for most of the respondents planning relocation amid rising cost of producing goods in China due to additional tariffs.
UOB Global Economics & Markets Research's report shows that Asean's manufacturing sector will be the biggest beneficiary, having received the largest share of China's outward direct investment in the last two years.
"By industry, the Economist Intelligence Unit sees Malaysia and Vietnam as the key beneficiaries of the information and communications technology product segment as the presence of major electronics companies will allow for easier redeployment of production and investment to these destinations," it said, adding that Thailand and Malaysia will stand to gain most in the car segment given the established export networks in these countries.
Record believes Malaysia has a advantage compared with its peers in terms of location, the skill sets in the country as well as its natural resources that help diversify the economy.
"Malaysia could be even more attractive. [The] location is just right. Infrastructure is there; that provides a strong foundation. There is also a skill population that provides a very good foundation. Just last week, we released a new doing business survey, which showed Malaysia at 15th globally in terms of compliance cost of doing business," he said.
Julia Goh, a senior economist of UOB Malaysia, concurred, but also pointed out a disadvantage Malaysia had compared to its regional peers.
"We have an advantage but it depends on what kind of investment. We are not in the game to compete for low value-added and labour-intensive investments as Malaysia's average monthly wages are higher compared to most of the other Asean economies. However, when we compare Malaysia against the more developed and North Asian countries, such as China, South Korea, Taiwan, Hong Kong and Singapore, Malaysia does have an edge in terms of labour costs, alongside favourable demographics, availability of natural resources, [a] strategic location and good infrastructure," Goh said.
An economist of a local investment bank, who declined to be named, said Malaysia's better infrastructure does give the country an edge.
"We are not as good as Singapore, but there is limited room for further investment in Singapore. As far as infrastructure goes, Malaysia is still the best choice regionally," he said.
A fine balancing act of maintaining growth
On Budget 2019, Record thought that the new Pakatan Harapan government had done a fine balancing act to maintain growth amid an uncertain external environment, as well as to manage the country's fiscal deficit.
"The government faces a challenging situation — slowing global and domestic economies, multiple pressures and this budget requires a careful balancing act [among] all of those pressures — maintaining growth while trying to address its fiscal deficit. The issues are less about the short-term but more about the medium-term trajectory. It's important to look beyond one budget horizon as well. We saw some very positive elements in the midterm review of the Malaysian plan, which set out a multi-year agenda," Record added, saying the government is looking at diversifying sources of revenue and preparing to absorb future shocks.
He said the budget saw the expansion of indirect taxes or consumption taxes to now include imported services and to include digital services.
"We think it's a prudent move in line with international best practices. We see a growing number of countries doing something similar. Singapore did it earlier in the year, Australia a few months ago and I think probably within the next couple of years, we will see a large number of countries moving in that direction, essentially updating the tax framework to reflect the nature of consumption and economic activity," he said. Nevertheless, Record believes that the US-China trade tensions remain the biggest risk as it could potentially lead to lower demand for exports among open emerging markets, such as Malaysia.
"While we're still hopeful on exports, I think the risk is heavily on the downside. Perhaps we won't see quite the same growth as what we have seen in the past," he said, sharing that with export growth and public-sector investment unlikely to be drivers of the economy, consumption and private-sector investment will have to play a bigger role to maintain growth.
"There's a limit to how much consumption can grow. We hope to see a strong performance in private investment to be one of the main contributors to economic growth over the next year or two. Or maybe perhaps reforms. Malaysia's cost of doing business performance is a nice example of reforms that can reduce the cost of doing business," he said.
Improving Malaysia's education
For most economists, Malaysia's biggest challenge going forward is to improve the quality of its education.
Record said it is important for the country to improve on this score, especially in the era of a digital economy, and also to move up to higher value-added products and manufacturing.
To him, the recent Budget 2019 is a good start for the new government as seen in the strong allocation of RM60.2 billion or 19.1% of the total government spending on education.
Record, however, added that the country needs to also look into the quality of its spending as well.
"The big challenge is going to be improving the quality of education, the quality in terms of numeracy, literacy and science. Certainly, when you look at international test scores, Malaysia performs well, but probably short on aspirations. There could be one medium-term area where continued focus would be needed ... investing in human capital," he said.
Goh also said the country faces challenges to attract higher value-added industries due to a lack of domestic supply chain support as well as local talents in the high-end industries.
Meanwhile, the anonymous economist of a local investment bank also highlighted another issue faced by Malaysia.
"We are still perceived to an extent as a commodity-based, low-cost country," he said. "We are yet to be seen as a country with abundant local talents to suit their needs."
He noted that there are a lot of good local talents as seen in the number of Malaysian graduates in some of the top universities around the world.