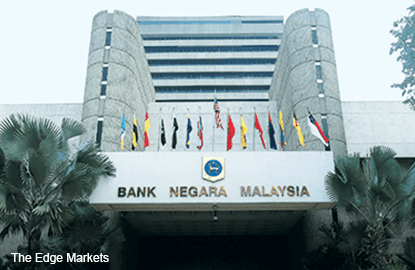 KUALA LUMPUR (March 28): Higher fuel costs probably pushed up Malaysia's inflation rate this month to above the 4.5% rate posted in February, though there's no evidence that price pressures are spreading more broadly in the economy, an official from the central bank said.
Last month's inflation rate — which was the highest in more than eight years and exceeded the median estimate of 3.9% in a Bloomberg survey — wasn't a surprise to the central bank, Fraziali Ismail, director of the economics department at Bank Negara Malaysia, said in an interview in Kuala Lumpur. If oil prices stay where they are, it's a "question of arithmetic" that inflation would accelerate, he said.
"Typically in the past, there could be second-round effects if the economy is above potential" and there are demand pressures, he said on March 24. "Yes, the economy is on the up, but we don't see those pressures emanating at the moment."
Bank Negara Malaysia said in its annual report released last week that inflation will probably average 3% to 4% this year, up from 2.1% in 2016.
The spike in inflation is complicating Bank Negara's job as it seeks to keep interest rates low enough to support the economy. The bank has left its benchmark rate unchanged at 3% since a surprise cut in July, and economists surveyed by Bloomberg are divided in their views on whether it will raise, reduce or keep rates unchanged this year.
While economic growth has picked up speed, it's not exceeding the pace of potential output yet, which is estimated to be about 4.7% this year, Fraziali said. The economy grew 4.2% last year and is forecast by the central bank to expand 4.3% to 4.8% in 2017.
"We are operating close to potential, but we don't see signs that we are exceeding," he said. "Unless the economy is jolted to an accelerated growth, then there's a higher potential for second-round effects." The central bank will monitor signs of slack in the economy, such as unemployment and capacity utilization, to give it "better clues on how the economy is faring against potential," he said.
Julia Goh, an economist at United Overseas Bank Ltd in Kuala Lumpur, said Bank Negara will probably maintain its currency policy stance for the rest of the year.
"Despite higher inflation pressures which are cost-push, we expect the overnight policy rate to stay unchanged at 3% this year given lingering growth risks, the absence of strong demand conditions, and abating financial imbalance risks," she said in a research note on Tuesday.