This article first appeared in The Edge Financial Daily, on May 9, 2019.
May 2018
May 9
Pakatan Harapan wins the 14th general election (GE14).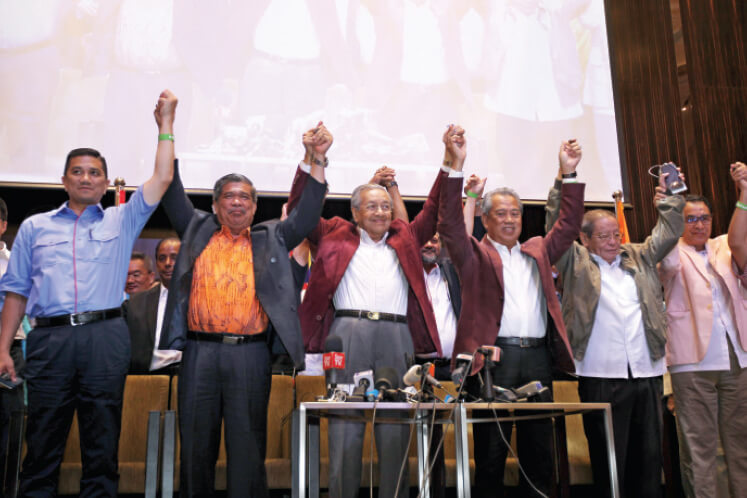 May 10
Tun Dr Mahathir Mohamad is sworn in as the seventh Malaysian prime minister, the first to hold the position twice.
May 11
Datuk Seri Anwar Ibrahim is granted full pardon by Yang di-Pertuan Agong Sultan Muhammad V.
May 12
Dr Mahathir names his first three cabinet members, including Lim Guan Eng as the first non-Malay finance minister since Tun Tan Siew Sin (1959–1974).
May 12
The Council of Eminent Persons is set up, comprising former finance minister Tun Daim Zainuddin, former Bank Negara Malaysia (BNM) governor Tan Sri Dr Zeti Akhtar Aziz, former Petroliam Nasional Bhd chief executive officer (CEO) Tan Sri Mohd Hassan Marican, tycoon Tan Sri Robert Kuok Hock Nien and economics expert Prof Dr Jomo Kwame Sundaram.
May 14
Tan Sri Shahrir Samad resigns as the chairman of the Federal Land Development Authority (Felda), the first head of a government agency to do so post-GE14.
May 14
Attorney-General Tan Sri Mohamed Apandi Ali is asked to go on leave.
May 16
Anwar is freed.
May 17
The zero-rating of the goods and services tax, starting June 1, is announced.
May 21
Former premier Datuk Seri Najib Razak is questioned at the Malaysian Anti-Corruption Commission's (MACC) headquarters in Putrajaya over ex-1Malaysia Development Bhd (1MDB) unit SRC International Sdn Bhd.
May 22
Guan Eng announces that the national debt stands at more than RM1 trillion.
May 24
Datuk Seri Abdul Azeez Abdul Rahim resigns as the chairman of Lembaga Tabung Haji.
May 30
Tabung Harapan is launched.
June 2018
June 4
Mohamed Apandi's contract as the attorney-general is terminated. Tommy Thomas is appointed in his place, the first non-Malay to hold the position since Tan Sri Cecil Sheridan (1959-1963).
June 5
Najib's wife Datin Seri Rosmah Mansor is questioned for five hours by the MACC to assist with the investigation into SRC International.
June 6
Tan Sri Muhammad Ibrahim resigns as the governor of BNM.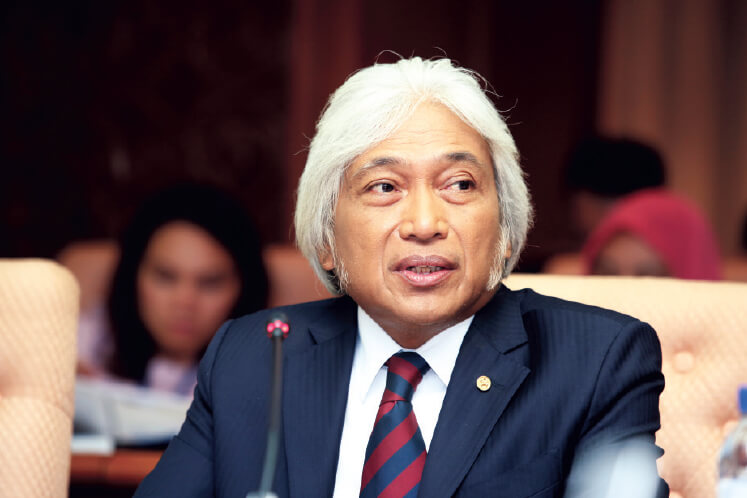 June 7
The MACC issues arrest warrants for Low Taek Jho (Jho Low) and Nik Faisal Ariff Kamil Nik Othman, a former group managing director of SRC International.
June 8
Communication and Multimedia Minister Gobind Singh Deo announces that fixed broadband prices will be reduced by 25% by end-2018.
June 10
Dr Mahathir visits Japan on a working trip.
June 19
Datuk Nor Shamsiah Mohd Yunus is appointed as the new governor of BNM effective July 1, 2018 until June 30, 2023.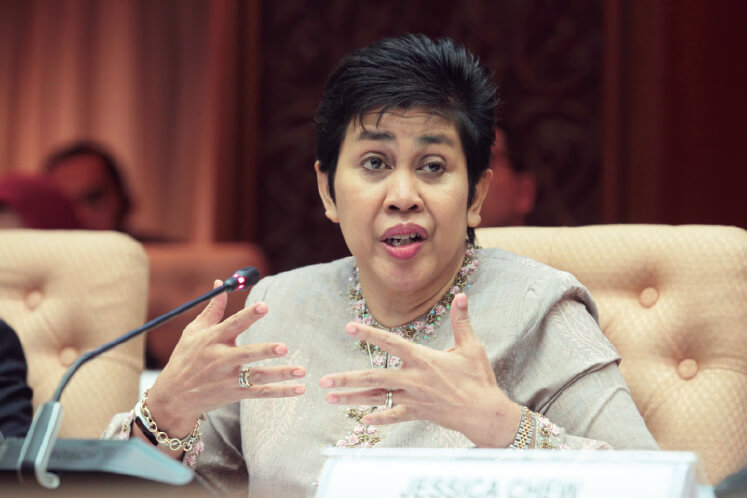 June 22
Dr Mahathir revives the water supply dispute with Singapore, telling Bloomberg TV that the existing agreement is "too costly".
June 27
The police seize items worth approximately RM1 billion from Najib's properties in Kuala Lumpur, the biggest seizure in Malaysia's history.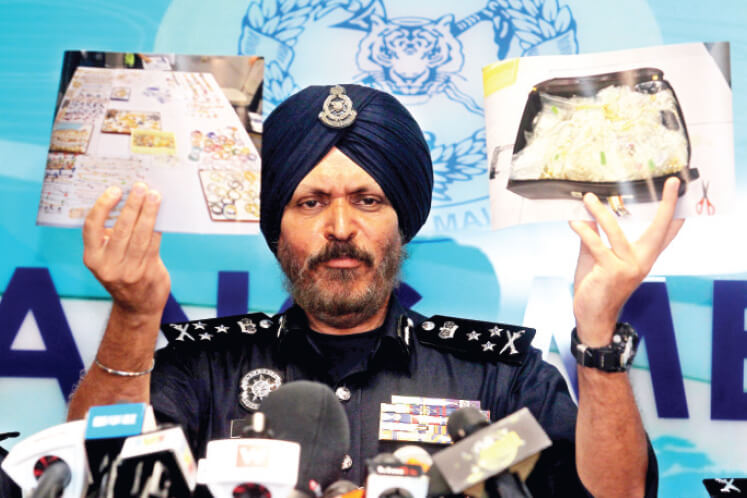 July 2018
July 4
Najib is charged with four counts of corruption for embezzling public money from the 1MDB fund. Each charge carries a general penalty of up to 20 years in prison and a minimum fine of at least five times the value of any bribe. Najib pleads not guilty to all charges.
July 4
Malaysia Rail Link Sdn Bhd orders China Communications Construction Company Ltd to suspend all works for the East Coast Rail Link (ECRL) project, of which the cost is estimated at RM80.9 billion including land acquisition, land interest fees and operational costs.
July 12
The government resumes the light rail transit Bandar Utama–Johan Setia line, slashing cost by almost half to RM16.6 billion. The completion deadline is extended to 2024 from 2020.
July 16
"Sila duduk dan jangan lari," Sultan Muhammad V says at the opening ceremony of the 14th Parliament and calls for acceptance of the rakyat's choice of government.
July 26
The entire board of directors of Khazanah Nasional Bhd resigns.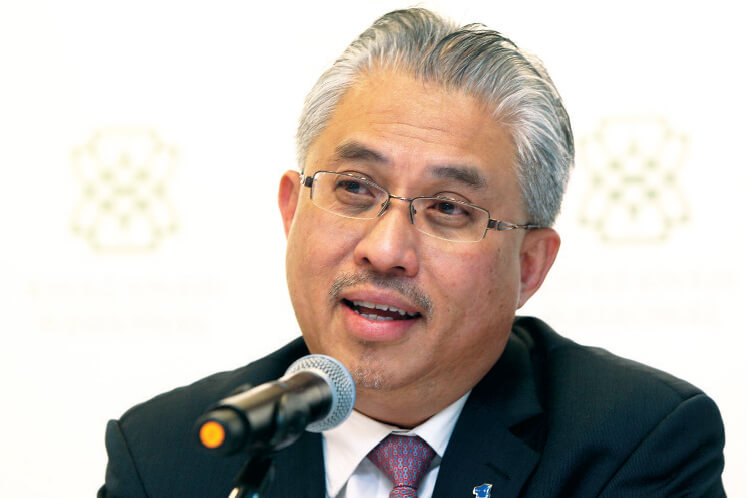 August 2018
Aug 7
The Malaysian government seizes the US$125 million superyacht Equanimity, belonging to fugitive Low.
Aug 13
Dr Mahathir says Malaysia is aiming for a 10-fold price hike for water it currently supplies to Singapore for three sen per 1,000 gallons. Malaysia buys back treated water from Singapore for 50 sen per 1,000 gallons.
Aug 20
Dr Mahathir visits China, his first official visit outside Asean since GE14.
Aug 24
The Malaysian police file the first set of criminal charges against Low and his father Tan Sri Larry Low Hock Peng in absentia over money allegedly stolen from 1MDB.
September 2018
Sept 1
The sales and services tax returns with a 5% to 10% rate for goods and 6% for services.
Sept 5
Malaysia and Singapore agree to postpone the Kuala Lumpur–Singapore high-speed rail (HSR) until May 31, 2020. Malaysia will reimburse Singapore S$15 million by end-January 2019 for abortive costs incurred by the postponement.
Sept 10
Malaysia scraps three pipeline projects backed by Chinese money.
Sept 12
Port Dickson member of parliament (MP) Datuk Danyal Balagopal Abdullah resigns to allow Anwar to contest the resulting by-election.
Sept 19
Najib is charged with 21 counts of money laundering of over US$681 million (RM2.6 billion) into his bank account, money that allegedly came from 1MDB.
Sept 19
Malaysia lowers the voting age to 18 from 21.
Sept 21
Azhar Azizan @ Harun, better known as Art Harun, is appointed as the new Election Commission chief.
Sept 25
Datuk Seri Nazir Razak, Najib's brother, steps down as the chairman of CIMB Group, after spending 29 years at the bank.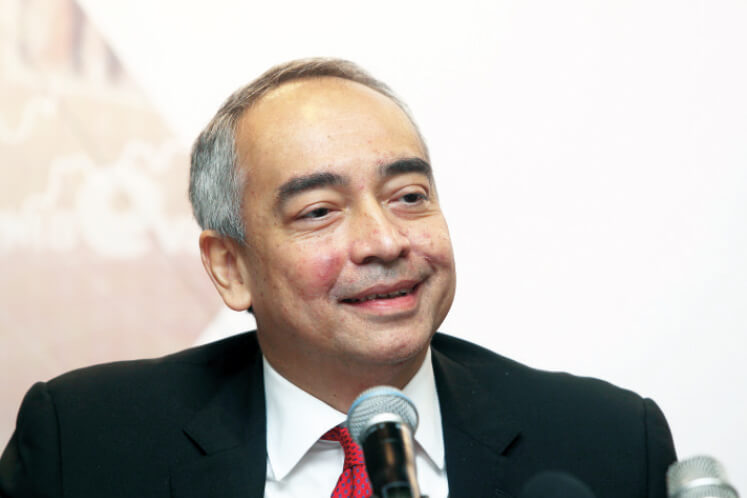 Sept 26
Rosmah is questioned for 13 hours at the MACC headquarters as part of the investigation into 1MDB.
October 2018
Oct 3
Rosmah is charged with 17 counts of money laundering offences under the Anti-Money Laundering, Anti-Terrorism Financing and Proceeds of Unlawful Activities Act 2001.
Oct 10
The cabinet decides to abolish the death penalty, with the motion to be tabled in Parliament. It also orders to suspend the Sedition Act.
Oct 13
Anwar returns to Parliament after winning the Port Dickson by-election, garnering 72% of the vote and a majority of 23,560 votes.
Oct 20
Datuk Seri Dr Ahmad Zahid Hamidi claims trial to 45 charges of money laundering involving RM72 million and criminal breach of trust and accepting bribes involving RM42 million, the first sitting Umno president to be charged in court.
Oct 29
Malaysia starts the auction of Equanimity.
Oct 30
The Malaysian government applies to the London High Court to set aside an unfavourable US$5.78 billion (RM24.16 billion) consent award recorded in May 2017 involving 1MDB.
Oct 30
All banks must now report cash transactions above RM25,000 to BNM effective Jan 1, 2019.
November 2018
Nov 1
The US DoJ indicts Jho Low and ex-Goldman Sachs banker Roger Ng for money laundering and bribery involving 1MDB funds. Former Goldman Sachs executive Tim Leissner pleaded guilty.
Nov 2
Pakatan Harapan tables 2019 budget, its first, which projects an additional of RM1.43 billion in total government revenue to RM263.25 billion.
Nov 2
Government announces that a new soda tax on sugary drinks will kick in from April 1, 2019.
Nov 15
Rosmah and an ex-aide is charged with soliciting and accepting an overall RM212.5 million in bribes relating to a RM1.25 billion solar hybrid project for rural schools.
Nov 22
Najib admits in an interview that Jho Low cheated the government, but blames Goldman Sachs for failing to protect the government's interests.
Nov 25
Auditor-General Tan Sri Dr Madinah Mohamad confirms that the original audit report on 1MDB was altered on orders from former prime minister Najib.
Nov 28
Government tells Parliament that it plans to set up a National Tahfiz Council in 2019.
Nov 29
Khazanah Nasional announces the RM8.42 billion sale of a 16% stake in IHH Healthcare to Mitsui & Co Ltd.
Nov 30
Tabung Haji lodges two police reports against its former senior management members over misuse of funds and alleged misrepresentations over past corporate deals.
December 2018
Dec 3
The second series of the 2017 Auditor-General's (AG) Report is tabled in Parliament, revealing RM5.7 billion in losses at Felda in 2017, among others.
Dec 10
A PricewaterhouseCoopers audit on Tabung Haji reveals that the pilgrim fund cooked up 2017 profits with suspicious transactions and had to dip into depositors' savings to pay hibah in 2017.
Dec 11
Tabung Haji announces a RM19.9 billion turnaround plan to transfer underperforming assets to a Ministry of Finance's vehicle — Urusharta Jamaah Sdn Bhd.
Dec 12
Najib and former 1MDB president Arul Kanda Kandasamy claim trial to alleged tampering with the 1MDB audit report.
Dec 16
Malaysia files criminal charges in a Kuala Lumpur court against Goldman Sachs over its role in three 1MDB bond issuances.
Dec 18
Goldman Sachs fights back against Malaysia's criminal charges against it, claiming it was lied to by Malaysian government officials in the 1MDB scandal.
January 2019
Jan 1
BNM's requirement for cash transactions exceeding RM25,000 to be reported kicks in.
Jan 3
Government reveals that in 2010, the Ministry of Finance bagged RM780 million through exploitation of a Malaysian Rubber Board land sale to the Employees Provident Fund.
Jan 7
Anwar Ibrahim says the power transfer from Mahathir has been agreed and there are no issues between the duo.
Jan 8
Najib and the Chinese government both deny allegations that China had offered to help bail out 1MDB in exchange for lucrative contracts in 2016.
Jan 14
Tabung Harapan closes, collecting RM202.71 million after a two-week extension.
Jan 15
The Prime Minister's Office sets up a committee tasked to reduce government debt and liabilities to a manageable level within 18 months.
Jan 16
Tabung Haji lodges third police report against former key management figures over misrepresentations that led to an illegal declaration of distributable hibah in 2017.
Jan 16
Baling MP and former Tabung Haji chairman Abdul Azeez pleads not guilty to 12 charges of alleged bribery and money laundering.
Jan 17
Goldman Sachs CEO David Solomon apologises for the role of the banks' ex-staff in the 1MDB scandal.
Jan 24
Government launches MySalam, an insurance scheme for B40 households expected to provide coverage for 3.69 million Malaysians aged between 18 and 55 years.
Jan 24
Police raid the office of a local law firm representing Goldman Sachs in Malaysia in relation to the 1MDB investigation.
Jan 28
Najib charged with three more counts of money laundering totalling RM47 million.
Jan 29
Putrajaya launches the National Anti-Corruption Plan, which contains 115 initiatives to be implemented by 2023 to combat corruption.
February 2019
Feb 10
The Kuala Lumpur City Hall imposes a new plot ratio cap on developments in Kuala Lumpur and tells developers who obtained approvals exceeding the new cap to reapply.
Feb 11
 The Prime Minister's Office announces the appointment of 16 members to the Economic Action Council.
Feb 12
Najib's trial over alleged abuses relating to SRC International Sdn Bhd was slated to begin but postponed. He has pleaded not guilty to 42 counts of criminal charges thus far.
Feb 18
The government confirms that the bauxite mining freeze, expiring on March 31, 2019, will not be extended.
Feb 19
The government reveals that the defence ministry had lost out on RM500 million in 16 land swap deals involving development projects.
Feb 20
Paul Stadlen, former media advisor to Najib, was charged in absentia with money laundering involving RM15 million.
March 2019
March 2
Pakatan Harapan loses the Semenyih state assembly by-election, its first seat loss since GE14.
March 4
Malaysia and China sign agreements that will see the latter buy 1.62 million tonnes of palm oil worth RM3.64 billion.
March 5
Primary Industries Ministry plans to propose a 6.5 million-hectare cap on oil palm planted area by 2023 in order to dispel the claim that estates' expansion causes deforestation.
March 7
Putrajaya says the new soda tax on soft drinks and juices will be postponed from April 1 to July 1.
March 12
The government explodes options on Malaysia Airlines Bhd, including a possible closure.
March 14
The Securities Commission forms a special board committee to probe potential lapses in its processes that led to lax handling of 1MDB bond issuances.
March 27
Putrajaya says it will turn to direct sale for the Equanimity after its auction failed to obtain an agreeable price.
March 27
Putrajaya seeks a supplementary budget of RM1.9 billion for 2018.
March 28
Government files a civil forfeiture action against Jho Low's father, Tan Sri Larry Low Hock Peng, to freeze RM48 million in his accounts.
April 2019
April 1
The Edge reports that the Inland Revenue Board has slapped a RM1.5 billion tax bill on Najib over undeclared income between 2011 and 2017.
April 3
Putrajaya says it is scrutinising Pharmaniaga Bhd, MyEG Services Bhd, Padiberas Nasional Bhd and Puspakom Sdn Bhd over their market monopolies.
April 3
Genting Bhd agrees to purchase controversial luxury yacht Equanimity for US$126 million (RM514.39 million).
April 8
he government has fixed a new tax on digital service providers such as Netflix and Spotify at 6%, effective Jan 1, 2020.
April 8
MyHSR Corp Sdn Bhd says it will seek a consultant to review cost-cutting options for the Kuala Lumpur-Singapore High Speed Rail project.
April 8
The Kuala Lumpur City Hall expects to recoup RM466 million from reviewing 97 land deals, according to Federal Territories minister Khalid Abdul Samad.
April 9
The federal government wants to take over the Sabah portion of the Pan-Borneo Highway project
April 9
Felda lodges a police report claiming it was forced into a lopsided deal to buy PT Eagle High Plantations from Indonesia's Rajawali Group.
April 11
Putrajaya reveals that Lembaga Tabung Angkatan Tentera over-stated its income in 2017 in order to pay higher dividends to its members.
April 12
Malaysia and China agree to resume the ECRL project at RM44 billion versus RM65.5 billion previously.
April 25
Mahathir begins a five-day working visit in China, his second visit as prime minister since GE14.
April 25
Malaysia and China ink an framework agreement to revive the Bandar Malaysia project, alongside an additional deal for China to buy 1.9 million more palm oil over five years beginning 2019.
May 2019
May 2
The SRC International trial reveals that KWAP had bypassed processes in loaning RM4 billion to the company in 2011.
May 3
Malaysia temporarily surrenders ex-Goldman Sachs banker Roger Ng to US authorities for 10 months to face charges in US courts.
May 6
Roger Ng pleads not guilty in a New York court to criminal charges relating to 1MDB.
May 7
Malaysia has recovered US$322 million (RM1.3 billion) of 1MDB assets so far with the US Department of Justice's help. The sum includes US$126 million received from the sale of Equanimity.
May 8
Putrajaya and the police file two civil forfeiture suits against Najib and his wife Rosmah for items allegedly bought with 1MDB funds worth RM711 million.