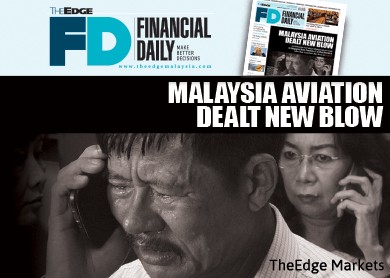 KUALA LUMPUR: After barely recovering from the twin Malaysia Airlines (MAS) disasters this year, Malaysia's aviation industry was dealt another blow yesterday when an Indonesia AirAsia plane went missing in bad weather en route to Singapore from Surabaya, Indonesia.
Flight QZ8501, using an Airbus 320-200, lost contact with air traffic control yesterday morning, some two hours after it took off from Juanda International Airport in Surabaya at 5.35am. (QZ8501 lost contact with air traffic controllers at 7.24am.) It was due to land at 8.30am Singapore time.
There were 155 passengers on board, comprising 149 Indonesians, three South Koreans, one Malaysian, one Singaporean and one Briton. Also on board were two pilots (one of whom was French) and six Indonesian cabin crew. There were 138 adults, 16 children and one infant on board.
It was reported that most of the people onboard were travelling with their families. Many shared the same family name, as shown in the passenger list.
As at press time, the missing plane had yet to be found, but search and rescue operations were underway by the Indonesian, Singapore and Malaysian authorities near Belitung island where Indonesian media reported as saying a plane had crashed.
This is the third aviation tragedy involving Malaysia this year, following the disappearance of flight MH370 in March, which was carrying 239 people, and in July, flight MH17 was shot down over Ukraine, killing all 298 people on board.
Yesterday's incident will be particularly hard on Indonesia AirAsia, which has been making losses over the past few quarters due to intense competition and the significant depreciation of the Indonesian rupiah against the US dollar. AirAsia Bhd owns 49% of Indonesia AirAsia.
In its show of support for the low-cost carrier, MAS posted on its Facebook: "Our thoughts and prayers are with all family and friends of those on board QZ8501."
"This is my worst nightmare," AirAsia group chief executive officer (CEO) Tan Sri Tony Fernandes said in his Twitter postings yesterday. "I, as your group CEO, will be there through these hard times. We will go through this terrible ordeal together."
Fernandes further tweeted: "Thank you for all your thoughts and prayers. We must stay strong."
However, Fernandes, who yesterday flew to Surabaya to be with his Indonesian management team, could not be reached for comment.
Fernandes, who is the founder and co-owner of AirAsia, had in the past announced plans for a initial public offering of its Indonesian affiliate. In July this year, the plan was scrapped due to its poor fiscal results.
Maybank Investment Bank aviation analyst Mohshin Aziz told The Edge Financial Daily yesterday that having two of Malaysia's largest airlines hit by tragedies in less than a year will impact the local aviation industry.
"The [latest] incident will leave a dent in the reputation of Malaysian carriers now that AirAsia is involved," he said.
Although the AirAsia group has improved in terms of its financial performance this year, he noted that domestic carriers in Indonesia, including Indonesia AirAsia, have been feeling the pinch from the weak rupiah.
Meanwhile, all eyes will be on aviation stocks today, particularly AirAsia and AirAsia X Bhd, following the disappearance of QZ8501.
Nevertheless, an aviation analyst who declined to be named said he does not expect AirAsia's share price to retrace sharply.
"Given the number of institutional funds that have invested in the stock, any dip in share price is an opportunity to accumulate," said the analyst.
To recap, MAS saw its shares fall sharply after news of the downing of flight MH17.
When contacted yesterday, Deputy Transport Minister Datuk Abdul Aziz Kaprawi said the Malaysian government is working closely with its Indonesian counterpart in the search and rescue operations.
He declined to comment if the QZ8501 incident would further impact the aviation sector following fewer tourist arrivals in the country after the double MAS tragedies.
AirAsia shares closed up 2 sen to RM2.94 last Friday, while AirAsia X's stock ended the day down 0.5 sen to 68.5 sen.
Malaysia Airports Holdings Bhd shares settled at RM6.80, up 9 sen, last Friday. MAS has suspended the trading of its shares since Dec 15 to facilitate its selective capital reduction repayment exercise until its delisting on Dec 31, following a privatisation exercise by its major shareholder Khazanah Nasional Bhd.
This article first appeared in The Edge Financial Daily, on December 29, 2014.