Click / Tap image to enlarge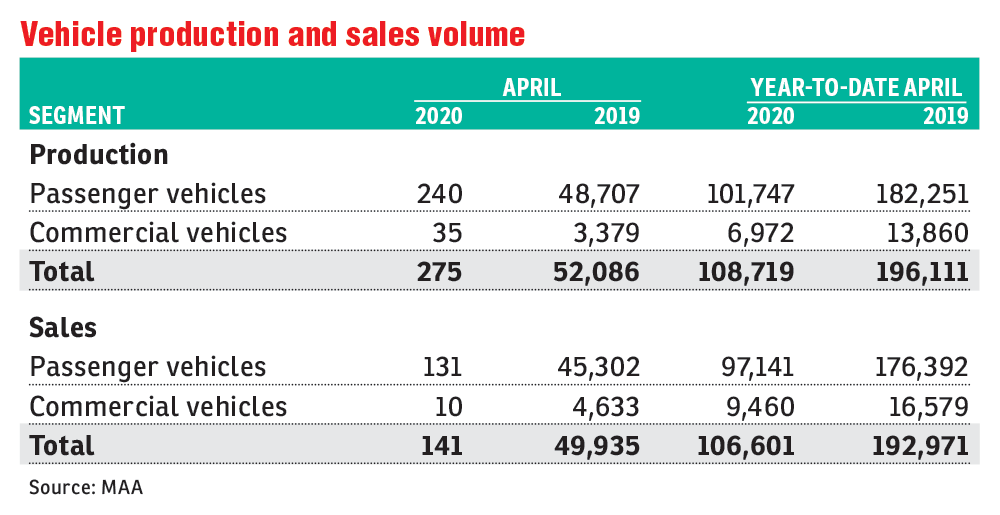 KUALA LUMPUR (May 22): There were only 141 vehicles sold in April this year, which is barely 0.3% of the monthly sales of 49,935 units a year ago, due to the country's Movement Control Order (MCO) to contain the Covid-19 outbreak.
According to the Malaysian Automotive Association (MAA) today, cumulative year-to-date (YTD) vehicle sales volume dropped to 106,601 units from 192,971 units a year ago. MAA said the country's total vehicle sales volume comprises passenger and commercial entities.
"Businesses resumed after the lifting of restrictions for most economic activities. However, JPJ (Jabatan Pengangkutan Jalan/Road Transport Department) started allowing new vehicle registrations only from May 13, 2020.
"Companies faced delays in getting vehicle inspection done at Puspakom (Sdn Bhd) branches due to long queues. Consumers' confidence (has) not yet normalised [and] sentiment is still very low.
"Automotive showroom traffic is very slow. Banks [are] more stringent in approving hire purchase loans as well as reducing hire purchase loan quantum," MAA said in a statement today.
In monthly terms, MAA said April 2020 sales volume at 141 vehicles was over 99% lower than the March 2020 figure.
Looking ahead, MAA said sales volume in May 2020 will be much higher than in April 2020 but much lower than traditional number of monthly registrations prior to the MCO.
Malaysia's vehicle production, comprising passenger and commercial entities, also fell. MAA said a total of 275 vehicles were manufactured in April 2020, down from 52,086 units a year earlier. 
YTD, vehicle production dropped to 108,719 units from 196,111 units a year earlier.
Malaysia's MCO, which was initially scheduled between March 18 and 31, 2020, requires non-essential businesses to stop operations, while the public has been ordered to stay at home to curb the Covid-19 outbreak.
On March 25, Prime Minister Tan Sri Muhyiddin Yassin said the government decided to extend the MCO until April 14, because updates from the National Security Council and Health Ministry indicated an increase in Covid-19 cases. On April 10, Muhyiddin said the government was extending the MCO until April 28.
On April 23, he said the MCO will be extended for another two weeks until May 12. 
On May 10, the premier said the MCO will be extended to June 9.
Puspakom's website indicates that the firm is a comprehensive national vehicle inspection company appointed by the Malaysian government to undertake all mandatory inspections for both commercial and private vehicles. 
Puspakom is a wholly-owned subsidiary of DRB-Hicom Bhd.